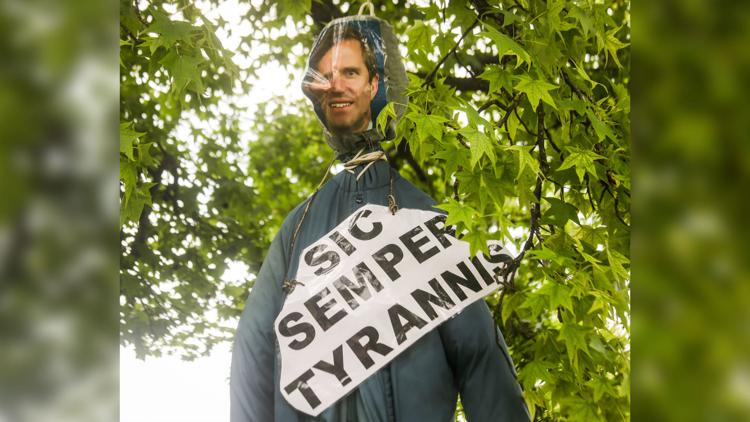 FRANKFORT, KY — "I will not be afraid. I will not be bullied. And I will not back down," Gov. Andy Beshear said Tuesday, responding after an incident over the Memorial Day weekend in which protestors hung an effigy of him outside the Kentucky State Capitol.
The gathering began as a Second Amendment rally, but the focus shifted into a protest against public health measures in place to prevent the spread of the novel coronavirus.
Before the group hung the effigy, the crowd walked across all the barriers in place outside the governor's mansion and stood on the front porch, where they tried to hand-deliver a request for Beshear to resign — and chanted for him to come outside. Beshear said when he and his family moved into the governor's mansion, he knew that his children might face bullying from their peers because their father is the governor, but: "I did not consider that they might get bullied or heckled by grown adults." The governor said that crowed was part of a group calling itself the Three Percenters, which Beshear said is a right-wing militia group.
"Just a window pane away from where my kids play, the mob cheered and heckled. Thankfully, my kids weren't there that day, but I want to remind you that they are 9 and 10 years old. Unsatisfied, the mob retreated to an area several hundred yards away and hung a dummy with my face on it that included the saying yelled by Lincoln's assassin. Think about it: A celebration of assassination on our capitol grounds," Beshear said. 
The governor said the point of the protester's actions as to create fear and terror, but that he will not back down and will continue to represent the people of Kentucky.
Beshear addressed the incident during his briefing on Kentucky's ongoing COVID-19 response. The governor provided an update of the case numbers from May 24-25: reporting 141 new cases from May 24, 122 from May 25, and 117 on May 26 — a three-day total of 387. However, only three new coronavirus-related deaths were reported over three days.
To date, 8,951 COVID-19 cases have been reported in Kentucky, including 394 deaths.
Beshear said 3,115 Kentuckians have recovered so far.