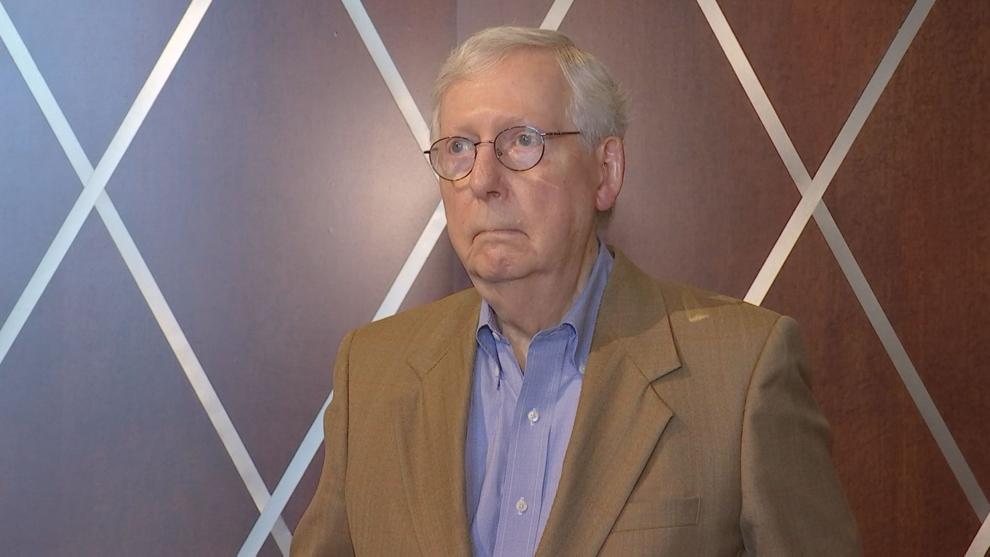 PADUCAH — Senate Minority Leader Mitch McConnell discussed COVID-19 vaccines, the military's withdrawal from Afghanistan and the infrastructure bill Wednesday in Paducah. 
McConnell was in town to address the Rotary Club of Paducah at the Carson Center. Local 6 caught up with him after the event.
The Republican senator says the COVID-19 pandemic won't end until more people start rolling up their sleeves to get vaccinated. 
"Look, I can only speak for myself. The vaccines work; 90% of the people who are in the hospitals are unvaccinated," McConnell said. "We need to keep pushing to get shots in arms, and until we get a significant percentage of American people vaccinated, it's not going away."
McConnell said he believes in the efficacy of all three available vaccines. 
Regarding Afghanistan, McConnell said he opposed the Biden Administration's decision to withdraw troops. He said the evacuation was poorly planned, and called the president's deadline to get all American troops out of the country "arbitrary." 
Regarding the equipment that was left behind at the Kabul airport, McConnell said "Apparently we disabled some of it, but not all of it, and that's another example of poor planning. If you were going to withdraw, you would have done it right."
"I mean, it's just total incompetence, and I think driven by the fact that the president put a time limit on that could not be met," McConnell said. "They could not get everything they needed to do done with this arbitrary timeline, and that's what I thought was really pathetic when the president blamed everybody else for all of these difficulties." 
House Republicans are facing increased pressure to vote against the bipartisan infrastructure package. They'll return to Washington later this month to take up the measure. 
McConnell supported the plan that passed in the Senate with 19 Republican votes, including his. 
Asked about the plan at the Rotary Club event, McConnell said infrastructure should not be a partisan issue. 
"Well first of all, it doesn't raise taxes. Second, infrastructure is a traditional role of the federal government. This is not something new. The federal government has been doing this since before the Civil War. We have crumbling infrastructure all over the country. The last two administrations hoped to do a large infrastructure bill and came up short," McConnell said. 
The senator was also asked about the special session the Kentucky legislature is currently in, in Frankfort. Lawmakers are primarily there to address the COVID-19 pandemic. McConnell said he believes school districts and local governments should make decisions about COVID-19 regulations, not the state.