FRANKFORT, KY — Just one day after reporting a record 6,915 new COVID-19 cases, Kentucky has surpassed that total by more than 2,000. 
Gov. Andy Beshear on Wednesday announced 9,807 newly reported COVID-19 cases. The state again reported a record-breaking positivity rate for novel coronavirus test results, coming in at 22.89%. 
"Omicron is surging, more cases than we ever thought possible in any given day. Everybody needs to not only be vaccinated, but get boosted. If you're eligible for your booster and you haven't gotten it yet, get it tonight or get it tomorrow. Do not wait," Beshear said in a video message posted to social media Wednesday afternoon. 
The governor also encouraged all Kentuckians to wear masks when in public spaces. 
"Folks, wearing these masks right now protect you. Otherwise, you could be getting this; you could be spreading it. I know that no one wants that to happen, so please be really careful during this period of time," Beshear said. 
The Kentucky Department for Public Health also reported 29 additional virus-related deaths Wednesday. Currently, 1,704 Kentuckians are hospitalized with the illness, including 394 in intensive care units and 211 on ventilators. 
Of the thousands of new cases reported Wednesday, the KDPH reports that 2,105 are children and teens ages 18 and younger. 
The state's overall COVID-19 incidence rate is now 122.42 average daily cases per 100,000 people based on data from the past seven days. That's well above the red zone threshold of more than 25 average daily cases per 100,000.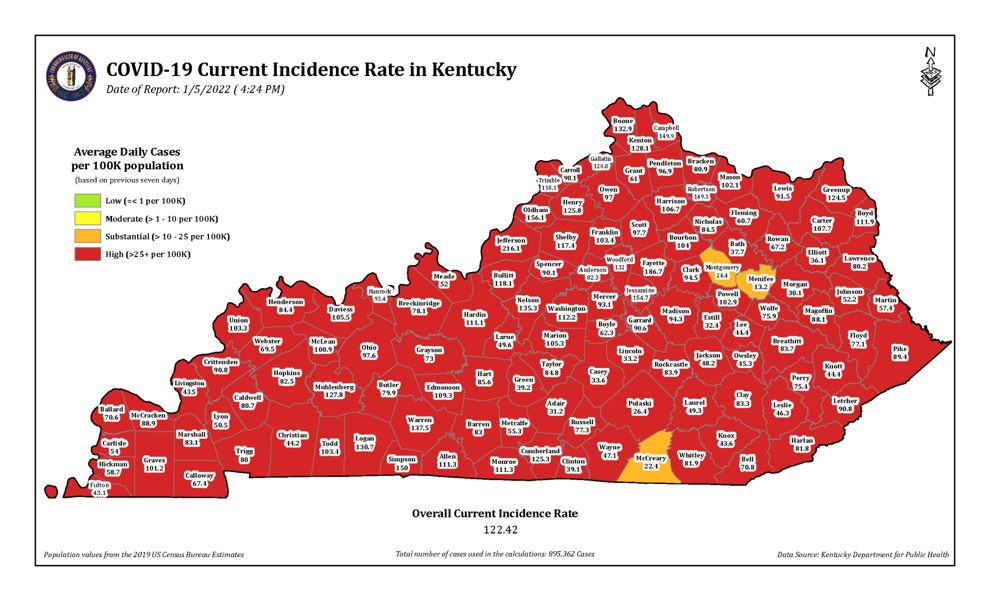 To date, Kentucky has reported 895,370 known COVID-19 cases, including 12,284 deaths.