FRANKFORT, KY — The positivity rate and number of COVID-19 cases in Kentucky have increased for the first time in about two months.
Gov. Andy Beshear and Kentucky Public Health Commissioner Dr. Steven Stack provided an update on those numbers during Beshear's Team Kentucky briefing Thursday. 
Stack said the positivity rate and number of cases reported in Kentucky rose last week, after eight weeks of decreasing cases.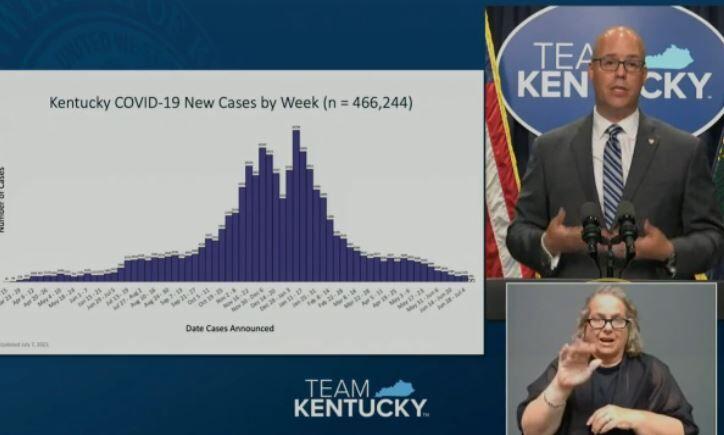 State health leaders still encourage everyone, especially younger people, to get vaccinated.
"If you have a football team with 50 people on it — think about a high school varsity football team — if 20% are vaccinated and 80% are not, here's what could happen. If you're in a locker room with all these kids for more than 15 minutes and you have one positive case, every single one of those players will count as an exposure, because they're probably all unmasked and close together," Kentucky Public Health Commissioner Dr. Steven Stack said. "If your team is only 20% vaccinated, that means 40 of the students have to be quarantined, and you can't field a team with just 10 players. But if the team is 80% vaccinated, only 10 kids have to be quarantined and you still have 40 players."
"Here's the bottom line for students, parents and coaches: if you want to stay safe and on top of that, play sports, the single best thing you can do is go out and get vaccinated," Stack said. 
More than 2.1 million people in the state have been vaccinated. That's about half the state's population.
The Kentucky Department for Public Health reported 337 new COVID-19 cases Thursday, 67 of which are people age 18 or younger. Three additional virus-related deaths were reported.
The state's positivity rate for COVID-19 test results is 2.97% as of Thursday. Currently, 241 Kentuckians are hospitalized with the illness, including 64 people in intensive care units and 32 on ventilators. 
To date, the state has had 466,545 known COVID-19 cases, including 7,253 deaths.