MURRAY, KY − Janet Bensen was trying on her new red pajamas she got as a Christmas gift from her son and daughter-in-law when she felt something odd.
"I just rubbed across my chest because they were soft, and I felt the lump," says Janet.
Soon after that, doctors diagnosed Janet with triple-negative breast cancer, a rare and aggressive form of the disease. Nine months, 16 rounds of chemotherapy, and one double mastectomy later, Janet is now in remission.
"It's really hard to forget that you've been diagnosed with cancer, but coming out here, it just kind of puts your mind at ease," says Janet as she waters the flowers on her back porch.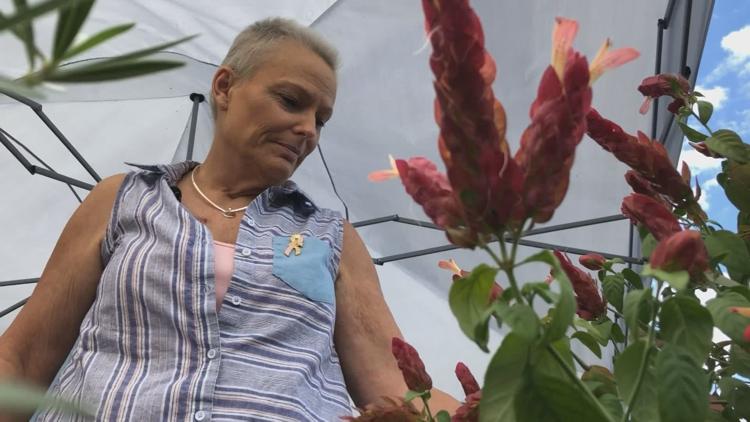 "I love flowers," says Janet. When I was taking treatments and I couldn't come out here, Dave would be like, 'OK, I am watering your plants for you.' He took good care of my plants when I couldn't."
She's talking about her fiancé, Dave Clark. He was there when Janet found out she had cancer.
"It felt like the bottom dropped out of the world," says Dave. "I knew there was absolutely nothing I could do to control it. I couldn't do anything to help the situation. I just felt absolutely lost."
If Janet was going to win her battle with breast cancer, she had to lose her hair first.
"My long hair was special," says Janet.
Janet says she started by chopping off just a few inches. But as chemo continued, so did her hair loss.
"I would watch her brush her hair, and it was coming out in her hands," says Dave. "I could see it was taking an emotional toll on her, so we did it." Dave shaved Janet's head, and then she shaved his.
"It was sad, but it was kind of fun because it felt almost like we were taking the next step to getting healed because that was part of the process," says Dave.
For Janet, process or not, losing her hair was hard.
"I felt very naked, like, exposed," says Janet. "Like everything was so real at that point. The cancer was real. The treatments were real. It just brought everything straight forward."
"My son told me, he said 'Mom, don't be upset that you don't have any hair.' He said 'wear your bald head, because it's strength and shows other women that you're strong.' It's OK to be bald. It's just a covering. You know? It's, it's just a covering. It's not who I am."
After that conversation with her son, Janet stopped wearing her wig and started seeing herself not as bald but as beautiful.
"It's been a long journey," says Janet. "It's been so long and scary. I had a grandson that was born the day that I had my first chemo treatment."
Janet was fighting for her life as her newborn grandson was starting his.
Janet is now reclaiming the things cancer tried taking from her.
"It's OK," says Janet. "I'm going to be OK. I'm going to make it, I'm going to survive, and I am going to see my grandchild grow."
Janet will go in for followup appointments every three months for the next three years, making sure her cancer doesn't come back.
Her story is a reminder of why it's crucial to pay attention to your body. Janet found her breast cancer by accident, and the American Cancer Society says many women do. Although monthly self-breast exams are no longer recommended, the American Cancer Society still urges women to be familiar with how their breasts look and feel. If something doesn't seem right, tell your doctor.