FRANKFORT, KY — Kentucky again broke records for COVID-19 patients in hospitals, in intensive care units and on ventilators Monday. The news came after Kentucky saw its highest week of new COVID-19 cases ever recorded last week: 29,456. 
Currently, 2,198 Kentuckians are hospitalized with the illness, including 615 in intensive care units and 384 on ventilators. The state reported 2,619 new cases Monday, including 752 teens and kids age 18 and younger. The state's overall positivity rate is 13.45%.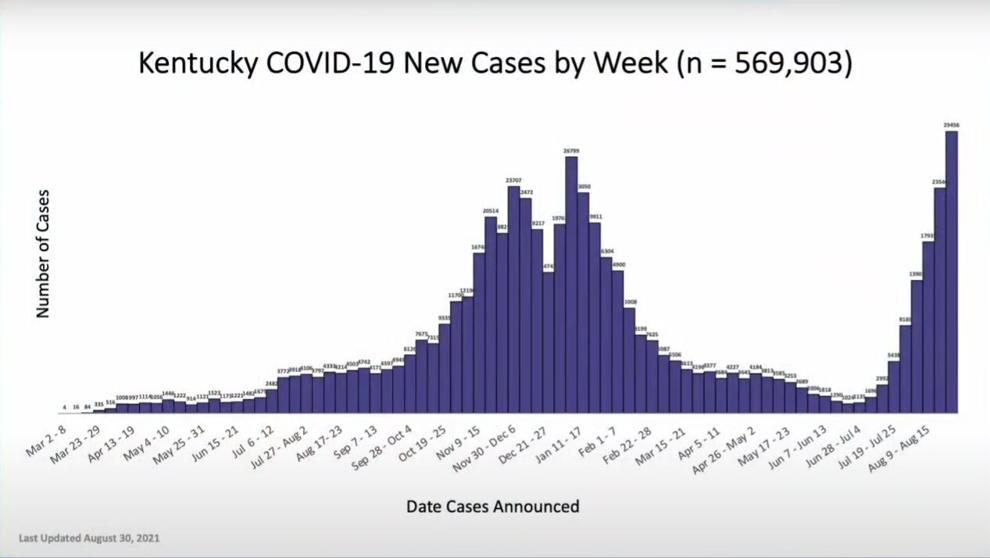 Gov. Andy Beshear said 58 of the 96 hospitals in the state are reporting critical staffing shortages, and he believes Kentucky currently only has 115 adult ICU beds left, down from 219 on Friday. He said 21 kids are hospitalized with the virus, up from 11 on Friday. Additionally, seven children are in ICUs — up from five Friday — and three on ventilators — down from four on Friday. "I pray that is for a good reason," Beshear said. 
The governor said the current COVID-19 surge is spreading quickly among the young. 
"Think it's really important for people to know that the incidence rate, in other words, which group Is getting COVID at the highest rates, has been the highest in ages 10 to 19 for months. In other words, if you are ages 10 to 19 right now you are getting COVID at a much higher rate than any other part of our population. These are our school-age children," Beshear said. 
The governor provided a comparison between the number of cases among those under 18 in August 2021 versus August of 2020, showing a drastic increase. In August 2020, 2,352 kids and teens under 18 had the virus. So far this month, the state has had 18,909 cases among that same age group.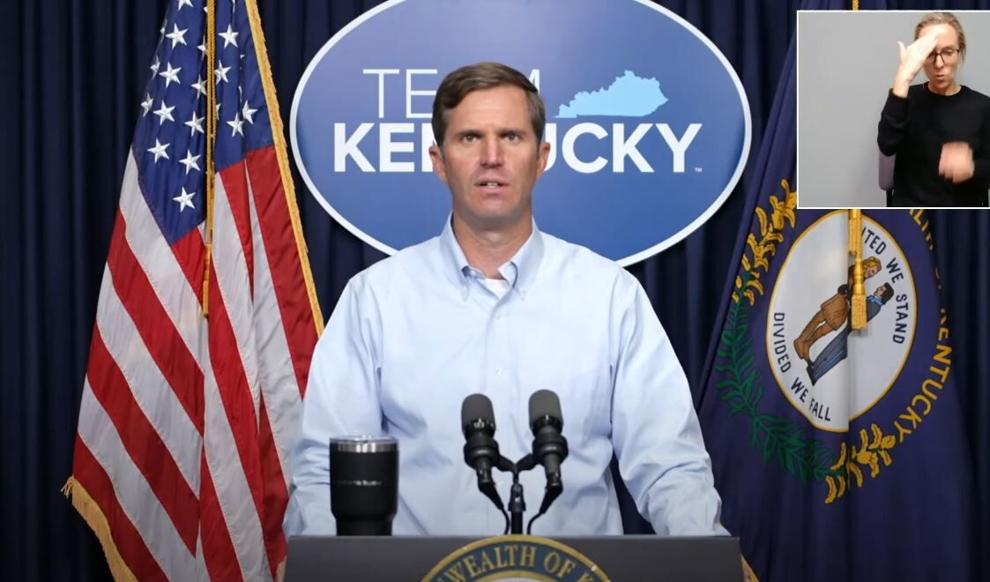 Looking at cases among all age groups, Kentucky had 19,903 cases in August 2020. So far this month, the state has had 77,089 cases.
On Monday alone, Kentucky had 2,619 new cases, as well as 25 additional virus-related deaths. On Sunday, the state reported 3,249 new cases and 18 deaths. Saturday, the state reported 4,050 new cases and 13 deaths.
Beshear said 87% of the COVID-19 deaths the state has reported since March 1, 2021 were unvaccinated individuals. 
The governor encouraged eligible Kentuckians who haven't gotten vaccinated against COVID-19 yet to take that step to help end the current surge and save lives. 
"This is the one time in this pandemic when we are faced with the surge going up and we could stop it simply by everybody getting vaccinated tomorrow, yet we are on the most significant surge that we have seen. This tragedy can be stopped by something as simple as everybody making a good decision, walking down to their Walgreens or CVS, their independent pharmacy, their Kroger, the grocery store, their local health department and just getting a shot to save humanity — to save Kentuckians." 
Click here for more information on vaccine providers in the Local 6 area. To make a vaccine appointment from anywhere in the country, visit vaccines.gov. 
Click here to view Kentucky's COVID-19 Vaccination Dashboard. 
Click here for more information about the available COVID-19 vaccines from the Centers for Disease Control and Prevention.