PADUCAH — A man trying to unseat Senate Majority Leader Mitch McConnell came to Paducah Sunday.
Kentucky District 43 Rep. Charles Booker, who is running in the Democratic primary for Senate, joined in on the unity march to fight for racial justice.
People at the march said they want to see change come from this, and more people getting to the polls.
They shared with Local 6 their hope for racial equality. Community members registered people to vote. Everyone that we spoke with said this is just the beginning; going out to vote will make the difference.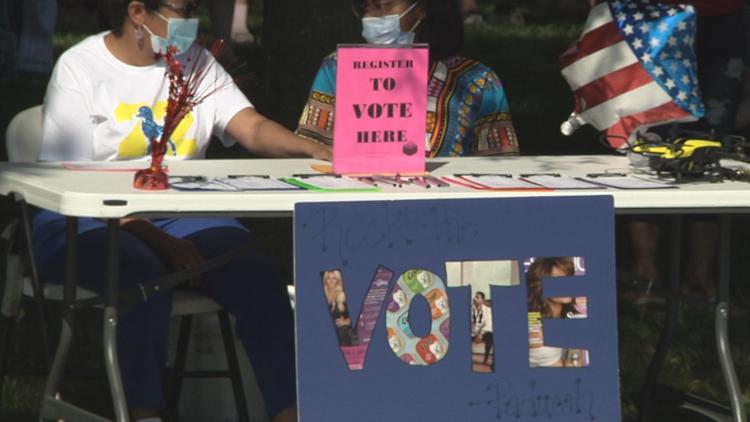 Nearly a hundred people marched from the McCracken County Courthouse to the Hotel Metropolitan.
They said they're taking a stand for racial justice. Booker said he's all about leveling the playing field for people of all races.
"We collectively want change," Booker said. "And a lot of what that looks like is making sure that there are people in position of decision making that see us, that hear us, that care about us, that will fight against inequity and that will stand up and speak the truth, even if it's difficult."
Andiamo White believes change will happen when we get out to the polls. He's helping people register to vote. White said she wants to see equal opportunity in the workforce.
"Majority of our kids when they leave to go to college, one of the main reason they don't come back to Paducah is because job opportunities are scarce," White said. "So, that would be a focus to me is to get more African-Americans into the positions, in boards, on boards, in higher positions."
Jennifer Smith co-organized the march. She said it's time for white people to join hands with black people in this fight. "This nation needs to heal," Smith said. "The killing of black people, the killing of people of color by the police, other people of authority, it's got to stop. It just breaks my heart."
Smith hopes their voices were heard and people left the march ready to vote for change.
Booker said he understands what it's like living in a poor neighborhood. He said he wants to break the cycle of generational poverty in minority communities.