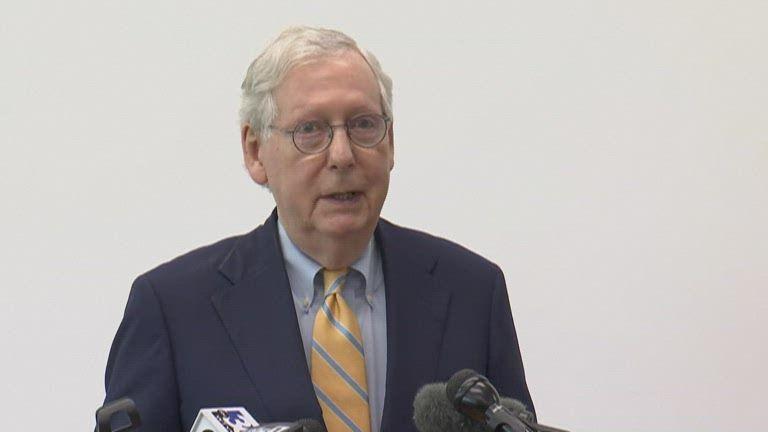 GEORGETOWN, KY (WLEX) — Senate Minority Leader Mitch McConnell criticized President Joe Biden's infrastructure plan while in Kentucky on Wednesday, saying it doesn't focus enough on infrastructure.
Speaking to a group of business leaders in Georgetown, Kentucky, McConnell promoted republicans' have $600-billion alternative to Biden's multitrillion-dollar plan.
"What we are willing to do, I say we the Republicans are willing to do, is to talk to the administration about an infrastructure package that's really about infrastructure," McConnell said.
He said the Republican plan "deals with things that we commonly refer to as infrastructure: roads, bridges, ports, waterways and the like and broadband."
NBC News reports that McConnell also told reporters in Kentucky that "One hundred percent of my focus is on stopping this new administration."
"We're confronted with severe challenges from a new administration, and a narrow majority of Democrats in the House and a 50-50 Senate to turn America into a socialist country, and that's 100% of my focus," McConnell said.
Answering reporters' questions at a White House briefing Wednesday, Biden said he is willing to compromise with republicans and that he's "not willing to deficit spend." 
About McConnell's remark, NBC News reports, Biden dismissed that vow. "He said that about the last administration — about Barack, that he was going to stop everything — and I was able to get a lot done with him," Biden said. 
McConnell also reemphasized the importance of getting vaccinated and wearing masks in public when needed.
"I do think there is clearly a slowdown in the number of people getting the vaccinations. I think the president said yesterday he thought we probably wouldn't get to the 75% level that would be most desirable to have herd immunity, and so I will just add my voice to others: We really ought to get vaccinated. It really is a good thing to do," McConnell said.
Biden on Tuesday set a new goal of administering at least one COVID-19 vaccine dose to 70% of the US adult population and having 160 million US adults fully vaccinated by July 4. White House Chief of taff Ron Klain on Tuesday night said that's an ambitious but reachable goal.
McConnell stressed his support for Americans taking all the necessary steps to protect themselves and others from the virus. 
"I'm a big proponent of wearing masks. I've been a big proponent of getting vaccinated. And I've tried myself to say the things that I think the American people need to hear," he added.