Ready or not, winter will be here soon. Some of us are wishing for lots of snow, while others are hoping it doesn't get too cold. So what can we expect this season?
Seasonal forecasts are difficult because there are many factors that can influence our weather. To forecast the weather locally out several weeks and months in advance, we look globally to predict locally.  While those factors can and will change as the season progresses -- one of the big factors that could impact our weather this season is the presence of a La Nina event in the Pacific Ocean. 
La Nina is a pattern caused by the upwelling of colder than normal ocean water in the central Pacific Ocean.  Even though it is thousands of miles away, it can play a big role in our weather locally by dictating where the polar jet stream sets up. The opposite of La Nina is El Nino, when the water temperatures in the central Pacific are warmer than average.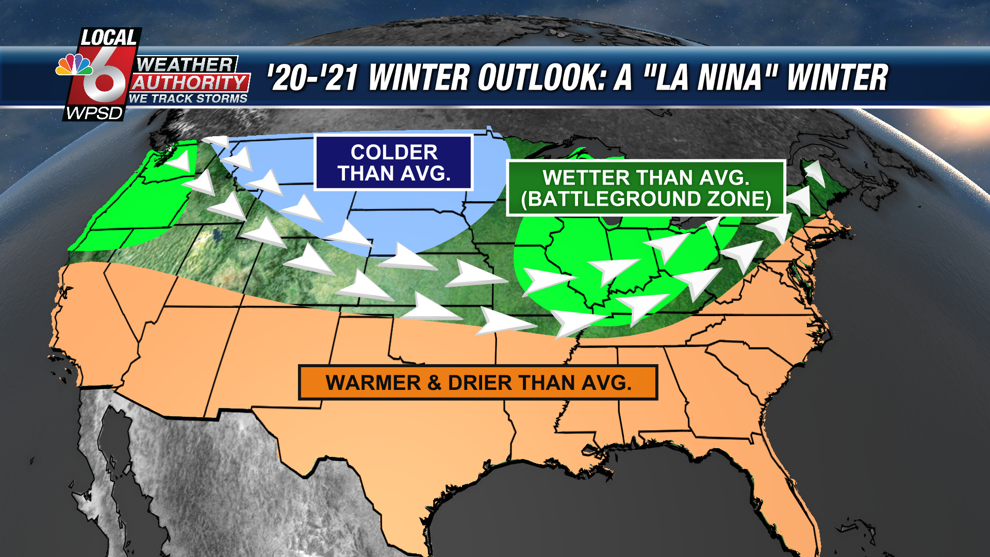 While not always the case, most La Nina winters feature a strong jet stream that dips into the middle of the country, separating colder air to the north from warmer air to the south. With this setup, our area is usually in the "battleground zone" where those air masses meet. This usually leads to an active weather pattern. Remember the main ingredient for large scale storms that traverse the country is a clash of warm, humid air with cold, dry air. The active jet stream brings those two things together.
Remember too that in every winter in the Northern Hemisphere, the jet stream is always stronger than in the summer. The jet stream is the fast corridor of winds located where commercial planes fly at (30,000 feet) that governs how and where storms at the surface develop. The jet stream is stronger in the winter months because there is a larger contrast in temperature from low to high latitudes.
In winter, the temperature along the Gulf Coast, for example could be near 90°F... while in Chicago it is 0°F -- that is a significant spread in temperature from north to south, which is what fuels a stronger jet stream. In the summer months, the temperature in the United States from border to border might only vary a few degrees, which is why widespread severe weather is uncommon in July and August.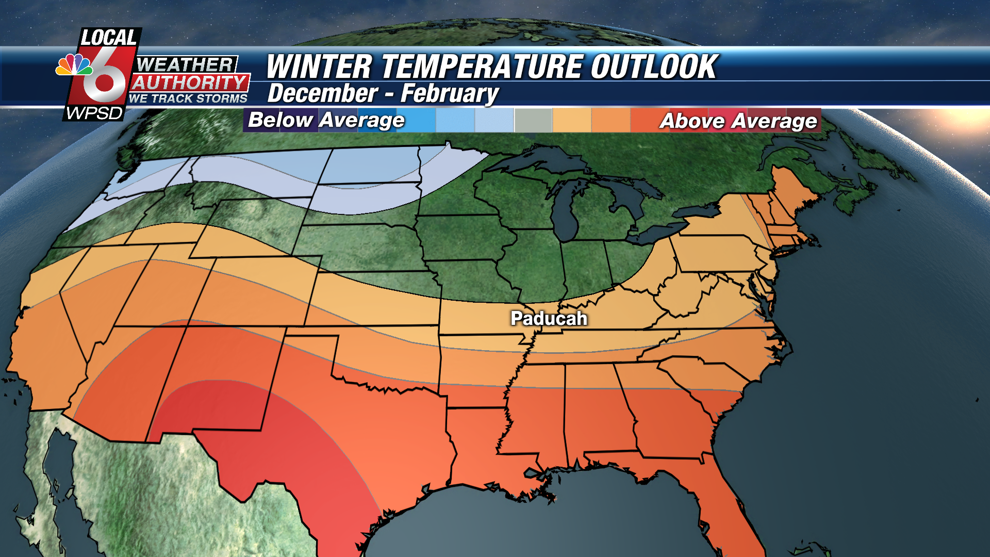 The official winter outlook from NOAA is weighed heavily toward what we historically see during a La Nina winter, featuring a high likelihood of warmer than average temperatures for the season in the southern U.S., and a chance of above average temperatures in our area. 
The outlook follows the typical La Nina setup with a slight nod toward above average precipitation in our area and the Ohio Valley. The question is what kind of precipitation? That is more difficult to determine because we are in that "battleground zone."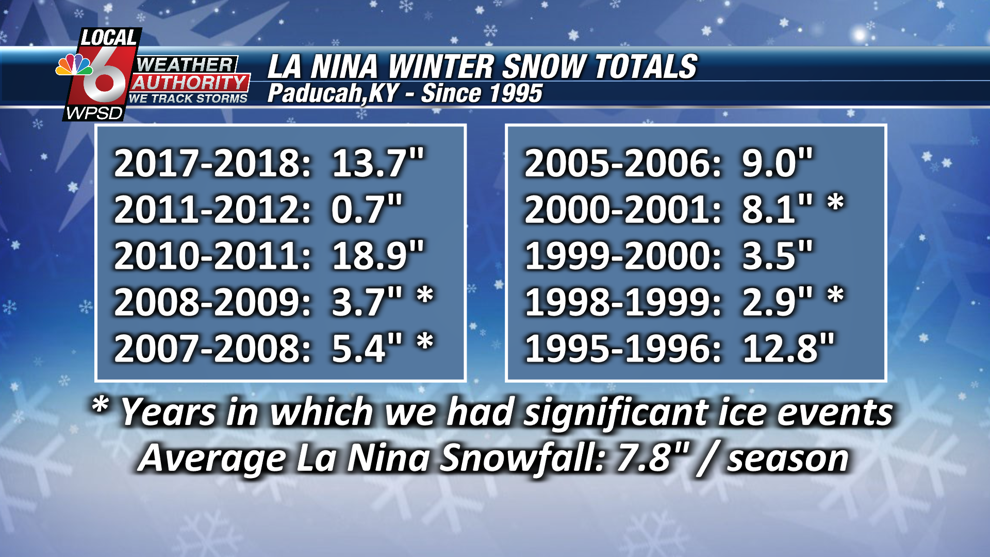 For you snow lovers, there have been some La Nina winters with big snowfalls. These are La Nina winters where the jet stream took some significant dips south, allowing enough cold air to pour in and support wintry weather. Other La Nina winters when the jet stream remained a little farther north only produced meager amounts of snowfall. And again, there are many other factors aside from La Nina that can influence snowfall. Some of those factors are still rather uncertain at this time. Another interesting thing to note...in 4 of 10 La Nina winters in our area, we've had at least one significant freezing rain/icing event, including back-to-back ice storms in 2008 and 2009, both La Nina winters. Bottom line for snow lovers, an active pattern will be favorable for wintry weather...IF the jet stream takes a few big dips south.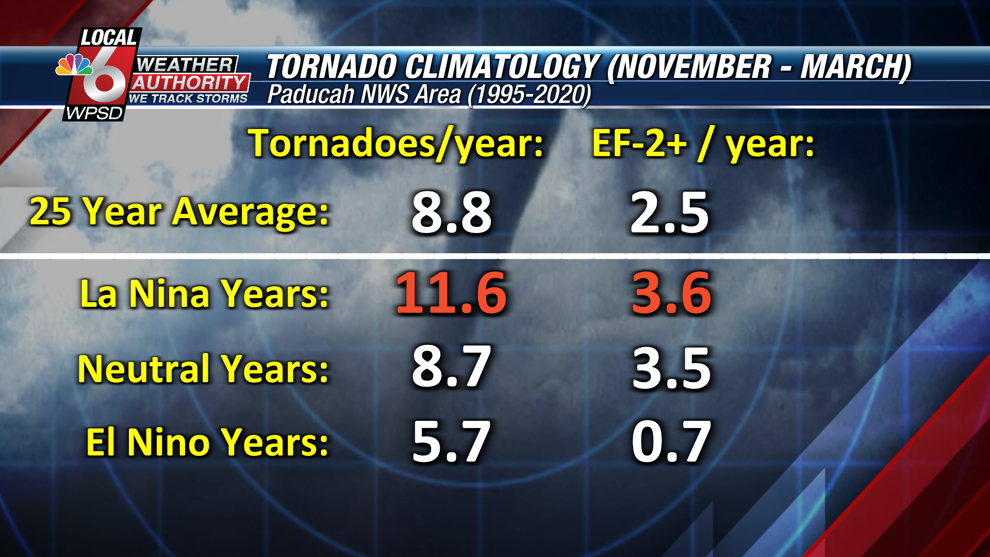 Unfortunately, there is another side to the coin with La Nina here in the winter...a possible uptick in severe weather.  Again, this doesn't play out every year, but research shows that over the past 25 years, our area has seen a higher frequency of cool-season tornadoes during La Nina. Typically, we see an average of 8.8 tornadoes between November & March in our area each year, but that increases to 11.6 per season in La Nina. 
Taking this a step further, of the 63 EF-2 or stronger tornadoes to touchdown in the Paducah NWS office's warning area since 1995 during the cooler months, 36 of those strong tornadoes have occurred during a La Nina setup. Again, there are multiple factors that have to come together to produce these severe weather setup...but the active jet stream that come along with La Nina is an important component of that setup.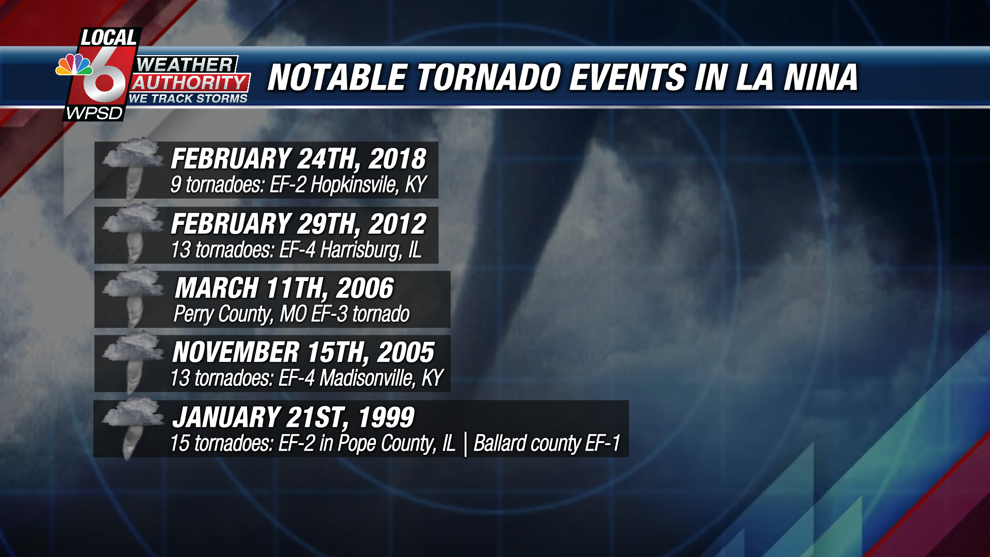 Take a look at the list above. We have had many significant tornado outbreaks just in the past ~20 years locally. Of note, the EF-4 tornado in Harrisburg, Illinois which was apart of 13 tornadoes that hit our area that night. On January 21st, 1999, 15 tornadoes hit the Local 6 area including a pair of EF-2 twisters in southern Illinois and an EF-1 tornado in both McCracken and Ballard counties in Kentucky.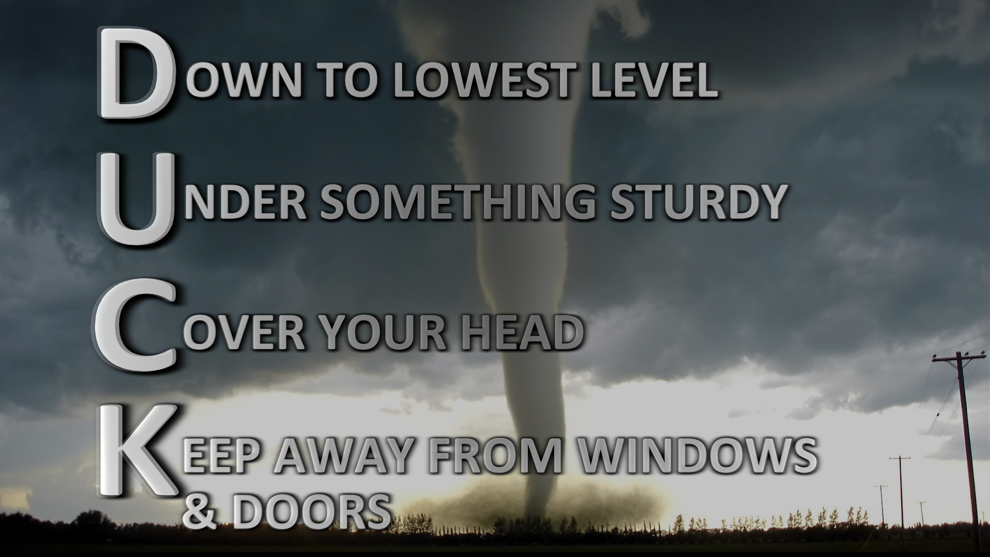 Remember the next time you hear a tornado siren or alert on your phone... fight the urge to go outside and try and spot the tornado, especially at night. Cover your head, care for your pets and children, and put as many barriers / walls between yourself and the outside as possible. Especially in the age of handheld devices and phones, it is imperative to have multiple methods at your disposal to get weather alerts.
The federal government has established "WEA" (wireless emergency alerts) in most new cell-phones which will default to your phone automatically when issued (think Amber Alert, Tornado Warning, Flash Flood Warning, etc.). Other ways include using our WPSD Radar app which will follow your location anywhere, and having a working weather radio. Follow the National Weather Service on social media and the Local 6 team of meteorologists.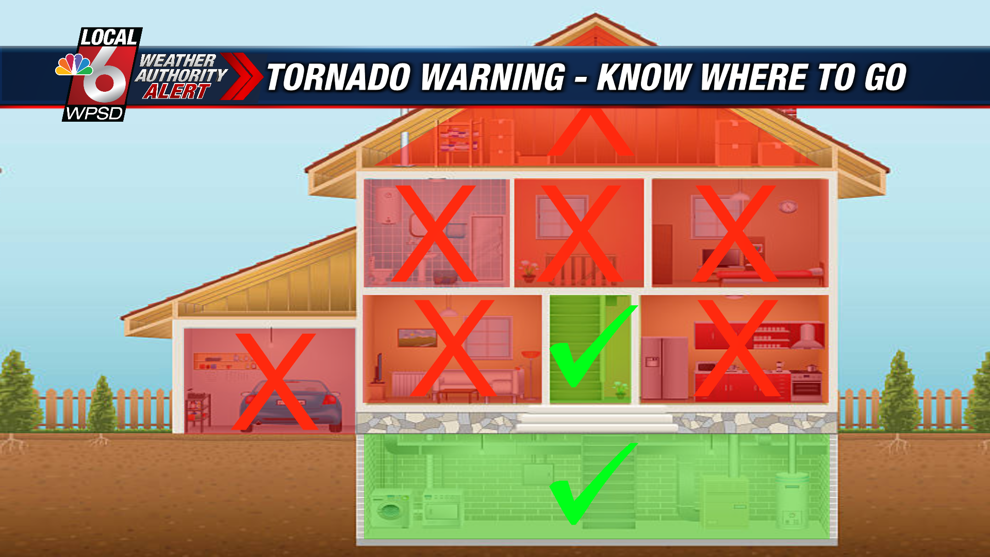 Example, always take shelter in an inner-most room during a tornado warning until the warning expires or you are told by one of the Local 6 meteorologists the threat has passed your location.
So the big takeaways for this winter....it will likely be a busy winter, with an active pattern developing over the course of the season.  Above average precipitation looks likely. Temperatures for the season averaged as a whole will likely run above average, but La Nina can bring some big swings and cold snaps, which could bring both wintry precipitation and big thunderstorms. Remember too... if we happen to get a major cold snap at some point... the forecast we described above is the mean of the entire winter. One freak record setting cold snap does not define the winter. When all is said and done, the average of all the days this winter season is anticipated to be above normal - but time will tell.