Easily one of the most extreme outbreaks of cold and snow ever in the 20th century was between January 18th and 22nd of 1985. Bitter cold hit every state east of the Rockies with actual air temperatures as low as -37°F in northern Minnesota and 19°F in Orlando, Florida!
In the Local 6 area, this still to this day stands as the most prolific cold air we have recorded in the existence of the National Weather Service office in Paducah. The polar vortex shifted dramatically southward into the Great Lakes region as the Jet Stream buckled sharply in a north to south orientation from Canada into the southern United States.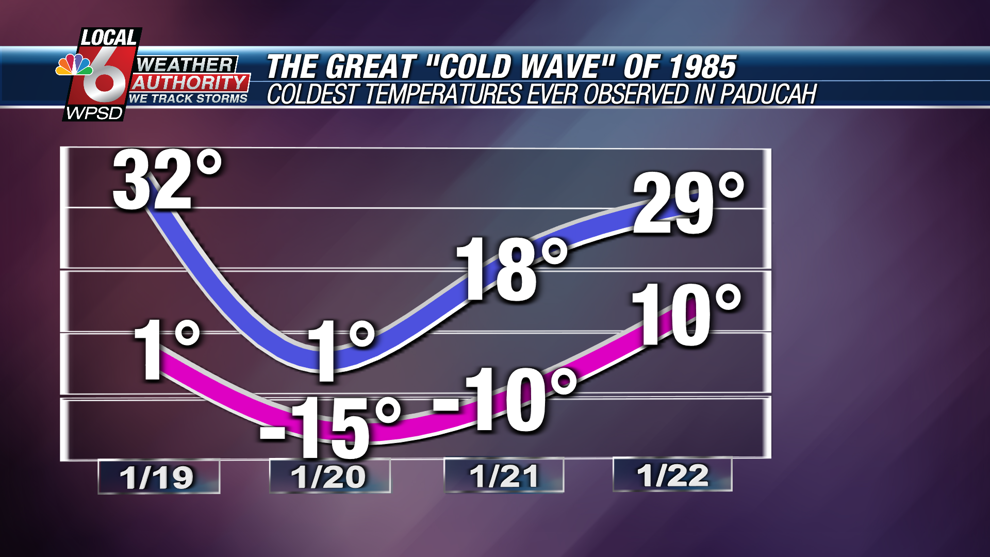 Above are the recorded high and low temperatures in Paducah that week. The high temperature only got to 1°F on January 20th, 1985!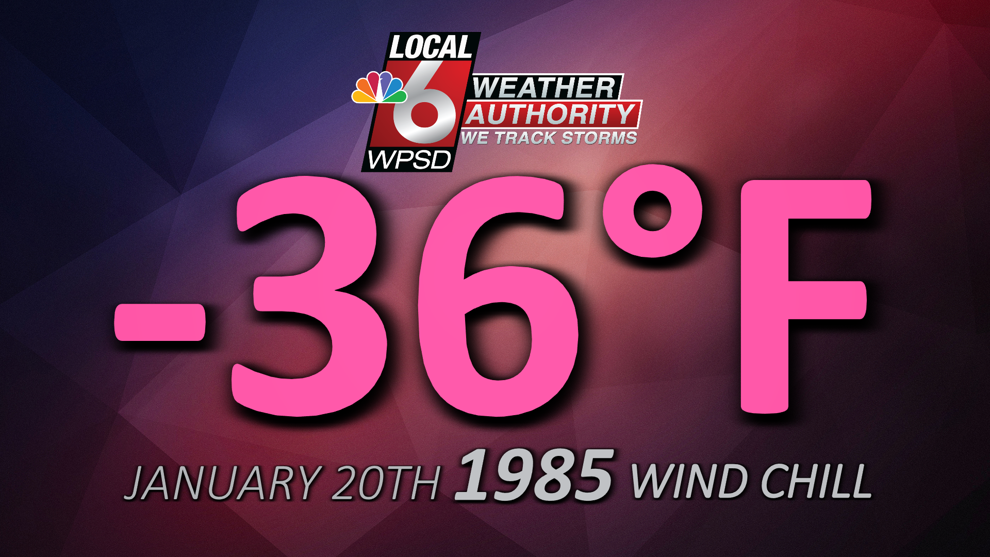 The lowest wind chill observed in the history of the Paducah NWS was this -36°F in 1985. It should be noted wind chill archived data goes from 1950 until present in Paducah. But there is no data for wind chills between 1965 and 1972, and the mathematical formula for calculating wind chill was changed in 2001.
1985 was not only a significant year for cold... the month of January in '85 still stands as the 2nd snowiest January to-date in Paducah at 16.8"!
The Arctic air mass started moving into the United States January 19 and the morning of January 20.
The windy city of Chicago was especially hard hit, which recorded a record low of −27 °F, combined with 25 MPH winds to produce a wind chill of −77 °F, also never recorded before. Let that sink in... a wind chill of -77°F means frostbite develops on human skin in less than 5 MINIUTES!
The wind chill calculation was adjusted in 2001, which would make the value about −60 °F on the new scale. Nearby St. Louis had a low temperature of −18 °F. Pittsburgh woke up that morning to find a low of −18 °F, the coldest morning since 1899.
In Cincinnati, the morning temp of −21 °F tied for the fourth-lowest minimum temperature in the city's history. Memphis recorded a low of −4 °F, setting a record low for that day. The coldest temperature in the contiguous states on Jan. 21 was −24 °F, in the unlikely location of Akron, Ohio.
This series of unfortunate events would be aptly deemed the "Freeze of the Century" as it saw the majority of the U.S. wrapped in a cold nutshell. It is important to note that a large swath of the U.S. typically experiences their coldest days between January 20 to 22.