MURPHYSBORO, IL — A southern Illinois dog that underwent surgery earlier this month after someone tightly tied rubber bands around his snout, cutting him to the bone, is up for adoption. 
The last few weeks have been challenging for Wyatt, but three surgeries later, veterinarian Dr. Kay Creese with St. Francis CARE said he's recovering faster than expected. 
"After everything he's been through, he's just really loving," said Creese.  
The team at St. Francis Care is now accepting adoption applications. They're looking for a family who can match Wyatt's fun and loving spirit.
"He's active. He likes to run around and all the things you would expect of a younger dog. He deserves to have a family all of his own where he can be the center of attention," said Creese.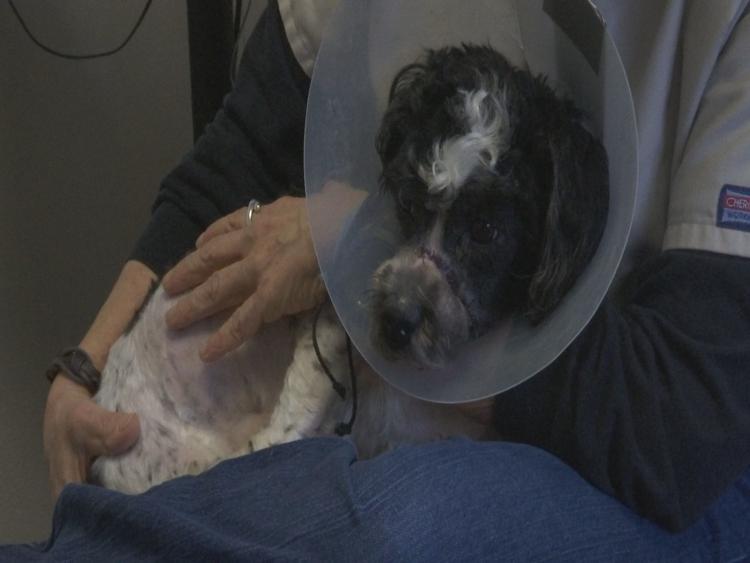 Volunteers who work closely with Wyatt have developed a special bond with him. They said he will be missed, but will always be a part of the St. Francis family.
"We will pick out someone who will hopefully love that little guy forever, and hopefully he will forget what happened," said volunteer Nancy Clementz-Behimer. 
If you're not the lucky family to adopt Wyatt, you can still help bring awareness for him and other dogs that have been abused by buying a Wyatt T-shirt from St. Francis CARE. The money will go towards helping abused animals. On Thursday, St. Francis CARE said via Facebook that the shirts are sold out, but they will be reordered if there is a demand for them.
"If you expect that a dog or cat is being abused, report it," said Creese. 
Soon, Wyatt will have the happy ending he deserves. When asked about possible charges against the person or people who hurt Wyatt, the Jackson County States Attorney's Office said the case is still under review. To learn more about the adoption application, visit https://stfrancis-care.org.
Previous coverage: