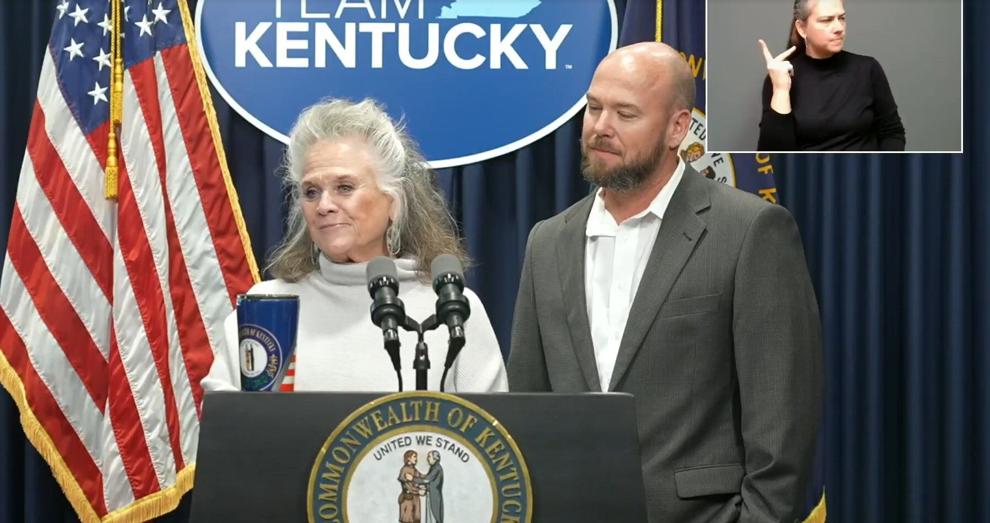 GRAVES COUNTY, KY — An Iowa-based company that manufactures tilling blades and other agricultural and construction tools is investing $12.5 million to open a new facility in Graves County, Kentucky, Gov. Andy Beshear announced Thursday. The plant is expected to create 80 jobs.
The governor's office says Osmundson Mfg. Co. is buying nearly 35 acres of land in Graves County to build a 150,000-square-foot facility that will produce 20-inch and larger disc blades for the agriculture and construction industries. Construction of the plant is expected to begin in 2023, and it's expected to be complete by 2025. 
A news release about the investment says Kentucky Economic Development Finance Authority has preliminarily approved a 15-year incentive agreement with Osmundson under the state's business investment program. The agreement can provide the company with up to $1.5 million in tax incentives. That's based on the company's $12.5 million investment, and annual targets the company is required to hit, including the creation and maintenance of 80 full-time jobs for Kentucky residents across 15 years. Another target the company must hit to receive the tax incentive is to pay an average hourly wage of $36.07 including benefits across those jobs and an average base pay of $21.74 not including benefits.
Beshear spoke about the company's investment during his Team Kentucky update on Thursday.
"This is an incredible investment in our state's rapidly growing manufacturing sector. If you serve the manufacturing sector, you know, this is where you want to be," Beshear said. "But also it's a great opportunity for our friends in western Kentucky. Saturday is the one-year anniversary of that horrendous tornado event, and so to this company, creating 80 full-time, quality jobs in this area, is gonna help save the town of Mayfield. It's going to help not only us pick ourselves back up, but it's gonna help us move forward. It brings incredible hope at an amazing time, and this community deserves every bit of good news it's getting today." 
Mayfield Mayor Kathy O'Nan and Graves County Judge Executive Jesse Perry joined the governor in Frankfort on Thursday for the announcement. 
"Just a little over a year ago we sat in our emergency operating center with the governor, and he looked us straight in the eyes and said 'You've got all the help you need from this state, the commonwealth,' and then the words which rang true to both the judge executive and I, 'We're not gonna let you go bankrupt,'" O'Nan said. "We then talked about where we might be a year from that time. I had no idea that in just two days less than a year we would have an announcement like this for our county. We are so grateful."
O'Nan also shared her gratitude that Osmundson in particular is building a plant in the Mayfield area. 
"When I talked to the economic director, Jason Lemle, he said one of the things before Jesse and I met with them was they said they wanted to help us rebuild. That, I knew there was a company out there like that, and I'm so thankful that it is this group coming to us."
Osmundson President Heather Bruce said her business is a fifth generation, family owned company based in the small town of Perry, Iowa, a town she said is "very similar to Mayfield." 
"We've been there now almost 120 years, and we are very, very excited to actually be in Mayfield," Bruce said. "We're excited to start the new planning process and the new facility itself. It's going to be great. I'm very much looking forward to all the relationships and the people that we will be dealing with in western Kentucky. Everybody over in Mayfield and in Graves County has already made us feel like we're part of the family. We're very much a family focused company, and we're very excited to get started. So we very much appreciate it and look forward to the future." 
In a statement included in a news release from the governor's office, Perry said he's thankful Osmundson has chosen to invest in his community. 
"Osmundson Mfg. Co. is a great company that will provide our community with opportunities for new development," Perry said. "After the devastation that we have been left with since the tornado, we are hopeful that this investment will aid in the rebuilding process. It's an exciting time to see Graves County grow again. Thank you, Osmundson Mfg. Co. for choosing Graves County to be your destination for your new facility."
During the Team Kentucky update, Perry also shared his thanks for the governor and his office for their role in helping bring the project to Graves County. 
"You know, I think about what the governor said early on, so many other announcements happening across the state, and he said 'We are gonna work to help you have an announcement,' and you have — you and your team and staff and the wonderful cabinet that is helping with this — you've come through with your word, and our folks in Graves County, Mayfield and western Kentucky will be very appreciative of this, and we thank you so much."
Beshear plans to be in western Kentucky Saturday as Mayfield, Graves County and other communities mark one year since the December 2021 tornado outbreak, which cost 81 lives in Kentucky and caused widespread damage.