UPDATE 6/21/20: Update on how to watch WPSD without Mediacom:
I know there is a lot of frustration about Mediacom pulling WPSD from its cable lineup. But there are other ways to watch WPSD Local 6. Some are free, others would mean canceling Mediacom and going with another provider. Other providers:
Traditional systems like Dish (1-844-784-2098) or DirecTV (1-844-311-6610).
Internet streaming providers like YouTubeTV (tv.youtube.com) or Fubo (Fubo.TV) are good if you have a strong/reliable Internet at home.
WPSD Local 6 has an FREE app that is available on Smart TVs, ROKU, Amazon Firestick, and Apple TV. This app gives you access to all of our local news content including LIVE newscasts, replays of the most recent newscast, LIVE breaking news events like severe weather coverage.
WPSD is also streaming our local newscasts on our web channel WPSDLocal6.com. We also stream breaking news and severe weather there too.
NBC has the Peacock app that is available on Smart TVs, ROKU, Amazon Firestick, and Apple TV. Peacock has a FREE level and two upgrades ($4.99/mo. & $9.99/mo.)The great news about Peacock is you can watch LIVE NBC sporting events on it with a $4.99/mo. subscription. This subscription also gives you access to "next-day access to current NBC hits." Peacock will also have Olympic coverage from Tokyo beginning in July. Check it out at www.PeacockTV.com.
WPSD is ready to resume negotiations with Mediacom as soon as they return our calls. Remember, we offered to continue under our old contract until a new contract was agreed upon. Mediacom made the decision to ignore our offer and blackout WPSD from their systems. This is a common tactic for Mediacom. They have blacked out 16 TV stations in 11 cities since January 2021. In my nearly 25 years with WPSD, we have negotiated dozens of mutually beneficial contracts with more than 15 cable operators/partners.
WPSD Local 6 and Mediacom have been negotiating a new contract that allows Mediacom to continue re-transmitting our programming to your home. Our current contract ended on May 31, 2021.
WPSD Local 6 has offered Mediacom a fair compensation proposal based on the importance and value our programming brings to you. Mediacom has rejected more than 10 proposals since mid-April. Mediacom threatened this "going dark" option for three straight days if WPSD Local 6 did not accept their terms.
Mediacom pulled the plug on WPSD Local 6 when a new contract was not agreed upon—even though WPSD Local 6 offered an extension under the old contract terms while we continued to negotiate. This is not the first time Mediacom has used this tactic against broadcasters across the U.S.
WPSD Local 6 values the entertainment, local news, local sports, and local weather programming we produce. And we value you. We hate that Mediacom has denied you this programming, especially since you will still pay for it, even though Mediacom pulled the plug. WPSD Local 6 remains committed to reaching an agreement, as we have with all distributors in our coverage area.
The bottom line is our compensation offer is fair and Mediacom is holding you, the subscriber—hostage.
WPSD Local 6 will begin airing our LOCAL NEWS, WEATHER, AND SPORTS on our web channel, WPSDLocal6.com during our news times. You can also watch WPSD Local 6 news on our ROKU, FIRESTICK, & APPLE TV APPS. Unfortunately, we cannot broadcast NBC programming on the website or these apps.
There are other ways for you to receive WPSD Local 6. You can install an over the air antenna and receive WPSD free over the air, or you can dump Mediacom and sign up for a satellite service.
WPSD Local 6 would also like to point out that Mediacom is misleading its subscribers with the message they have posted (below). WPSD did not request the blackout, we offered an extension. We did not order a blackout, we offered an extension. This isn't about money, and they know it.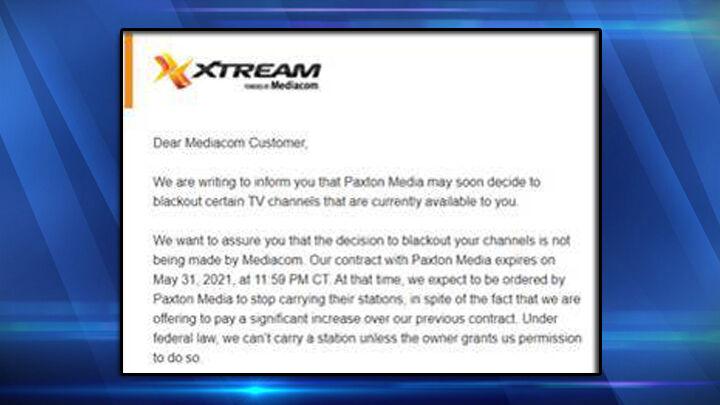 To let Mediacom know how you feel about them shutting off WPSD Local 6, you can call them at 855-633-4226.