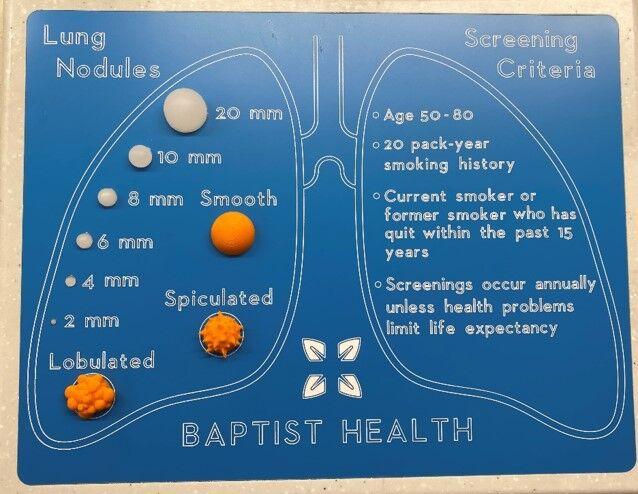 PADUCAH – Baptist Health Paducah has collaborated with West Kentucky Community and Technical College (WKCTC) to develop a 3D lung nodule tool designed to help educate patients in the community about the value of being screened for lung cancer.
Lung cancer is the most diagnosed form of cancer in Kentucky.
The 3D lung nodule tool provides patients a hands-on demonstration and a visual demonstration of different lung nodules. The tool was developed using input from the Emerging and Technology Center of WKCTC and multiple departments at Baptist Health Paducah, including pulmonology, oncology and imaging.
The tool will be distributed to all Baptist Health hospitals in Kentucky and Indiana for healthcare providers to use as an additional educational resource.
"The 3D lung nodule tool provides a great visual depiction of the sizes and characteristics of the nodules of concern found on lung CT scans," said Keith Kelly, MD, Pulmonology.  "It helps us guide the patient through our decision making for the next steps of evaluation. CT screening has been valuable in early lung cancer detection, giving us more effective treatment options.  Recently the criteria for CT screenings were expanded, giving more people at risk, access to potentially life-saving testing."
WKCTC students will produce 300 3D lung nodule tools. The production of the tools was made possible by a $10,000 donation from The Baptist Health Kentucky Foundation.