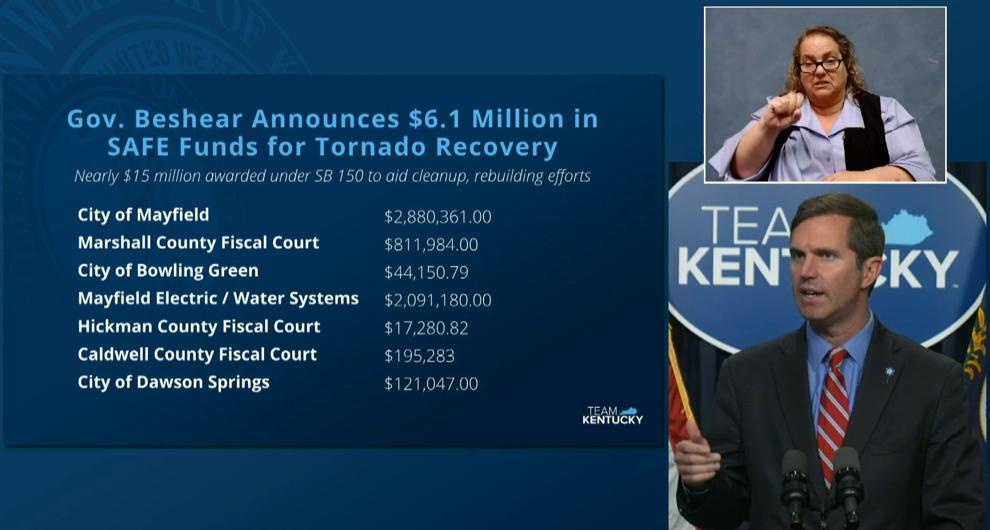 FRANKFORT, KY — Gov. Andy Beshear on Thursday announced another round of assistance from the West Kentucky State Aid Funding for Emergencies. The governor said more than $6.1 million from the fund is going out to seven cities, counties and utilities affected by the December tornado outbreak. 
During his weekly Team Kentucky update, Beshear announced funding awards including:
More than $2.8 million for the city of Mayfield.

More than $2 million for Mayfield Electric & Water Systems.

Nearly $200,000 for the Caldwell County Fiscal Court.

More than $121,000 for the city of Dawson Springs.

More than $811,000 for the Marshall County Fiscal Court.

More than $44,000 for the city of Bowling Green.

More than $17,000 for the Hickman County Fiscal Court.
"We would like to thank Gov. Beshear, Sen. Howell and others who have worked diligently in setting up SAFE funds for the tornado-ravaged counties in Kentucky," Hickman County Judge Executive Kenny Wilson said in a statement Thursday. "Being able to use funding for our FEMA match is very important to a small county like ours. Our hope in the future is to tap into the SAFE funds more to add additional emergency sirens in our county and make some much-needed improvements for better radio communications for our first responders and emergency service providers. We really appreciate the help."
Beshear's office says the money announced Thursday will accommodate the 5.2% local share for Federal Emergency Management Agency-eligible expenses. 
"Our Western Kentucky communities need our help as they continue to rebuild following the tornadoes that took so much from them last December," Beshear said. "These funds will help cover expenses and services that are not eligible for FEMA aid, and they will help ease some of the financial burdens that these communities have endured."
Last week, Beshear announced the first round of West Kentucky SAFE funding would go to Hopkins County. The governor's office says the Kentucky Division of Emergency Management is still receiving and reviewing applications for West Kentucky SAFE funding. The emergency management division expects that more funding will be made available soon.