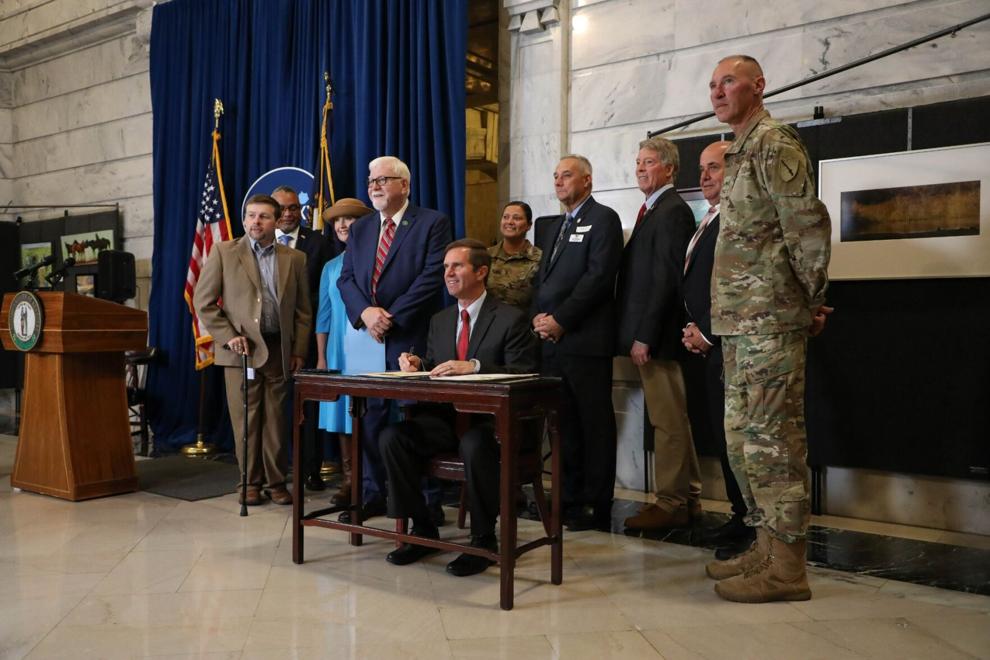 FRANKFORT, KY — As part of Military Appreciation Month, Kentucky Gov. Andy Beshear on Wednesday ceremonially signed into law four bills that support Kentucky's military community and their families.
The first makes it easier for spouses of these members to apply for regular and/or temporary occupational license without having to pay dues or fees. 
The next is related to that. It allows for Kentucky's participation in the National Occupational Therapy Compact. 
The next adds more special military unit license plates for purchase. 
And finally, the fourth bill expands the Military Family Assistance Trust Fund, which provides money for necessary emergency expenses.
Beshear explained what that means.
"Changes were made in this legislation so that we are doing right to make sure that all Kentucky National Guard members and reserves are eligible to receive the funds. Previously, these service members could've been denied funds to help them overcome hardships that they endured because of our call, because of our ask, due solely to their lack of federal active duty status," Beshear said. 
That money can cover expenses like housing, utilities, groceries, health insurance copays and child care. And while Wednesday's bill signing event was held to highlight military members, Beshear also took time to comment on the death of Calloway County Chief Deputy Jody Cash.
"And I know today, while not an active military member, Calloway County Chief Deputy Jody Cash is also on our hearts and on our minds. And we will continue to pray for and support the families of Corporal Moore, Chief Warrant Officer Pennington, and Calloway County Sheriff Deputy Jody Cash," Beshear said. 
The other two men Beshear mentioned there were marines from Kentucky who died earlier this year.