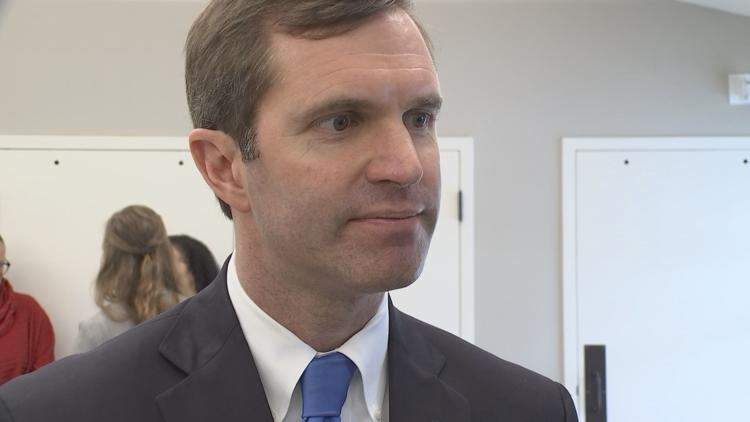 Kentucky Gov. Andy Beshear was in Paducah Monday to present a $360,000 grant to Lotus, a sexual assault and child abuse advocacy center that serves west Kentucky.
While he was here, he also talked with Local 6 about other issues that affect you.
The Second Amendment sanctuary movement
The movement is a push for local governments to declare themselves a sanctuary and protector of the right to bear arms.
Currently, the Marshall County Fiscal Court is working on creating a revised draft of the ordinance. Beshear said the Second Amendment is strong and already protects people's rights. He went on to say that he doesn't see any infringement on that right.
"Well, I think the information is out there that these resolutions or ordinances don't carry the force of law, but if those that are coming together to push them think it is an important statement to communicate with those in Frankfort, I encourage them lifting up their voice and making it heard in our system of state government," Beshear said.
Check out Local 6's Second Amendment sanctuary guide for more information about this issue. 
Former Gov. Matt Bevin's pardons
Beshear said pardoning state inmates takes discretion and judgement. That's regarding the ongoing controversy surrounding former Gov. Matt Bevin as he pardoned hundreds of inmates statewide in his final days as governor.
Beshear said those pardons were an injustice to the victims.
"I will take a very different approach. I am never going to pardon a violent crime without talking to the victim and the victim's family first. It's the very least they deserve, and I'm going to be willing to stand in front of the people of Kentucky and the press to explain every single pardon that I issue," he said.
"I have a couple of concerns about some of those individual pardons and some of the statements that have been made about it," he continued. "What we're here doing today is lifting up our victims, and I'm worried that some of those pardons have hurt that effort."
Barkley Regional Airport terminal project
McCracken County Fiscal Court members talked about the county's share of funding for a new terminal at Barkley Regional Airport during their meeting Monday night. The county agreed to match the city's funding for the new terminal designs. The fiscal court agreed on having Judge Executive Craig Clymer pledge no more than $140,000 to the design phase of the project.
Talking with Local 6, Beshear said he has met with city and county leaders about the project.
"McCracken County and Paducah sent a large delegation. They put on the squeeze. They talked about the needs and the importance of it. So, we have taken that information from it, and we are looking for possible funding sources," the governor said.