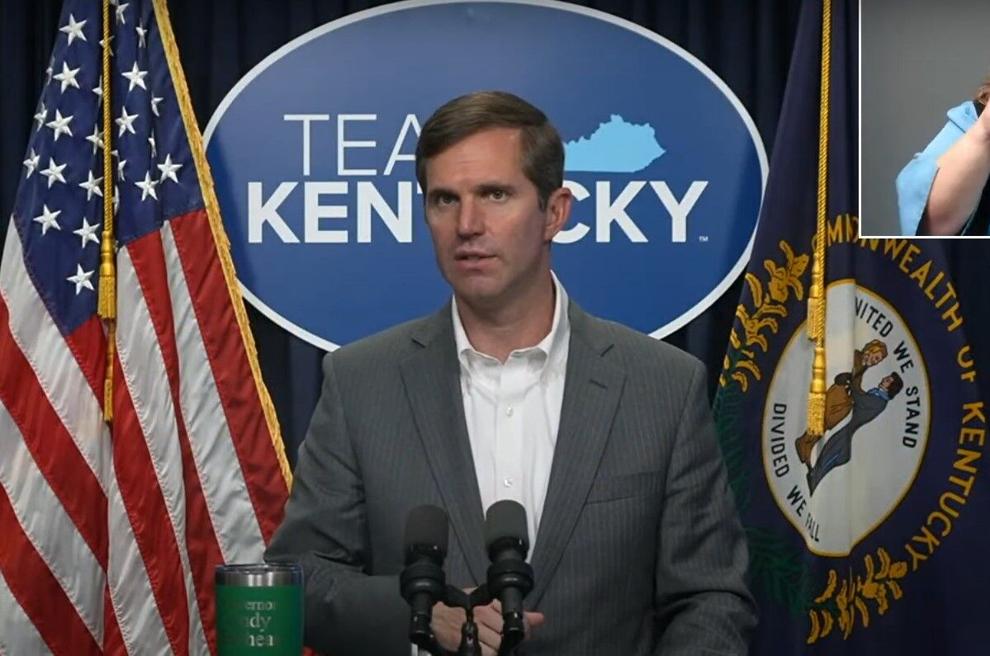 WEST KENTUCKY — Gov. Andy Beshear will visit west Kentucky on Friday, six months to the day after a December tornado outbreak caused widespread destruction and claimed dozens of lives. 
First, the governor will visit Graves County, where he will participate in the Rebuilding Mayfield event, celebrating some of the first new homes to be built after the storm. The governor's office says house keys will be presented to one family, and then the governor and others in attendance will walk to dedicate two more new homes. 
Next, Beshear is slated to visit Marshall County, where he will meet with local leaders to announce funding for pedestrian safety improvements in the community, funded via the Kentucky Transportation Cabinet's Transportation Alternatives Program. 
From there, the governor plans to travel to Hopkins County, where he and local leaders will announce funding to pay for land survey costs in Dawson Springs. That funding comes from from the West Kentucky State Aid Funding for Emergencies fund, the governor's office says. The money is part of the sixth round of awards from the West Kentucky SAFE fund Beshear announced during his Team Kentucky update on Thursday.
In that round of funding, the governor said more than $16.3 million will be distributed among Dawson Springs, Mulenberg County and Mayfield Electric & Water Systems to help with restoration and recovery costs. 
That amount includes $15 million for Mayfield Electric & Water, $1.2 million for the city of Dawson Springs to cover those land survey costs and more than $61,000 for strained fiscal liquidity in Muhlenberg County, as well as nearly $115,000 for wet debris removal there. 
"This weekend will mark six months since tornadoes wreaked havoc on some of our Western Kentucky communities. Steady progress is being made to rebuild and restore what was taken from our people and their hometowns, but the work continues." Beshear said. "The SAFE fund awards announced today will help further that progress by helping to cover expenses and services ineligible for FEMA aid and relieve some of the fiscal strain these communities have endured."
The fifth round of West Kentucky SAFE funding was announced during Beshear's previous Team Kentucky update on June 2. That round of funding included $970,000 for the City of Bowling Green, $58,500 for the Hopkins County Fiscal Court and $10,400 for Taylor County. 
So far, Beshear said nearly 2,600 tornado survivors have been housed by programs through the state, the Federal Emergency Management Agency and the Red Cross. He said more than 7,000 people visited the 18 in-person FEMA disaster centers that were available from December 2021 through March 2022. 
To date, Beshear said 2.6 million cubic yards of debris has been removed from 19 counties. 
Additionally, Beshear said $52 million has been raised so far for the Team Western Kentucky Tornado Relief Fund, and more than $26 million of that has been disbursed for victims' funeral expenses, uninsured homeowners and renters who registered with FEMA and to nonprofit home builders. 
The governor said the West Kentucky SAFE fund, a separate fund that was approved by the Kentucky General Assembly, has already approved more than $56 million to provide storm survivors with shelter and travel trailers, support impacted schools and students and provide local rebuilding assistance. Beshear said $9 million has been spent on travel trailers and $9.5 was awarded to the impacted school systems. Thursday's announcement of the $16.3 million in the sixth round of funding awards means the fund has awarded a total of about $37.5 million so far to cities, counties and utilities for needs not eligible for FEMA support or to help ease the burden as they await reimbursement. 
The Red Cross has paid out more than $3.5 million in financial assistance, Beshear said, and FEMA $81.9 million in federal disaster assistance as of June 1, including more than $15.5 million approved for individuals and households. 
Beshear said the US Department of Commerce's Economic Development Administration also announced this week that it will invest $3.2 million in the Purchase Area Development District. Beshear said the money will "serve as a revolving loan for local businesses impacted by the tornadoes." He said the funding will also serve businesses in Graves, Ballard, Calloway, Carlisle, Fulton, Hickman, McCracken and Marshall counties. 
"It's expected that, all together, this fund can help create 240 jobs, retain 55 new jobs and generate $12 million in private investment," Beshear said. "We continue to work to announce new jobs in this region. We were just down in Murray, certainly close by, for a big announcement in the former Briggs & Stratton building, and expect maybe even this month to have some exciting jobs announcements in the area."