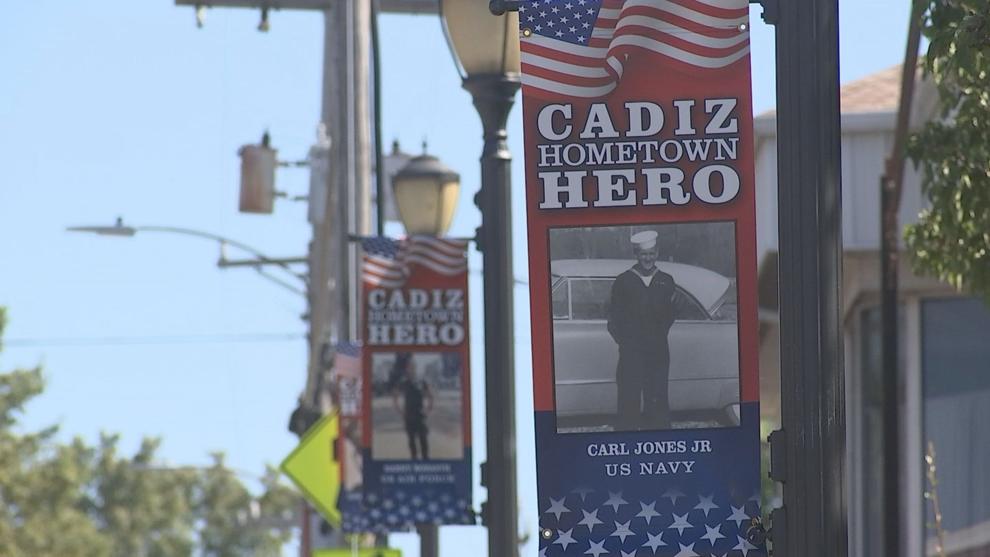 CADIZ, KY — A local small town is celebrating their veterans in a big way.
Banners line the streets of Cadiz with pictures of past and current military members. It's an idea Magistrate Mike Wright saw in another city and brought back to Cadiz. City leaders approved it, but then COVID-19 hit. Finally, after years of waiting, the banner idea is a reality. Now, the entire city is honoring their Service & Sacrifice.
Main Street in Cadiz is the very picture of small town America. But there's big pride there for those who served. A case in point is the city's latest project. The faces of hometown heroes currently line the streets.
"Have you gotten a chance to see it in front of the hospital?" I asked World War II veteran F.J. Hanberry Jr.
"Oh yeah," he responded enthusiastically.
"What did you think?" I asked.
"Oh, I think it's nice," he replied.
Those faces include veterans F.J. Hanberry, Jr. and Ray Torian.
"It's nice what they did," Torian said.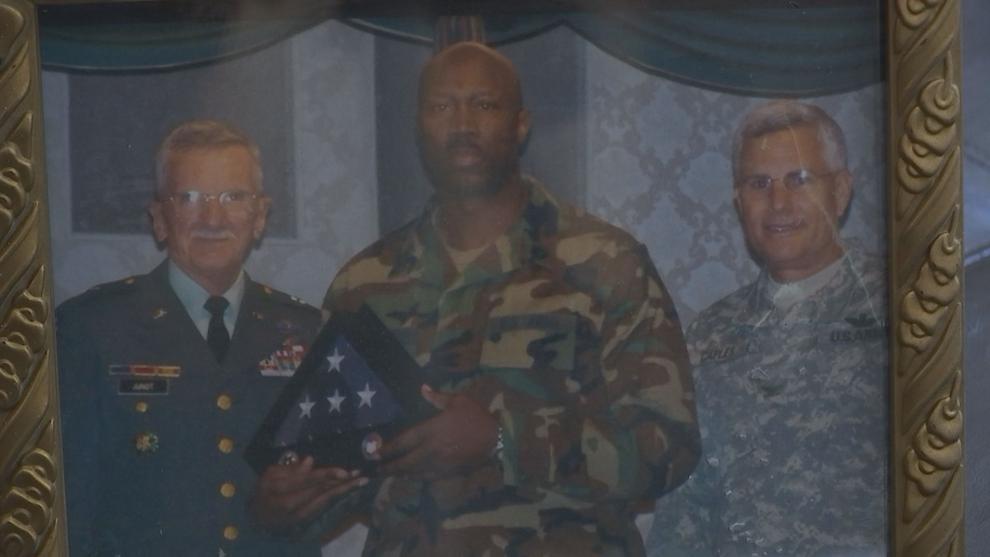 Both men grew up in Trigg County. Torian's dad worked in tobacco, but he wanted something different.
"I decided one day. I said, 'Look, it's got to be something better in life than tobacco,'" Torian said. 
That something was the Army. Torian served 30 years. Some of it was a lot of fun.
"I made the post softball and basketball team there," he said.
But he served overseas, too, during conflicts like Operation Iraqi Freedom and Desert Storm.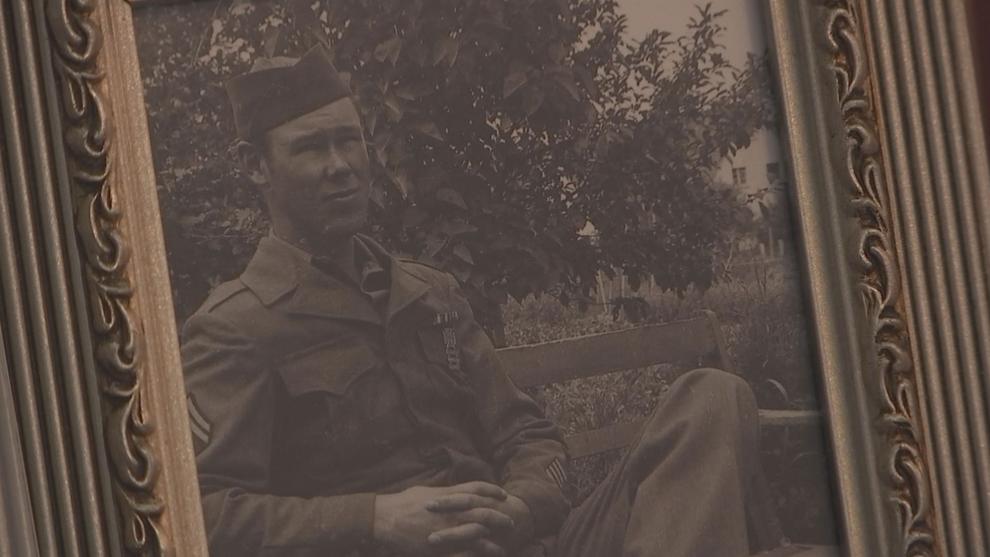 "We got all the way — I guess we was probably maybe 30 or 40 miles from the war zone, and they said stop and we stopped," Torian recalled of his time during Desert Storm. "And that night is when they bombed. We was just sitting in the truck, and it was like Christmas lights going off."
Twenty miles away at Hanberry's house are more unforgettable memories and mementoes from decades ago.
He went to one of the concentration camps in Germany during World War II. "Yeah, I was there. My pictures are over here on one," he said. Hanberry said the things he saw there have stayed with him. 
Hanberry was also U.S. Army. He shared dozens of pictures from Europe, taken while he served two and half years overseas during WWII.
"This was Hitler's home, right there," Hanberry said, pointing to one of his pictures. "This is way up on the mountain, side of the mountain."
Hanberry's title was supply clerk.
"Issued clothing, tents, just anything that was handled in the Army," Hanberry explained. "I didn't get no, on the front line you know. But I believe I did get three battle stars because we was furnishing everything that went through to the battles."
These men are two of hundreds now being celebrated across the city of Cadiz with hometown hero banners.
Mayor Todd King said when this idea was brought to them, "It was not a hard decision whatsoever, because like I said, a while ago they have made their sacrifices to our country, and we wanted to do all we could to help them then."
The public loves it, City Clerk Barbie Johnson said. 
"Oh, it's been crazy," she said of the community's reaction. "We're pushing 400 flags for a project that we thought maybe we would get 100, 150 flags out of."
As you drive through downtown Cadiz, you may slow down to take a look at the banners. Slower traffic, Johnson said, might be the only negative about them.
"But everyone's just taking it all in and everything, so I do think it's such a tremendous gift to be able to see those people," Johnson said.
It's a gift for those passing by and for city staff. King's grandfather — Emmett Fulton Henderson — is honored there, too.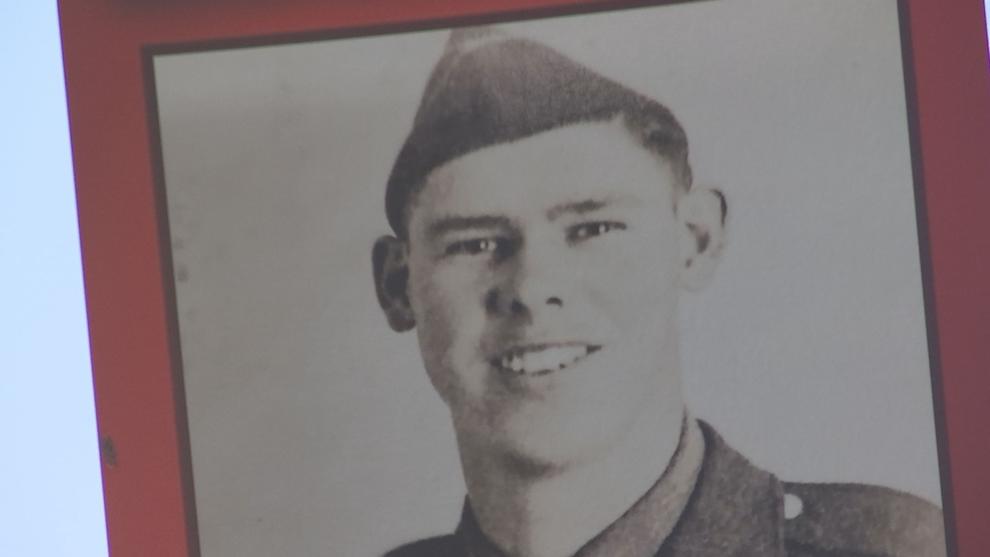 "Very close to him," he said, holding back tears. "He was brought up hard, I'll be honest with you. He went into the service, served his time."
King's grandfather means a lot to him. 
"I'm very proud of seeing him," King said. "I'm just glad he's right outside the city hall. I can see him every morning whenever I pull up."
"They're beautiful," Johnson said of the banners.
They're a military town's way of saying thank you for all that their veterans have done.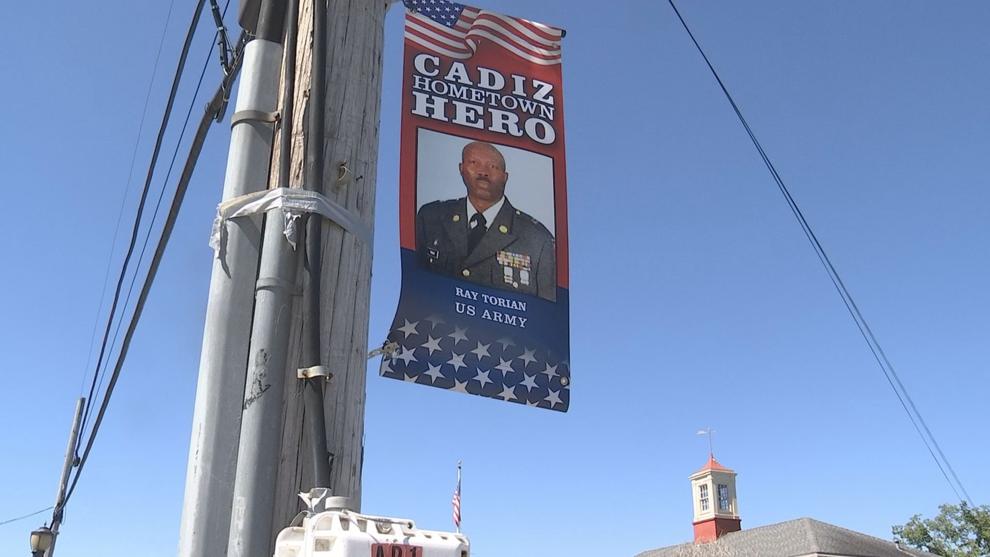 "Oh yeah, I'm proud of it. I'm proud of it," Hanberry said of his service.
"My brother drove down through there. He took a picture. He said, 'Guess what, man?' I said, 'What?' He said, 'They got you up on the thing.' My sisters and them called me, and everybody was like, 'Man, Mom and Dad would have been so proud,'" Torian said.
As all of Cadiz is proud of their Service and Sacrifice.
The banners are $50 each. For now, you can't order them. Johnson said they intend to keep the banners up through next year and order a new round sometime in 2024.