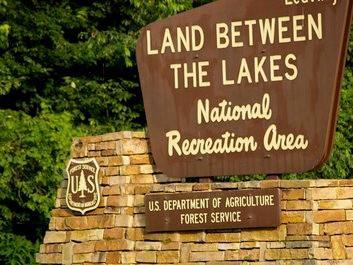 CALLOWAY COUNTY — The judge executive of Calloway County is urging the federal government to put President Donald Trump's proposed National Garden of American Heroes in Land Between the Lakes National Recreation Area. 
In an executive order signed earlier this month, the president announced a task force to establish the garden, which is to feature statues of "historically significant Americans."
The executive order came in the wake of cities and communities across the country removing — and, in some cases, demonstrators tearing down — Confederate monuments and others amid protests against racism across the country. 
The executive order says the garden should include statues of John Adams, Susan B. Anthony, Clara Barton, Daniel Boone, Joshua Lawrence Chamberlain, Henry Clay, Davy Crockett, Frederick Douglass, Amelia Earhart, Benjamin Franklin, Billy Graham, Alexander Hamilton, Thomas Jefferson, Martin Luther King, Jr., Abraham Lincoln, Douglas MacArthur, Dolley Madison, James Madison, Christa McAuliffe, Audie Murphy, George S. Patton, Jr., Ronald Reagan, Jackie Robinson, Betsy Ross, Antonin Scalia, Harriet Beecher Stowe, Harriet Tubman, Booker T. Washington, George Washington, and Orville and Wilbur Wright.
It "should also separately maintain a collection of statues for temporary display at appropriate sites around the United States that are accessible to the general public," the order states. 
The order specifies that the garden should be "located on a site of natural beauty that enables visitors to enjoy nature, walk among the statues, and be inspired to learn about great figures of America's history.  The site should be proximate to at least one major population center, and the site should not cause significant disruption to the local community."
In a letter to Secretary of the Interior David Bernhardt, Calloway County Judge Executive Kenny Imes writes: "The National Garden of American Heroes should be located in the beautiful Land Between The Lakes. Although this property is not in Calloway County, it borders us to the east and covers six surrounding counties and two different states. I have worked to find an answer to what was needed in that area to bring more visitors and economic development to a vast land totally under utilized for many years. President Trump's idea seems to be the perfect fit."
Imes' letter also includes 15 reasons why he believes LBL is the ideal piece of federal land for the statuary garden, including:
— The property is federally owned and managed by the U.S. Forest Service and Department of Agriculture, and covers more than 26-square-miles of land in Kentucky and Tennessee. 
— LBL includes more than 170,000 of "natural beauty, forest, wetlands and open lands undeveloped for use," along with 500 miles of various trails. 
— Its location near the Tennessee and Cumberland rivers. 
— Existing road infrastructure with interstate highway access. 
— Existing utility and broadband infrastructure, which Imes says "could be easily enhanced."
Download the document below to read the three-page letter in full, including the full 15-point list.