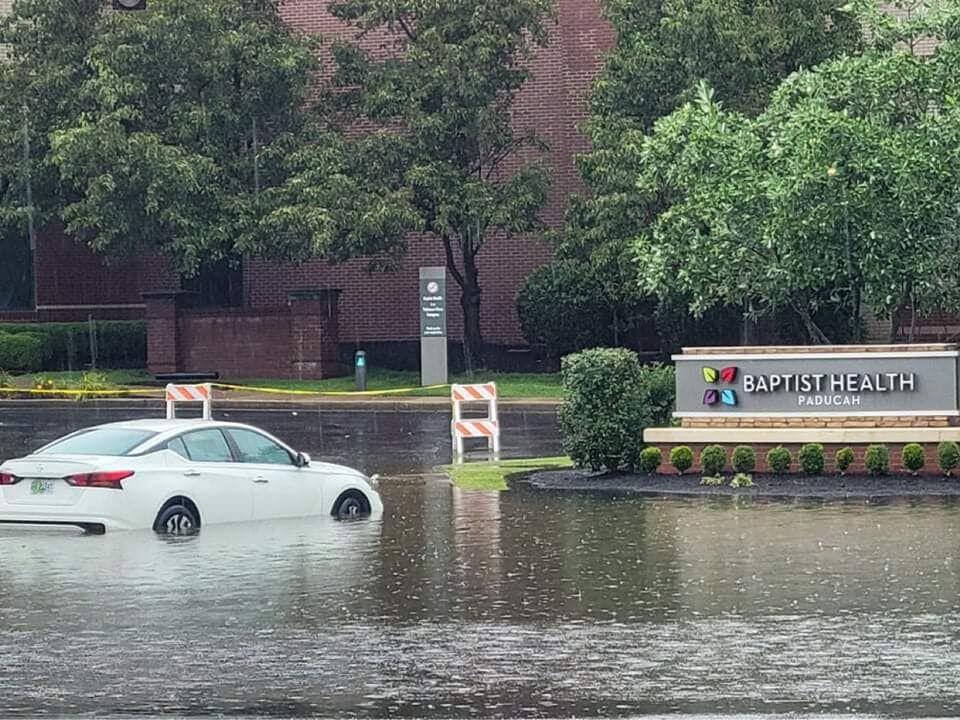 PADUCAH — Many people in Paducah battled heavy rain trying to get to church or work Sunday morning. Flooded roads caused major disruptions in traffic flow.
By Monday morning, water has receded, but people are asking when the city of Paducah will move on its stormwater infrastructure plan. The commission allocated $4 million from the American Rescue Plan Act for stormwater. City Manager Jim Arndt said the city is scheduled to get roughly $3.2 million by the end of the month.
Connie Hartless, who lives on Kentucky Avenue with her husband, said flooding is a constant issue.
"The water does get up. It gets into the driveway. It goes into my garage. We've dug a big ditch out beside the garage to try and keep it going out back, but it doesn't help," Hartless said.
A storm drain sits a few feet away from Hartless' home, but when a heavy rain comes she said it seems like it's not there. Across the street from Hartless is Baptist Health Paducah, which saw major flooding. Monday, workers could be seen focusing on cleaning out the drainage system near the hospital.
Arndt said many areas need stormwater infrastructure improvements, but flash flooding interferes with the stormwater grates, and it's out of the city's control.
"If the inlet is covered and blocked, then the water is not going to be able to go in. It's going to accumulate," Arndt said. "Now sometimes it may be open, but just the stormwater, the storm event itself is going to bring debris and block it eventually."
Stormwater infrastructure improvements are currently underway. In the Cross Creek neighborhood, significant change will come once a stormwater dentition area is built in a four-acre field the city is planning to buy.
"To be able to take that property, clean it out, dig a hole, and a lot of that water can go in there to keep it out of our basements and our crawl spaces," Arndt said.
At the Paducah City Commission's next meeting, Arndt said leaders will discuss formally adopting the city's stormwater master plan. It details which areas in Paducah need improvement.
Commissioners will also discuss long-term funding of stormwater infrastructure.