PADUCAH — We now how you you will be taxed to help pay for an indoor aquatic center in Paducah.
Paducah city leaders are building it with a $22-million bond. To raise money, a new city ordinance will implement a 1% increase to the city's insurance premium tax. The new ordinance would raise the insurance premium tax from 6% to 7%.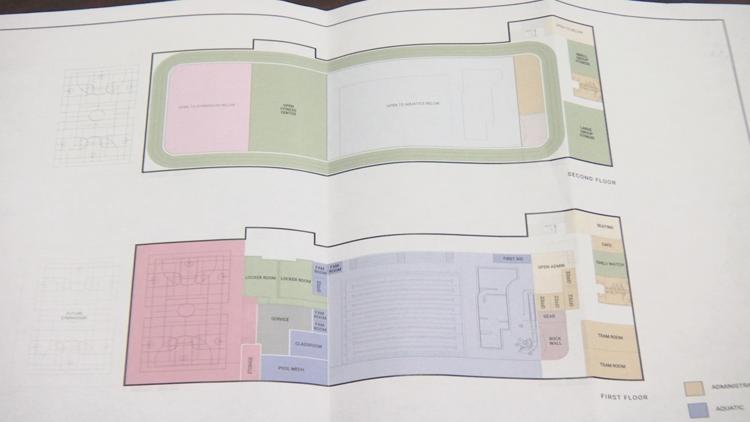 The tax goes into effect for any type of insurance within city limits that has a premium, including medical, home and life insurance. Paducah City Manager Jim Arndt says that will raise $700,000 in revenue a year. The revenue from the insurance premium tax will be used to pay off the $22-million bond in 20 years.
You would see a one percent increase in your taxes for each type of insurance. Arndt says for example, if your car insurance is currently $100, you would now pay $101.
Arndt says the $700,000 in revenue from the insurance premium tax is the main tool to pay for the construction costs. However, the debt service payment is higher than that. He says on average this will be $1.4 million.
"We're going to be able to structure the debt over that 20-year period where toward the back end, latter half of the debt the principal is higher," Arndt says. "So we're basically pushing back the principal, and then when other debt that we have currently, on the books rolls off, we utilize the annual service debt payment for those to pay for this."
Arndt says membership fees will pay for operation and maintenance costs of the facility. For now, he says he doesn't know what that cost will be.
The city conducted a study through a company called the Sports Facility Advisory (SFA), which projects that maintenance costs will break even with expenses in five years.
"In five years, we'll be to the good," Arndt says. "But in year one, we're looking at about a $500,000 shortfall, if I remember correctly. Year two, it goes down quickly. Year three, it's about a $200,000 shortfall, and when we get to year five, we're basically to the good."
He says the city set the benchmark for this five year goal.
"We set the benchmark at break even," Arndt says. "We didn't want this facility to be a facility that's just generating money to generate money. We wanted to make sure that we set the rates right. We have the good programming in place, so we're accessible and cost effective for our residents."
He says the city is partnering with the organization Friends of the Park. The organization is getting ready to launch a large capital campaign to raise funds to build an endowment.
"When they have that endowment, they're hoping to be able to utilize principal just to secure the endowment, and then interest off that principal to be able to assist or pay for entirely the operations and maintenance cost 'til the facility is to the good," Arndt says.
He says once the facility is "in the good" — meaning revenues surpass projected expenditures — the endowment can be used to build up funds for capital reserve. That capital reserve will be used for things like replacing a heater or fixing a roof.
Arndt says the study from SFA was not conducted to determine the need for an indoor aquatic facility. But it is based on projections for how much this facility will cost over time.
He says they're building it because there is a demand for one.
"An indoor recreational facility, aquatic facility has been on the books in demand since 1966," Arndt says. "My calendar says it's 2019, so I think we're a little behind."
Arndt says he'll have to determine if the study is proprietary before he can release it. In other words, if the company that did the study owns it and whether the city can make it public.
The Board of Commissioners will vote on the ordinances on Nov. 26.