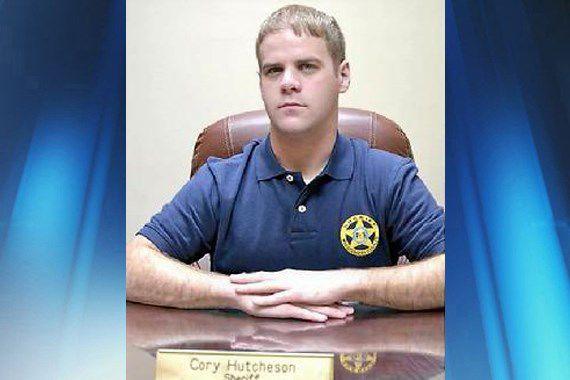 O'FALLON, Mo. (AP) — The Missouri NAACP and black lawmakers are seeking a new investigation into the death of Tory Sanders, who died in the Mississippi County, Missouri, Detention Center after then sheriff Cory Hutcheson used his knee to put pressure on Sanders' neck.
Sanders, a 28-year-old black man from Nashville, Tennessee, died in 2017 at the Mississippi County Jail in Charleston, Missouri. He had several encounters with officers and a mental health counselor determined he was suffering from paranoia. He died after he was subdued by Hutcheson and jail staff. At the time of the incident, Hutcheson's law enforcement license was suspended, and he was not supposed to be performing law enforcement duties. 
A wrongful death lawsuit says Hutcheson jammed his knee against Sanders' neck for up to three minutes, even as a police officer urged him to stop. Sanders lost consciousness and died.  
The lawsuit says Sanders was stunned multiple times and pepper sprayed, and a flash bang grenade was used before a group of law enforcement officers entered his cell. The suit says Hutcheson and others punched, kneed and stunned Sanders with a Taser while he screamed "stop" and that they were trying to kill him. For more details on the full allegations in the lawsuit, click here. 
Missouri's attorney general at the time, Josh Hawley, investigated but declined to file charges after medical experts concluded that Sanders died of "excited delirium." Hutcheson eventually resigned after pleading guilty in an unrelated case to charges of wire fraud and illegally obtaining location data without the legal authority to do so. 
During a news conference Friday, Missouri NAACP President Nimrod Chapel Jr. urged Mississippi County Prosecuting Attorney Darren Cann to file murder charges against Hutcheson and other officers.
Comparisons are being drawn to the May 25 death of George Floyd in Minneapolis, which has sparked nationwide protests. Former police officer Derek Chauvin was charged with second-degree murder after bystander video showed him holding his knee to Floyd's neck even as the man pleaded for air and eventually stopped moving. The video has sparked protests against police brutality and discrimination around the world.
Democratic state Sen. Karla May of St. Louis said Missourians can't ignore such a similar case "in our own back yard."
"In light of what's happening today in the protests, people who are part of this system of injustice need to be prosecuted in this case," May said.