MCCRACKEN COUNTY, KY — After a year of fundraising, community engagement, multiple designs and a lot of controversies, the McCracken County "United We Stand" mural is finished.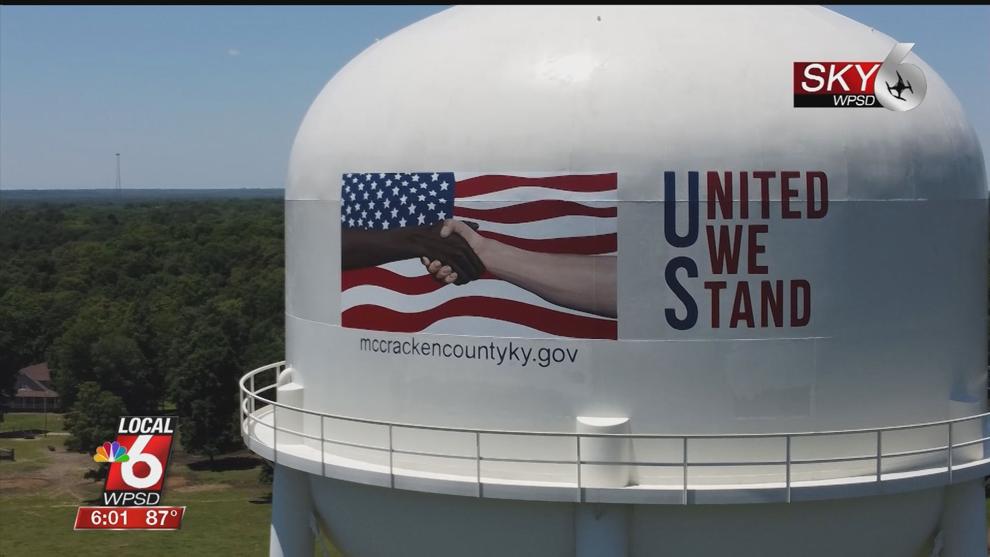 The final touches were added to the unity water tower design Tuesday. Muralist Eric Henn was given a check by McCracken County Judge Executive Craig Clymer, but only after a delay.
Since April 2020, there's been controversy surrounding a unity design on a water tower on Interstate 24 off of exit 16.
The unity message was added to the water tower to directly counter the message of a Confederate flag flying on private property across from that tower. Clymer led the project.
"The vast majority of people that see Confederate flags being displayed, they think of some form of racism," Clymer said. "And so I just felt like we could not make that speech stand out there on that interstate. By being silent, we were being complicit to it in some degree."
On Tuesday, Clymer planned to pay the muralist at the water tower, but that didn't happen.
Two trucks blocked access to the road leading to the water tower. There are homes in front of the water tower. One of those homeowners allows Paducah Water to have access to the tower using their driveway. Paducah Water owns the land the tower sits on.
Paducah Water gave WPSD, the muralist, and the judge executive permission to be there Tuesday for the check presentation.
Clymer said the homeowners don't agree with the water tower project and wanted privacy. Clymer left after it was clear he would not have access.
"People going up and down the interstate there, whether they're local or whether they're from another county or the other end of our country, they're going to see that and hopefully, because it has our website on there, and they say, wonder what's that about."
The owners of the Confederate Memorial Park, the Sons of Confederate Veterans, donated to the unity water tower design. SCV President Randy Beeler said the homeowners are not affiliated with the organization.
No taxpayer dollars were used for the water tower design.