MCCRACKEN COUNTY, KY - Sometimes after a stressful day, it feels good to have a smiling face meet you at the door. Dogs just have a way of helping us feel good, even in bad or scary situations.
Every day dozens of kids walk through the doors of the family courtroom in McCracken County. Many are stuck in the middle of custody battles, domestic violence, or adoption cases.
And sometimes, all they need is a friendly face. This is the four legged, friendly face, in training. Her purpose is to provide comfort for all the kids who have already been through so much.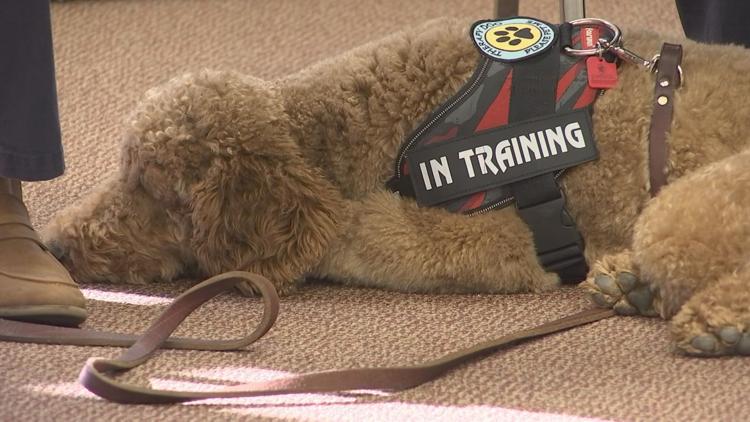 "All great dogs have three names: Courtney Hope McCracken," said McCracken County Coroner, Amanda Melton.
All great things have a purpose.
"It began as a conversation," Melton said.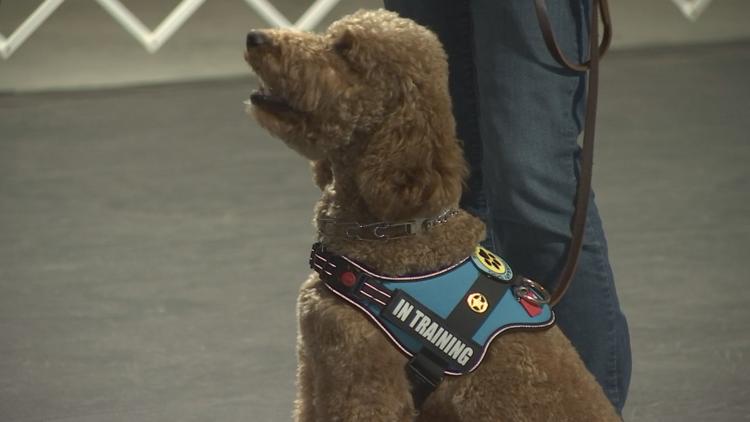 She made that idea and conversation into a reality for her new dog, Courtney Hope.
"Our goal is to utilize her where children are involved," Melton said. "And anytime there is a situation that is very difficult for them, which could be custody issues or even on a happier note adoption situations, we'd like to have her around so she relieves their anxiety. So far, when she's had that opportunity when children are in interviews, she comes snuggles up next to them and you can just almost see their anxiety reduced. She's a great distraction if nothing else."
Courtney Hope definitely lights up the room.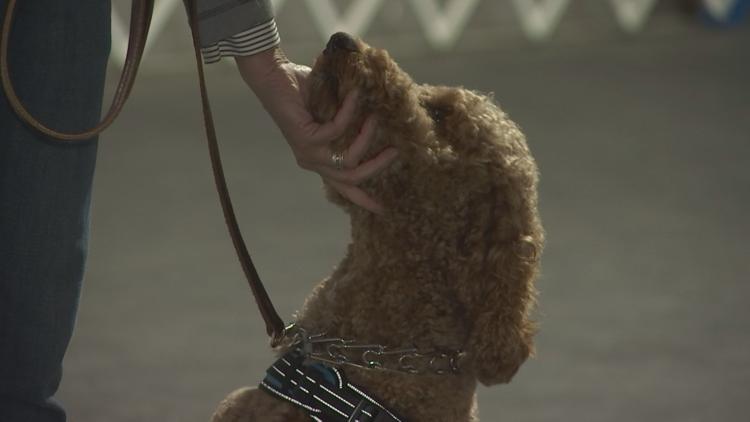 "Even non-dog people are like, I still got to pet her, you just can't help yourself," Melton said.
She's lighting up the room, from the book aisles in a library to the crime scene.
"I've had her when people are reading difficult documents or were discussing or results are things that are just really hard to accept. She's been with me in those circumstances and she's just done a great job," Melton said. "Actually, I think she can sense when someone is anxious and sad and will leave my side, which is kind of rare, but she'll go to them and just kind of sit next to them, she's been a great help in that way,"
Someone else saw how much Courtney Hope could help.
"She's a magnet for joy and happiness and good feelings -- all of them," said Brent Talbert with Stonecreek Kennels. He raised Courtney Hope, until he heard the family court wanted a support dog.
"After seeing everything that she had done, all the good that she had done, we couldn't do it, we made that selfless decision to better her life and let her better the life of others and go ahead and let her do something because she is so excellent and I feel like that's what she was meant to do," Talbert said.
He saw Courtney Hope's purpose.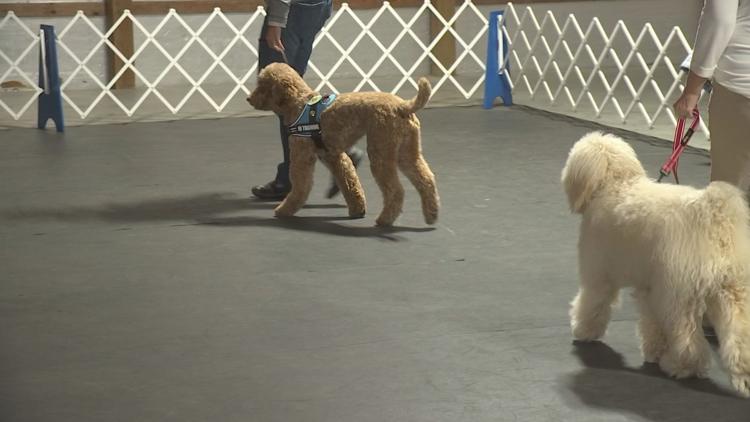 "This is a tool that can be used for good and actually help them and actually help those do their jobs," Talbert said.
Right now, she's in basic obedience training, learning how to sit, stay, and lay down.
"She's an overachiever, she's doing great," Melton said. "I haven't seen anything that has shaken her yet. She doesn't like the stapler in my office but other than that other than that it's all roses for her,"
Roses, and plenty of snuggles, hugs, and kisses.
"The ultimate goal is for her to make everyone feel just a little bit better about that moment to provide support to make people happy and smile," Melton said. "Certainly, the angle of children that's the thing I'm most interested in, it's something we can all get on board with, anytime there's a child involved with a difficult situation, she's a help."
Community sponsors support all of Courtney Hope's vet bills, and training. No taxpayer money is used. Once Courtney Hope is done with her basic obedience class, she will move on to her K-9 good citizenship class, one step closer to becoming a certified emotional support dog. She should be certified within the next six months.