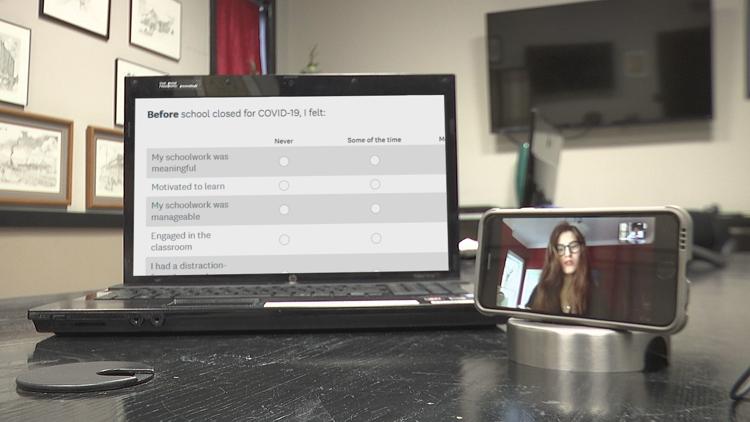 PADUCAH — School may be out, but students are still being heard. Thousands across Kentucky are taking a survey to share how the COVID-19 pandemic has impacted their education.
The Cope with COVID Student-to-Student Survey was created by the Prichard Committee Student Voice Team (SVT), comprised of about 100 middle school to college students who work to improve education in the state. The survey, which can be found here and takes about 10 minutes to complete, asks students about their experiences with learning at home, since Kentucky schools closed in March to prevent the spread of the novel coronavirus.
Emanuelle Sippy, a student at Henry Clay High School in Lexington and the student director of SVT, said more than 8,300 students have taken the survey already. Only two Kentucky counties — Hickman and Gallatin — have not had any students who've competed the survey.
Although the last day to take the survey is Friday, May 22, Sippy shared some of the findings so far.
"Students are feeling more stressed, less motivated, more reporting the feeling of worthlessness in the midst of this crisis than they were before. We're also seeing that students are feeling more grateful," said Sippy. "We know that there's this paradox in some ways of how we're feeling. Students are feeling less motivated, which is really important, we think, to think through, because most students reported, taking a survey at this point, feeling motivated almost all the time prior to school closures or most of the time — and are now reporting, more often than not, feeling unmotivated to do school work."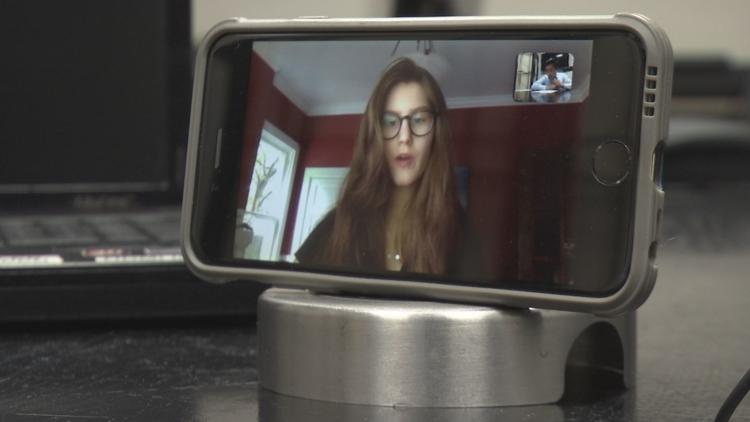 Sippy said the survey also shows that students who were relying on schools for mental health services were needing and wanting more.
Here are some other findings, according to Sippy:
— Cyber bullying has decreased since schools closed due to the pandemic.
— Students are feeling more intense emotions, both negative and positive.
— The majority of students surveyed so far are unsatisfied with remote learning compared to learning in school.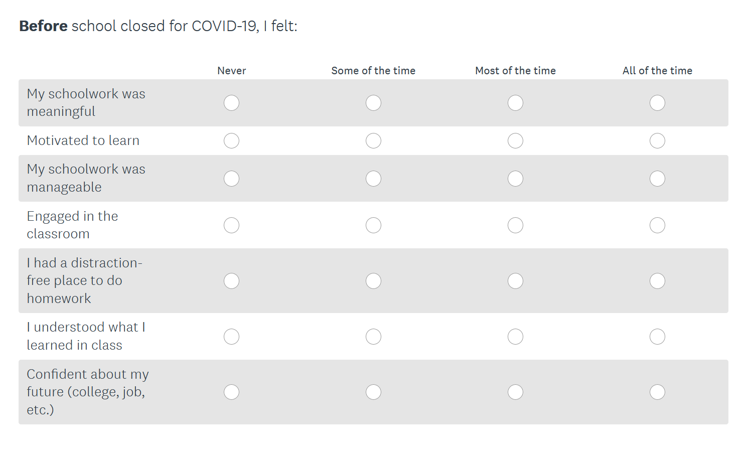 "We know that the digital divide is a real issue," said Sippy. "We know that there are students who are wondering where their next meal is coming from — who, you know, may not have the internet access to do the work that their teachers want them to be doing. And so they're given a packet that might not have activities that are really engaging or appropriate for them."
In addition to multiple choice questions, the survey also includes open-ended ones. One such question asks students what they think teachers can do to better support them. Sippy said many students responded that they want to see more empathy, but acknowledged that teachers deserve more empathy, too.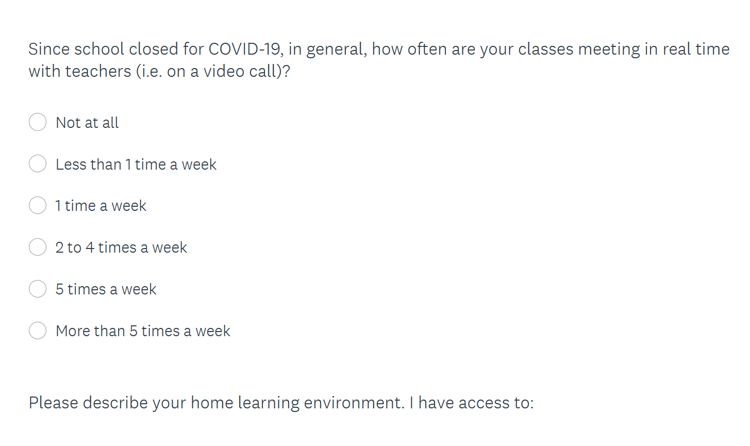 Sippy said after the survey is concluded, the Student Voice Team will conduct one-on-one interviews with students about ways to improve their educational experiences. Sippy said more than 1,000 students have expressed interest in doing the interviews.
The Student Voice Team plans to release a full report of the survey findings to the Kentucky Board of Education during their Aug. 7 meeting. Sippy said they also plan to share the findings with legislators, as well as with individual school districts — as long as enough students from each district takes part — to protect their anonymity.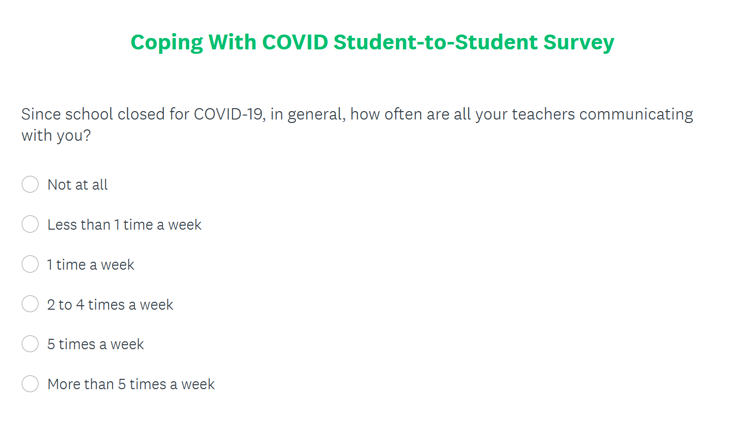 "As conversations are happening about what we do next — whether we go back to school, whether we go back partially or whether we continue remote learning in the fall — we want students to be included as partners in these conversations," said Sippy. "Contributing your voice to this will hopefully mean that you're being heard by decision-makers, and in influencing what your education looks like."
The last day to take the survey is Friday, May 22. Click here for the English version of the survey.
Click here for the Spanish version.
The Prichard Committee is an education research and advocacy organization based in Lexington. Visit prichardcommittee.org for more information.