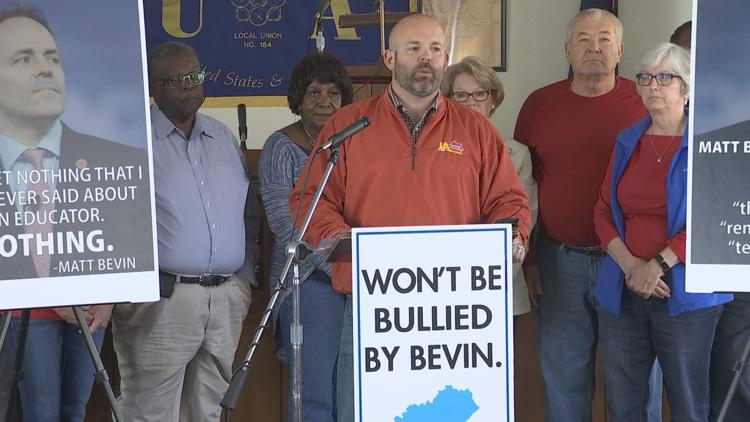 PADUCAH — Thursday, a group of west Kentucky teachers and workers gathered in Paducah for the fourth stop of the Kentucky Democratic Party's "Won't Be Bullied By Bevin" tour.
We're just 19 days from the election. Democratic gubernatorial candidate and state Attorney General Andy Beshear is challenging Republican Gov. Matt Bevin for the governor's seat on Nov. 5.
The Kentucky Democratic Party and teachers said they're standing up to Bevin's record of bullying educators and disrespecting working families.
Retired teacher Terrie White taught in Lyon County for 33 years. White said she doesn't support Bevin because of his policies on teacher pensions.
"I was told I would have my insurance," White said. "I never dreamed that after retiring I would be fighting for benefits that I was promised and that I had paid for."
Davis Paine, Bevin's campaign manager, responded to a request for comment via email with the following statement:
"Governor Matt Bevin has committed 100 percent of lottery funds to education, a first for the commonwealth, and today Kentucky is spending more per K-12 pupil than ever before. After eight years of Governor Beshear raiding the teachers' pension fund to the tune of eight billion dollars in additional debt, Matt Bevin has fully funded the pension system and is committed to continuing to improve public education in Kentucky."
Plumbers and Steamfitters Local 184 business manager Kyle Henderson said the tour is about holding Bevin accountable for statements he has made about educators and working families in Kentucky.
"The main message that I want to send out to all working people in Kentucky is that they need to actually vote for someone who supports them," Henderson said.
The tour has made stops in Henderson, Pikeville and Bowling Green. Elena Kuhn with the Kentucky Democratic party said the party is still planning the tour's next stop, but a location should be announced by early next week.