PADUCAH — Dozens of people are speaking out against the Paducah aquatic and recreation center.
That's the $20.5 million project the City of Paducah is working on.
Melynda Burnett started the Citizens Against the Paducah Aquatic Center Facebook group.
"When I started it I expected just a few people," Burnett said. "I honestly expected we'd be a small group trying to make a big voice. Well it turns out now we're a big group trying to make a big voice."
With almost 3,000 members, part of the group came together to talk about an action plan to pause the project. Burnett said our tax dollars shouldn't go toward the center and that money should come from private groups that support it.
"Is all the money there? And do we have backup savings, for when...infrastructure is failing," Burnett said. "We aren't going to have emergency funds. You can't buy a brand new pool. When your roof is leaking."
More than 50 people were there wearing red ribbons to show their opposition toward the aquatic center.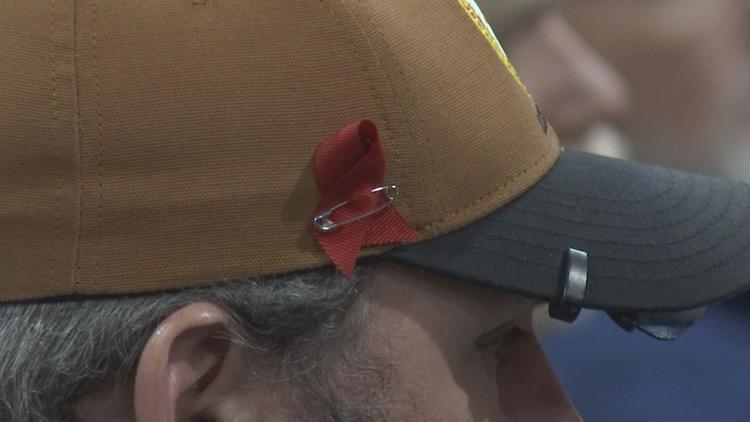 The red ribbons represent a new group they've formed called Paducah United. Founder Preston Ursinin doesn't believe a city-run facility should compete with commercial business.
"We're going to be researching, pulling data in, and taking every possible legal action that we can to get that aquatic center paused," Ursini said. "So that our next city commission can make the decision on how to move forward with the aquatic center."
This group wants the project put on hold, and they are looking for ways to do that.
The nonprofit Friends of the Parks say they will raise $10 million for the aquatic center, saying it will bring health and wellness for all ages to Paducah.
In a statement they say:
"We are in favor of the new Wellness Center. This new center will allow for so many wonderful things for this community, most importantly wellness for people of all ages. Whether you are young or old, swimming is a great form of exercise, be it in a competitive nature or for therapy in the warm water zero entry pool. Walking on the tracking, playing basketball, volleyball or even pickleball can be great community attractions. Education classes can be offered in many different varieties as well as group fitness classes. There is something for everyone. Wellness and community involvement are of utmost importance to this city becoming even more vibrant that it is today. Let's move forward."