Plenty of changeable and active weather conditions are on the way in the next 7 days. That starts with another rainstorm for Thursday. As a cold front moves across the area during the morning, moderate to at times heavy rainfall will occur through lunchtime. "High" temperatures Thursday will occur likely at 12:01AM, and fall throughout the day. It will be miserable Thursday morning and through the evening with gusty northerly winds at times to 25+ mph. A general 0.5" to 1.5" of rain is forecast.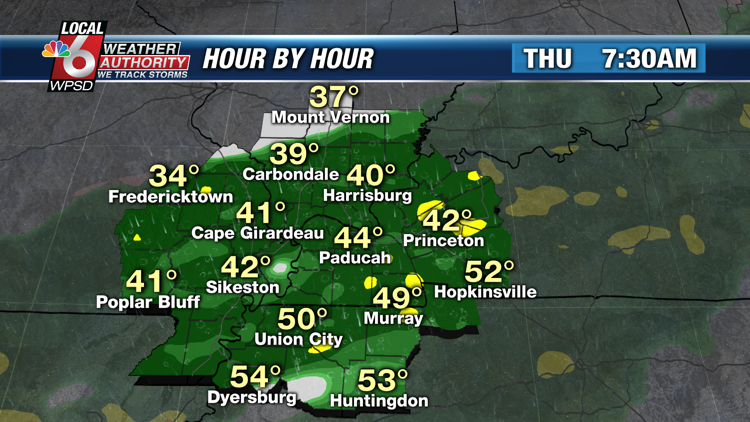 Wind chill values will fall throughout Thursday, staying in the upper 20s and low 30s until sunset. A heavy jacket will be needed heading out the door Thursday morning. The winds will relax heading into Friday morning, and as the sky clears actual air temperatures will fall into the mid-upper 20s region-wide. With just enough of a light breeze still possible, wind chill readings in the 10s will be around at daybreak Friday morning - coldest of the season so far.
Actual air temperatures only peak to near 40° Friday afternoon under a lot of sunshine. The weekend now looks fine, but chilly, with highs near 50° Saturday and much more pleasantly near 60° on Sunday. Early next week things get real interesting in time for Veteran's Day on Monday. We have high confidence in the forecast that an arctic cold front, with origins from Hudson Bay, Canada will push through the area at some point Monday. Behind this front it turns bitterly cold, historically so at that for Tuesday and early Wednesday. Below is a chart of the jet stream pattern about 30,000 feet up in the atmosphere. We look at this to determine the overall flow of air - and you can follow the lines (isobars) backwards in direction (right to left) to figure where the air is coming from around here. You can see the air-mass we have coming will have origins from the top of the globe. Extremely impressive for mid-November.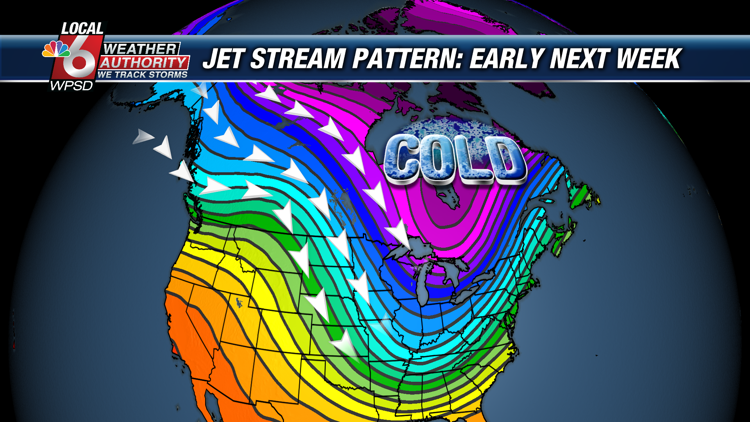 The more uncertain part of the forecast is the prospects for precipitation along the front. New today, some of our computer modeling indicates enough of lift and moisture in the atmosphere for a period of precip. as the front moves through. Depending on the exact timing and strength of the front, enough of cold air will be around both at cloud level and the ground to support some kind of wintry weather. At this point it appears at a minimum, some scattered snow flurries are a good bet along the front. Our most reliable forecast model, the "European model," tries to bring a period of light accumulating snow area-wide Monday night into Tuesday morning. Is this possible? Yes. But it is way too soon to get specific or worked up over it. It's much more likely at this point that we'll have the potential for a few flurries around, but we'll see. To get any notable snowfall this early in the season requires a lot of things to come together. So at this point we'll keep monitoring it and keep you updated as we get closer.  I will say though, this is a good signal for being this far out if you like snow! Many of you should remember last November in 2018, we had a light snowstorm move through - so it has and can snow this early in the season.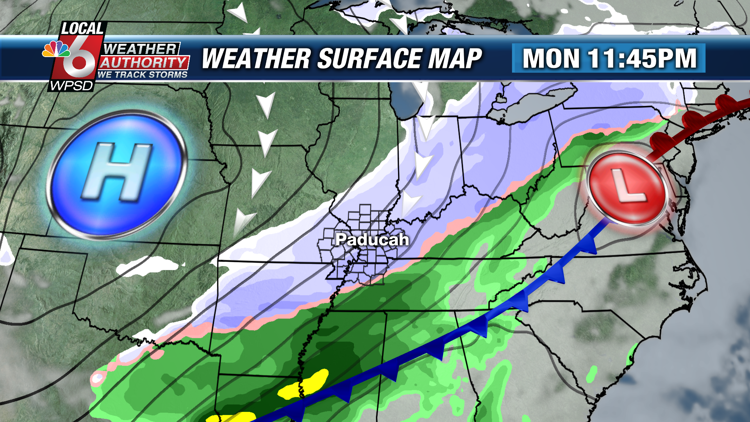 Regardless of what rain or snow shower activity happens along the front, it will turn bitterly cold, more like mid-January standards on Tuesday. High temperatures will struggle to get to freezing, despite a lot of sunshine. That would be historic for the date. Overnight low temperatures could dip into the upper teens, with wind chills ranging between 0-10° Tuesday morning.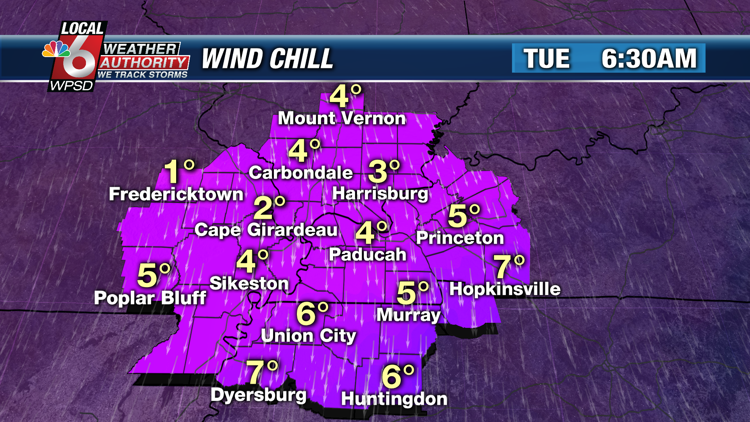 Frozen pipes could become a concern as we get closer. Safe use of space heaters and taking proper care for any pets or animals outdoors will also be important, especially given how unusually early in the season this cold shot will be coming. Pretty much the entire eastern U.S. will be dealing with it.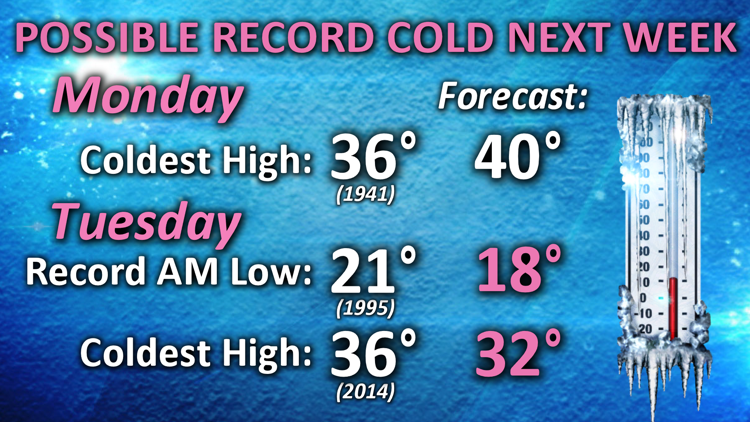 The records listed above are for the Paducah Barkley airport. Many other official reporting stations, including Cape Girardeau, MO, Union City, TN, and Murray, KY will all be at jeopardy for setting new all time daily minimum high and low temperatures! After a dry and warm September, and a wet and crazy October which brought new record monthly high temperatures in the upper 90s, it is only fitting that we continue to set new records on both ends of the spectrum. If any one thing is for sure in the long range weather pattern - it is to expect the unexpected. At this rate it wouldn't be a surprise to see 70° sometime in December. As always, the Local 6 Weather Authority will be here with updates before, during, and after whatever weather event happens to keep y'all informed and prepared.
In the meantime, get the winter gear out and some soup ready!