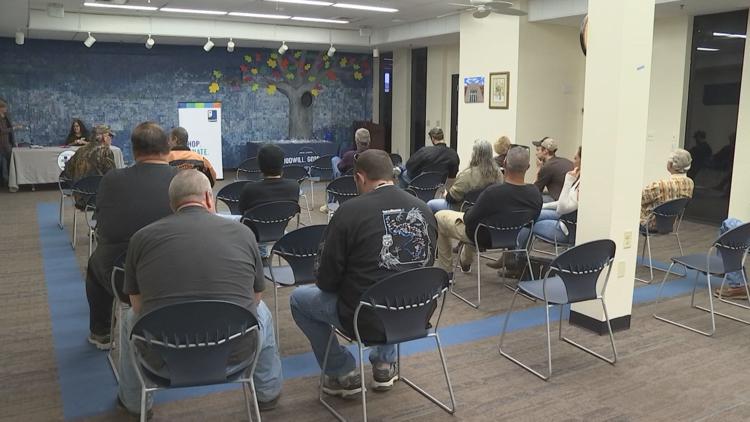 PADUCAH — In Kentucky, 90,000 people are eligible for felony expungement after laws changed in 2016. But only 2,000 people have had their records cleared.
Monday, Goodwill Industries of Kentucky, Western Kentucky Reentry Council, and Kentucky Legal Aid teamed up to host an expungement fair to teach people about the process.
Rachelle Puckett says, as someone with a felony record, she is always viewed as a criminal or someone who can't be trusted. Puckett says it has impacted her job prospects, so she hopes to have her record expunged one day.
"Being a felon has made me be scared to even try to go to college or try to get different jobs, because I feel like it closes the door on that," Puckett says.
The expungement fair was held at the McCracken County Public Library Monday.
Kentucky Legal Aid Attorney Katherine Fuller spoke with people about the next steps they can take to clear their records.
"People make mistakes all the time," Fuller said. "And unfortunately, for some people, when they make that mistake, they have a felony conviction. That haunts them for the rest of their lives."
The first part of the expungement process is filling out a records form, followed by a background check at the Department of Corrections. Once those two steps are completed, the applicant must file for a certificate of eligibility.
If a person is eligible, the next step is to file an expungement petition, which a judge then grants or denies. If its granted, the person's record is cleared.
It gives Puckett hope for the future. "It's on the list of offenses that can't be expunged right now, but that could change in the future, so that's just good to hear," Puckett said.
There is a fee to file the petition. For a felony record, the fee is $300. For misdemeanors, the fee is $100. If an applicant is an Anthem Medicaid member, they will help with the cost.
Attorney Katherine Fuller says you can only get one felony expungement in your lifetime. Criminal charges for crimes against children and specific violent crimes are not eligible. 
To call Kentucky Legal Aid's Paducah office for more information about expungement and other legal services, call 270-782-1924 or toll free at 800-782-1924.