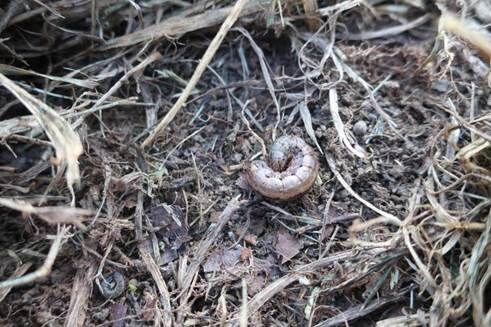 LEXINGTON, KY– High numbers of fall armyworms are already causing damage to lawns, crops and pastures across Kentucky.
The fall armyworm annually annually preys on Kentucky crops and pastures. However, fall armyworms do not usually invade lawns in the high numbers that University of Kentucky entomologists are receiving reports about this year. 
"I'm hearing reports from my colleagues in the South that this could be the worse fall armyworm outbreak since 1977," Jonathan Larson, extension entomologist with the UK College of Agriculture, Food and Environment, said. "We have been receiving calls from local golf courses, homes and lawn centers about turf damage, which is unusual." 
The first sign of fall armyworm damage is when a spot in the yard appears to look drought stressed. That spot will expand, or other spots will appear as the worms move across the lawn.  Fall armyworms typically feed 24/7 and hide in the lower zone of the ground. 
To bring worms to the surface just dump a jug of soapy worm on the spot that looks drought stressed.
The caterpillars have a distinguishable "Y" shape on the back of their head and three stripes that run down the middle of their bodies. 
According to Larson, the fall armyworms are too far along in their development for organic pest control methods to be effective. If the pest is found in large numbers, homeowners can spray an insecticide that contains either a pyrethroid (like bifenthrin or lambda-cyhalothrin) or carbaryl.