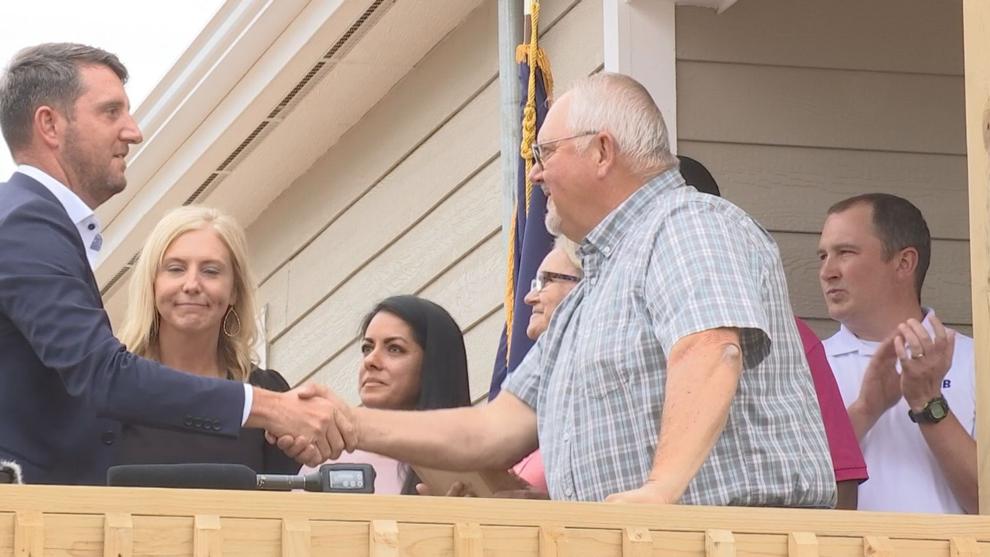 MAYFIELD, KY — Six months after so many lost so much to the December 2021 tornado outbreak, three families who lost their homes in Mayfield received the keys to their newly constructed homes, built by Homes and Hope for Kentucky. 
Gov. Andy Beshear joined local leaders and Homes and Hope for Kentucky in Mayfield today when the families received their keys. The governor's office says the homes were built in part thanks to funding from the Team Western Kentucky Tornado Relief Fund.
"To see three of our western Kentucky families enter their new homes, only six months after these devastating tornadoes, is truly a remarkable milestone that offers us all a great deal of hope," Beshear said. "Today is a culmination of the hard work, determination and compassion of a lot of people and I am grateful to everyone who played a part in making this possible for the Patterson, Russell and Rio families."
Six months to the day of the December tornadoes that devastated Western Kentucky and took the lives of 81 Kentuckians, Gov. Andy Beshear visited Mayfield to celebrate the first fully constructed new homes going to three local families.

Read more: https://t.co/NKuaT46Kbj pic.twitter.com/rMUhcmoM9y

— Governor Andy Beshear (@GovAndyBeshear) June 10, 2022
Beshear said this is part of the ongoing process to help get tornado-stricken communities back on their feet.
"We are not gonna' stop until we have not just rebuilt, but are actually moving forward in these communities," Beshear said. 
And moving forward, organizers with Homes and Hope for Kentucky say they plan to rebuild at least 100 more homes for tornado survivors as part of their long-term recovery plan.
Homes and Hope for Kentucky was able to build the three homes families were welcomed into on Friday by partnering with Mennonite Disaster Services and Amish groups in the region.
"This is a wonderful day, a day of celebration, six months to the day after a terrible tornado changed the face of our town. But that tornado didn't change the heart of our town, and with God's guidance, people have come together to build back not just these homes, but to build hope in this community," Homes and Hope for Kentucky co-chair Heather Nesler said. "We are indebted to our volunteer partners and early funders that allowed this project to begin, and now with the Western Kentucky Tornado Relief Fund allocation, this project can shift into overdrive, paired with increased numbers of Amish volunteers."
Also present for Friday's event, Mayfield Mayor Kathy O'Nan said she could think of no better way to observe the six-month mark from the December storms than to welcome families into the newly completed homes. 
"Hope is the driving force as we look to the future of our town and this event certainly embodies that feeling," O'Nan said. 
While he was in west Kentucky on Friday, the governor also visited Marshall County. There, he presented the city of Benton with a check for $868,000 for a major sidewalk project. 
He also paid a visit to Dawson Springs, after announcing on Thursday that the city will receive funding to pay for land survey costs. 
For more information about Homes and Hope for Kentucky, visit homesandhopeforky.com.