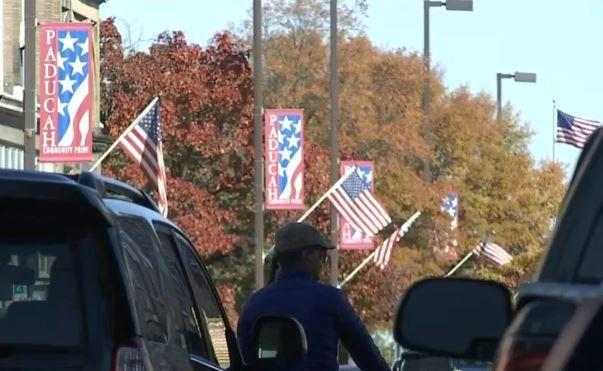 PADUCAH — City and Community leaders met Friday to discuss the events for the city's Veterans Day Celebration coming up on Monday. The concert stage is set up, and tables are prepared at the Paducah Expo Center. The Veterans Day Celebration will start with a sunrise service at 6:30 a.m. the foot of Broadway Street.
Veterans and their families are invited to the Veterans Day breakfast at the Paducah Expo center from 7 a.m. to 8:30 a.m. The first 250 people who arrive will be served. 
At 9 a.m., the Veterans Day program will begin. It includes the presentation of the Distinguished Veteran and Patriot Awards, with the Veterans Day parade beginning after that. The parade will start at Dolly McNutt Plaza across from Paducah City Hall, and end at the expo center. 
The daylong celebration will end with the Veterans Day Concert featuring the Paducah Community Band, and Fort Campbell's 101st Army Band. 
Military equipment will be on display at the expo center all day. Most of the events will be inside, so don't let the cold weather stop you from getting out to the event. 
You can see a list of all of the events here.