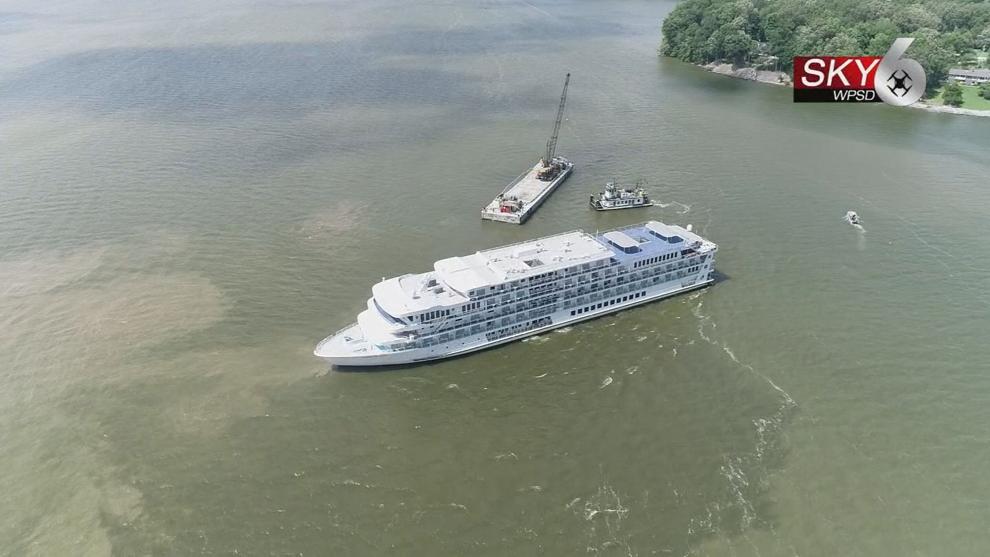 TRIGG COUNTY, KY — The American Jazz is free, but isn't leaving Lake Barkley just yet. It's been stuck for nine days, and will soon be leaving for Nashville. The riverboat is staying overnight on Lake Barkley, and will head to Music City on Saturday.
It's not every day a riverboat gets stuck on the lake. But for the past week, the American Jazz has been a familiar sight for people in Trigg County, Kentucky. U.S. Coast Guard Cmdr. Jennifer Andrew says the boat is now able to continue making its way through the area.
MORE DETAILS: American Jazz free after more than a week stuck in Lake Barkley
"It's hard for us to predict how often or how many," Andrew says. "For us, the key part is: when these things do happen, that we're able to respond to them or able to resolve the situation and build relationships. And I think that's definitely what we did here."
It took crews two and a half hours to get the boat out. The engine was in full reverse, and a crane had to help pull it free.
"They're kind of like a car accident, right? They're infrequent, sometimes they happen, you pray and hope that everybody is safe, and fortunately for us, that was the case here," Andrew says. 
The Coast Guard is now investigating why this happened as a marine casualty, because the boat ran aground.
"The largest aspect of the marine casualty is we do want to find out what occurred," Andrew said. "So that way these things can be prevented in the future, and so a lot of times this is how we learn. We can make changes, and we can make recommendations."
The only people left on the riverboat are 27 crew members. Andrew says the boat was not damaged, and is ready to head to Nashville on Saturday. The American Jazz is set to head off for another voyage on July 25.