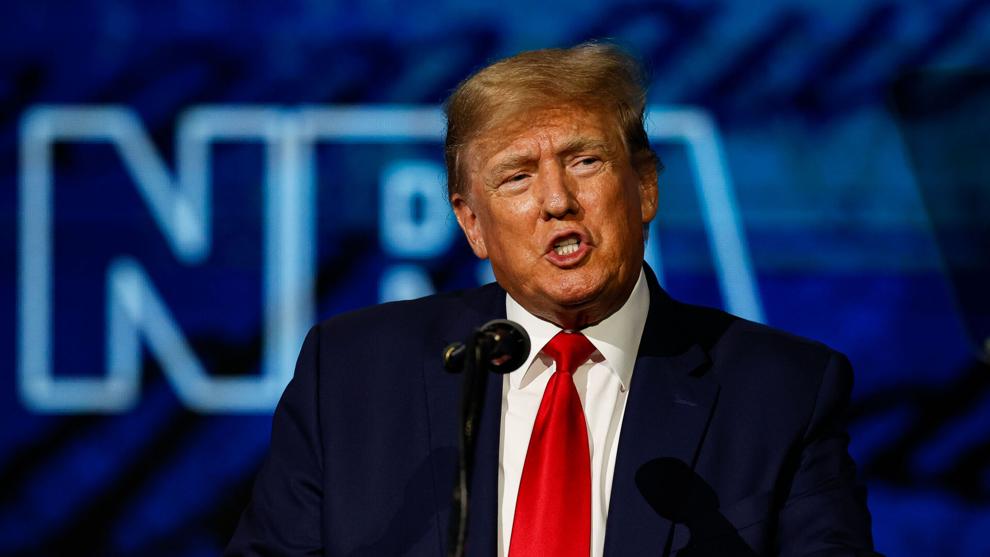 (CNN) — A slew of 2024 GOP presidential hopefuls courted gun rights activists Friday at a National Rifle Association convention in Indianapolis that took place in the wake of mass shootings in Kentucky and Tennessee in recent days.
Former President Donald Trump and former Vice President Mike Pence — the former ticket-mates who have split over Trump's actions leading up to and during the January 6, 2021, attack on the US Capitol — attended the gathering, and lambasted President Joe Biden.
Trump insisted that the United States does not have a "gun problem" that has led to a rash of mass shootings — but rather what he described as a mental health, social, cultural and spiritual problem. He accused Democrats of a "left-wing crusade to weaponize government against law-abiding citizens."
"The politically incorrect truth that no one on the left wants to admit is that violent crime is rarely committed by legal gun-owners, it is committed by a brutal class of hardened repeat criminals," Trump said.
He also offered a series of proposals intended to win over gun rights activists, including proposing that Congress enact national concealed carry reciprocity, which would mean concealed carry permits apply across state lines "just like your driver's license and marriage license."
He proposed a tax credit to reimburse teachers for the cost of firearms and training. He said he would appoint "ferocious crime fighters" as federal prosecutors. And he said he would direct the Food and Drug Administration to investigate whether "transgender hormone treatments and ideology" and "common psychiatric drugs" are contributing to gun violence.
"I think most of us already know the answer, don't we?" he said.
Trump was scheduled to take the stage about two hours after his former vice president had appeared, and received some boos from the crowd.
Trump nudged the crowd to be nicer to his former vice president despite their rift over Trump's actions leading up to and during the January 6, 2021, attack on the Capitol.
"I hope you gave Pence a good, warm approval," Trump said.
When some members of the crowd booed the former president's mention of Pence, Trump interjected.
"No, because he is a nice man, if you want to really know the truth," Trump said. "He is. He's a good man, and I heard it was very rough."
Pence did not take on Trump — and only used the former president's name when touting the accomplishments of "the Trump-Pence administration," including appointing three conservatives to the Supreme Court.
Instead, he criticized Biden and Democrats, claiming that the left has responded to the mass shootings in Tennessee and Kentucky with "pipe dreams of gun confiscation."
"Stop endangering our lives with gun bans, and stop trampling on the God-given rights of the American people every time tragedy happens," Pence said.
He argued for Congress to fund armed officers for every public and private school, as well as increased institutionalization of those with mental health challenges and the quick execution of mass shooters.
"The most prosperous nation in the history of the world can afford to protect our kids. It'll just take leadership to do it," Pence said. "So stand with law enforcement. Protect our kids."
Other potential Republican 2024 contenders also sought to court the thousands of activists in Indianapolis for the four-day convention.
South Dakota Gov. Kristi Noem signed an executive order on stage blocking state agencies from doing business with banks that have implemented policies against doing business with the gun industry.
In a video message, Florida Gov. Ron DeSantis also bragged about taking on "woke financial institutions" and allowing Floridians to concealed carry without government-issued permits.
Former United Nations ambassador and former South Carolina Gov. Nikki Haley touted expanding her state's "stand your ground" law.
"Know that you've always got a friend in me; you've got a partner in me as they try and take away any of our constitutional rights," said Haley, who has officially entered the 2024 race.
New Hampshire Gov. Chris Sununu briefly criticized Trump, pointing to the former president voicing support after the school shooting in Parkland, Florida, for confiscating guns from certain individuals. "Take the firearms first, and then go to court," Trump said at the time.
"What is that about?" Sununu said after recounting Trump's comments without using his name.
Those 2024 contenders spoke at a Friday afternoon "leadership forum" during the convention, which began Thursday and ends Sunday.
NRA convention follows mass shootings
The NRA, the nation's foremost gun lobby, has seen its power wane in recent years amid leadership fights and legal battles. In 2021, the organization attempted to declare bankruptcy — an effort rejected by a federal judge. Still, the group is influential among conservatives, and its annual gatherings remain a magnet for presidential hopefuls.
This year's gathering in Indianapolis is taking place four days after a gunman killed five people at a bank in Louisville, Kentucky, and less than three weeks after another shooter killed three children and three adults at an elementary school in Nashville, Tennessee.
It's reminiscent of last year's NRA convention going on as scheduled in Houston, just days after 19 children and two adults were killed by a gunman at an elementary school 280 miles west in Uvalde, Texas. At that convention, Trump seemingly jabbed at speakers who had canceled after the deadly shooting.
The NRA's annual conventions underscore how deeply entrenched gun rights advocates and Republican political figures have become despite the United States' rash of mass shootings in recent years. In 1999, after the Columbine High School shooting in Littleton, Colorado, NRA officials huddled on a conference call and discussed canceling their convention, according to tapes of those meetings published by NPR in 2021.
"The Republican Party continues to put the gun industry and the gun makers before the safety of our kids and our families. It's extraordinary, it's heartbreaking and it's infuriating," Connecticut Democratic Sen. Chris Murphy told reporters on a call Thursday.
There have been occasional signs of cracks in the GOP's opposition to new gun control measures.
Last year, after 15 Senate Republicans joined Democrats to advance the measure, President Joe Biden signed into law a bill that offers grants to states that enact "red flag" laws and crisis prevention programs, and closed the so-called "boyfriend loophole" to prevent gun purchases by unmarried partners convicted of violence. The passage came just over a month after the Uvalde shooting.
And in Tennessee — following gun control protests in the state capitol and the expulsion of two Democratic members from the legislative body for their participation in those demonstrations — Republican Gov. Bill Lee this week signed an executive order intended to strengthen background checks for gun purchases, and has urged the Republican-led legislature to approve a "red flag" law.
"It is possible to get this done. We should work to set aside our differences and accomplish something that Tennesseans want us to get accomplished," Lee said Tuesday.
Still, in the early stages of the 2024 presidential race, Republican contenders are squarely focused on appealing to the party's pro-gun rights base.
The NRA endorsed Trump in May 2016 — a surprise at the time, since the organization historically has waited for the GOP to choose its presidential nominee. But an early endorsement appears unlikely at this stage as the GOP's 2024 field takes shape, despite efforts from Trump's team to try to secure the support.
Gun rights advocates have described Trump's presidency as a mixed bag, noting that he did not follow through on promises to ban gun-free zones, did not push for national concealed carry and banned bump stocks. The legacy of his presidency on gun rights could evolve over years and decades as his three Supreme Court selections issue new rulings.
"I will say that during the Trump administration, we lost some Second Amendment rights and we gained some rights," said Aidan Johnston, director of federal affairs for Gun Owners of America.
Johnston said the organization's top issues for the 2024 GOP primary are seeking a commitment to abolish the US Bureau of Alcohol, Tobacco, Firearms and Explosives database of firearm transactions, as well as national concealed carry reciprocity and a promise not to seek new firearms restrictions through ATF policies without congressional approval.
Trump's advisers pushed back on the notion that the former president was anything but a powerful protector of the Second Amendment.
DeSantis allies criticize Trump
Allies of DeSantis signaled they see an opening for the Florida governor to take on Trump over gun rights in the 2024 race.
"Governor DeSantis is a proven champion of our Constitutional right to bear arms and took action as governor to strengthen and affirm the Second Amendment, including signing constitutional carry legislation into law this month," said Erin Perrine, spokeswoman for Never Back Down, a super PAC that is encouraging DeSantis to run for president.
"Donald Trump made promises to NRA members when he ran for office, but then as president, he caved to pressure from the Washington establishment, liberal media, and gun-grabbing Democrats and attacked the NRA, siding with liberal Democrat Senators like Chris Murphy and Dianne Feinstein in support of their gun control legislation," Perrine said.
Earlier this month, the NRA heaped praise on DeSantis after the governor signed a bill that would allow Florida residents to carry a concealed weapon in public without a permit. Representatives from the group were on hand for a private signing ceremony. The NRA on its policy website called it a "Historic NRA Win."
But for some gun-rights activists, the bill didn't go far enough. The Florida chapter of Gun Owners of America pushed GOP lawmakers to let anyone carry a gun openly in public and criticized the bill DeSantis signed as a half-measure.
In a recording posted on Twitter, a representative for the organization cornered DeSantis at an event to get him on the record. While DeSantis told the activist he supported open carry, he correctly predicted GOP legislative leaders wouldn't support it.
"He's on the right side of the issue," Johnston said, "and blame squarely rests with the state legislature."
DeSantis, though, has pushed many of his priorities through the GOP-controlled legislature, often forcing Republican lawmakers to take uncomfortable votes on divisive bills. On firearm legislation, however, DeSantis has suggested his political capital only extends so far.
"If they send me something that is 90% or 80%, I mean, I'm going to take that win and we come back for more at some time in the future," DeSantis said at an event in Georgia.
As a candidate for governor in 2018, DeSantis opposed steps taken after the Parkland high school massacre to curb gun violence by creating the state's red flag law and raising the age to own a firearm to 21. Both those measures remain the law today. DeSantis during that race also backed allowing guns on college campuses, but five years into his tenure, the state's public universities are gun-free zones.
Trump and Pence relationship
Trump and Pence haven't spoken in more than two years, and Pence has notably skipped a number of events with Trump as the keynote speaker, including the Faith and Freedom annual conference, where Trump mocked his former right-hand.
"Mike Pence had a chance to be great, he had a chance to be frankly historic," Trump said to the event audience, largely comprised of evangelicals that once served as Pence's base. "But Mike did not have the courage to act."
Despite the avalanche of attacks from Trump over Pence's decision to certify the 2020 presidential election, Pence has maintained he did the right thing.
"President Trump was wrong," Pence said recently at the annual Gridiron Club Dinner in Washington. "I had no right to overturn the election. And his reckless words endangered my family and everyone at the Capitol that day. And I know that history will hold Donald Trump accountable."
In recent weeks, some sources close to Trump have said that the former president's private rhetoric about Pence has softened and noted his jabs at Pence over the 2020 election are often followed by compliments for his former vice president.
Some close to Trump have even floated the idea of Trump-Pence 2024 ticket, though Trump himself has publicly ruled such a prospect out.
"That seems very unlikely," a source close to Pence told CNN.
This story has been updated with additional information.