GRAVES COUNTY, KY - Just before 10:00 p.m. on Friday night, Capt. Jeremy Prince received a complaint of a 2002 Toyota Camry randomly stopping on US Hwy 45 North in the roadway.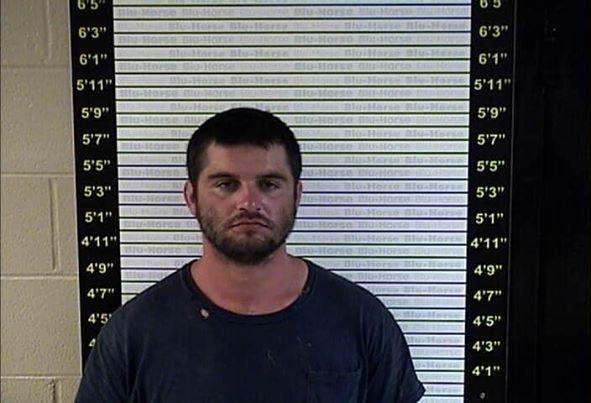 The caller suspected the driver was intoxicated.  Capt. Prince located that vehicle and attempted to stop the car after observing the driver, driving reckless. The suspect, Matthew Schultz, 28, of Mayfield, refused to stop. He sped up at times on numerous back roads exceeding 70 m.p.h. in 35 m.p.h. zones on Sanderson Rd. and Carter Rd.  
The car continued onto KY 1276, then onto Carter Road, Hickory Road, KY 945, Meridian Road, KY 849, eventually ending on KY 339 in the Lowes community.
Schultz began running stop signs and driving on the wrong side of the roadway coming dangerously close to striking other vehicles.
Other deputies, Sheriff Hayden, Kentucky State Police Troopers, Carlisle County Sheriff, Will Gilbert and deputies started towards the area to assist.
Schultz then entered the Fancy Farm area and turned west onto KY 80.
Near the intersection of Carrico Rd., the suspect almost struck another oncoming vehicle. At that time, Capt. Prince performed a PIT maneuver which forced the vehicle off the roadway into a yard. The vehicle overturned once and came to rest.
The suspect was immediately taken into custody and appeared to be under the influence. Numerous open alcoholic beverages containers were found in the suspect's vehicle. The suspect was not injured and was checked by Mayfield-Graves County EMS. He refused treatment and transport. The driver also refused to submit to a Breathalyzer test.
Sheriff deputies learned that the driver had three prior DUI offenses, from Calloway, Graves, and Jefferson Counties in Kentucky. He was transported and lodged at the Graves County Jail in Mayfield.
Schultz has been charged with the following. 
 Speeding
 Reckless driving,
 Fleeing in the first degree
DUI (Fourth offense - aggravated)
Eight counts of disregarding stop sign
Wanton endangerment 1st, wanton endangerment 1st of police officer
Criminal mischief 1st degree, open container
Shultz posted a bond of $10,000 - 20% on Saturday morning, June 27, 2020 and bonded out of the Graves County Jail.