PADUCAH — Support for and opposition to the Paducah indoor recreation and aquatic center is still strong. The opposition effort has splintered into two groups, mainly over finances.
The grassroots group Citizens Against the Paducah Aquatic Center started last month and quickly gained thousands of followers. Those followers packed a city commission meeting in February asking city leaders to postpone construction on the $20.5 million project. After their efforts failed, they looked into getting a lawyer to potentially stop construction. They also joined efforts with Paducah United, another group created in opposition to the city's decision about moving forward with the center. 
Both groups ultimately want to stop construction of the indoor recreation and aquatic center, but how the money is being raised is where they don't see eye to eye.
Citizens Against the Paducah Aquatic Center said it has one focus. 
"Our goal is to get a pause, support Richard Abraham and his resolution and let us do the talking at the polls," said Melynda Bunett, the organizer of the Citizens Against the Paducah Aquatic Center. 
The same goal, but different paths are how two groups are categorizing their split on the issue.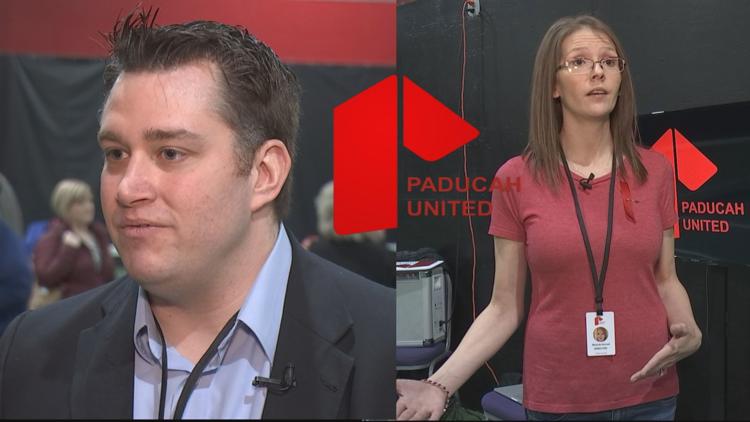 "Whenever you become a nonprofit, that comes with a lot of restrictions on what you are allowed to do and the scope that you can operate in," said Preston Louis Ursini, interim CEO of the Paducah United. "And I can see where some grassroots movements wouldn't want to really confine themselves to those rules and regulations and procedures that come with organizing a professional organization."
Previously, the group Paducah United was represented as a fundraising mechanism of Citizens Against the Paducah Aquatic Center, but both agreed it was clear Paducah United had broader goals.
"Paducah United is about public safety, infrastructure, and competitive taxation and things that allow for a city to be a place people want to move in to," Ursini said. 
Melynda Burnett said that's OK, but she wants to figure out the cost before asking for money.
"I don't want to just set up a GoFundMe page and say 'Hey everyone, just donate to the cause,' There's got to be accountability for that money," Burnett said. 
Ursini said accountability is why they're currently not accepting any donations — only pledges.
"There has been no funds collected other than the contributions that some of the trustees have made just to get started," Ursini said. 
Urisini filed paperwork with the Internal Revenue Service, and said they won't cash a penny until they're an official 501(c)(4).
Burnett said everyone is moving forward.
"Leaders have to make hard decisions, and it was a hard decision," Burnett said, "But I can't lose sight of the goal."
The Kentucky Secretary of State has not approved Paducah United as a civic organization as of Wednesday. The group has sent the paperwork in for approval.