PADUCAH — Social media serves many purposes. Some people use it to vent and others to organize. Two Facebook groups for and against the city of Paducah's recreation and aquatic center have popped up over the past two days. 
Social media can give those who feel left out of a conversation a way to use their voice. A Paducah mother created the group Citizens against the Paducah Aquatic Center on Feb. 20. Melynda Burnett created the page to make her voice heard about opposition to the city's $20.5 million indoor recreation and aquatic center.
"We just can't say we don't want this. We have to have a clear understanding of what we are wanting from the city council," Burnett said.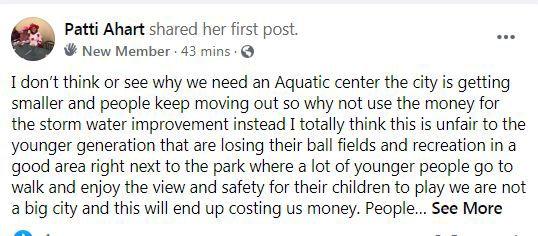 Thousands of people and hundreds of comments are questioning the city about the rising project cost — and about its priorities. Common posts in the group include conversations about scaling back on the project and diverting the bonds for it to pay for stormwater infrastructure. 
One member of the public group, Carol Frey, said, "I'm not for it, but it seems as if it's already been decided upon."

The group currently has about 1,300 members. 
A day after the group opposing the center was created, a group called Citizens in FAVOR of Paducah Wellness & Aquatic Center was created. The group's about section indicates it was created Feb. 21 by Friends of the Parks: Paducah, the nonprofit committing a $10 million endowment for the recreation and aquatic center. Friends of the Parks did not respond to our requests for an interview. 
In the public group, that has about 255 members as of this report, citizens are writing up draft letters to send to city commissioners in support of the project. 
Group member Chris Feels said, "I see this type of growth to have nothing but positive outcomes."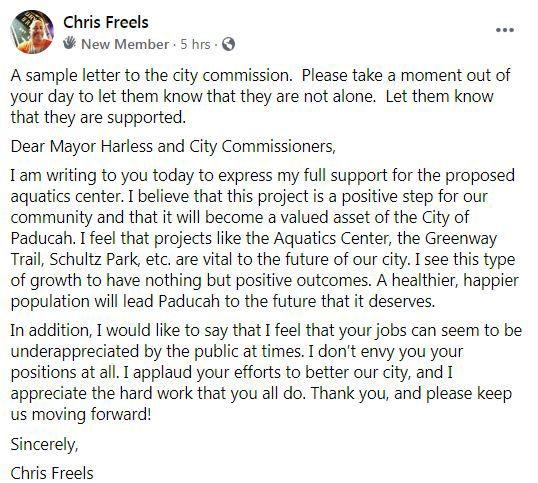 Common posts in the group talk about needed growth and creating better health in the area.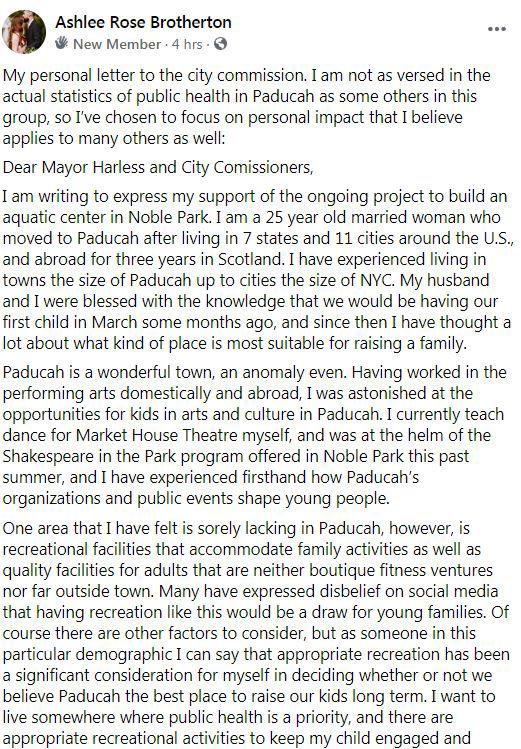 Andrea Hardesty is one of the group's members. She said she thinks a government-run facility that includes a pool is just what the city needs for growth. 
"You know there might be people out there that are not interested in swimming and think it's dumb, but one day it could change their lives," she said. "It could be the one thing they're able to do to better their lives. 

Each group is standing firm.
"Are we too late, some would say," said Burnett. "But until the deed is done, we will continue to increase our demonstration that we do not want this development done." 
The city commission will have the final word.
Citizens against the Paducah aquatic center plans to protest at the next commission meeting on Tuesday. Members will be unable to share public comments at the meeting unless a city commissioner puts the recreation and aquatic center on the agenda.