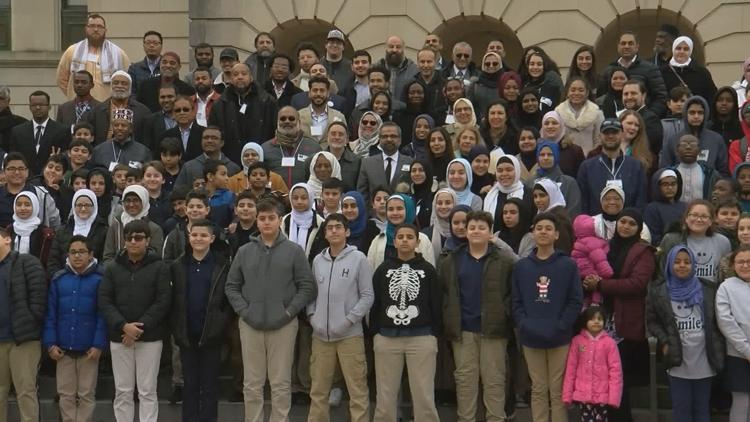 FRANKFORT, KY (WAVE-TV) — Wednesday, hundreds of people gathered for the first ever Muslim Day at the Kentucky Capitol. 
For many of the Muslims who gathered in Frankfort on Wednesday, it was a chance to learn more about their legislators, give their opinions on bills that impact them, and just tour the capitol building. 
"A lot of folks don't know how the political system works, so it's an educational day, voicing their opinion on issues that impact them," said Athar Khan, a Muslim from Louisville. 
For Hamza Foy, Muslim Day was his first time at the Capitol. He was moved. "The size, grandeur of the building, both outside and inside," Foy said. He converted to Islam when he was 14 years old. Graduated from the University of Lousiville, and works at Louisville MetroSafe.
"I really believe it's enriched my life, allowed me to learn about different cultures how to navigate people of different values," Foy said. "The ethical values, how to treat yourself, you neighbors, how to treat loved ones — that really drew me in initially."
Foy toured the Capitol and met with lawmakers. What's important to him? "Bill to restore voting rights to felons that have already served their sentence," he said.
A small group opposed to Islamic beliefs was also at the Capitol. The Muslims who spoke to WAVE-TV said it didn't bother them.
"As far as protesters go, that's going to happen. We wish the best and wish peace upon them as well. There is no reason for hate. They may hate us, but we don't hate them," Khan said. 
Muslim students from area Islamic schools also attended Muslim Day. Organizers hope to make it an annual event.