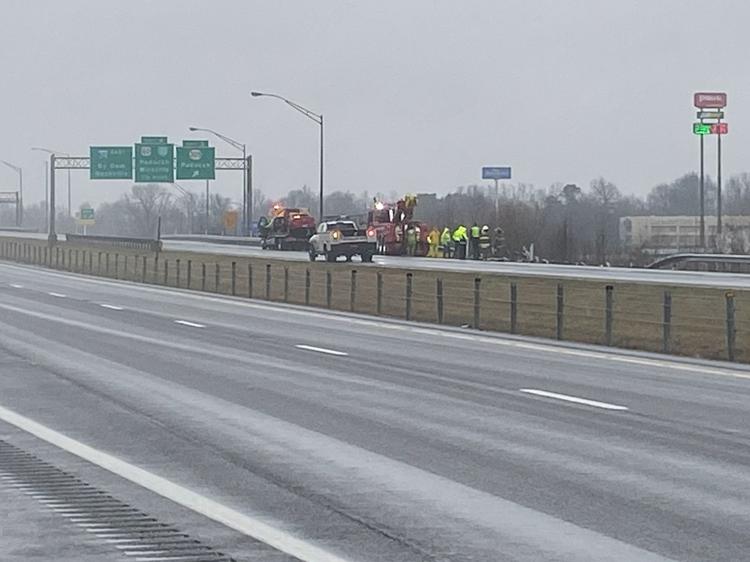 UPDATED 9:30 P.M.
MCCRACKEN COUNTY, KY -- Interstate 24 eastbound is back open Wednesday night after crews recovered a crashed semitrailer from an embankment on the McCracken County side of the Ohio River bridge that connects to Metropolis, Illinois.
The semi was involved in a crash with a car Wednesday morning between the 2 and 3 mile markers. The roadway reopened a couple of hours later. But crews continued working to remove food products from the overturned semi. As of 4:40 p.m., the transportation cabinet said a crew was continuing to offload the semi's cargo. Fuel was leaking from the truck's tanks, the cabinet said, so the semi needed to be removed from the embankment as soon as possible once all cargo was removed.
The eastbound lanes of I-24 closed again at 7:15 p.m. so the semitrailer could be hauled out of the embankment. During the closure, cars were allowed to self-detour via the U.S. 45 Ohio River "Brookport" Bridge to avoid a backup. Semis and other large vehicles cannot use the Brookport Bridge, as it has a 15-ton load limit, an 8-foot vehicle width restriction and a 9.5-foot height restriction. Semis were seen crossing the Brookport Bridge earlier in the day.
As of 9:30, the Kentucky Transportation Cabinet says the semi has been cleared from the area, and all lanes are back open.
The Paducah Police Department says the drivers of both vehicles involved in the crash were able to get out of their vehicles, but they were both taken to local hospitals.
The man who was driving the semi — 63-year-old Joe Henry of Carthage, Mississippi — told officers he was in the right lane of I-24 when he saw the car behind and to the left of his trailer. Police say the man thought the car was far enough behind him that it was safe to change lanes. But then, Henry told officers, the car began to speed up. Henry said he tried to swerve back into the right lane. But, police say, the car ran off the road, into the median, and back onto the highway, according to Henry. That's when the vehicles collided.
Police say both drivers were out of their vehicles when officers arrived. Henry said he had pain on his right side and right wrist, and he was taken to Baptist Health Paducah. The other driver, 70-year-old Lloyd Kidd of Metropolis, had a cut on his head and told officers he had pain on his left side. He was taken to Mercy Health Lourdes Hospital in Paducah.