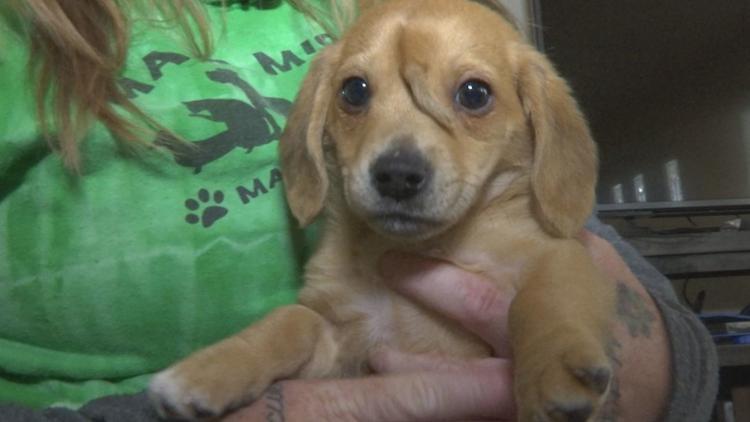 CAPE GIRARDEAU, MO — A puppy with a growth that resembles a tail on his head is gaining national attention, and the animal rescue caring for him hopes the publicity will help other dogs in the community.
That dog is Narwhal, a 10-week-old puppy who is under the care of Mac's Mission in Jackson, Missouri. The nonprofit rescues homeless dogs with special needs or injuries.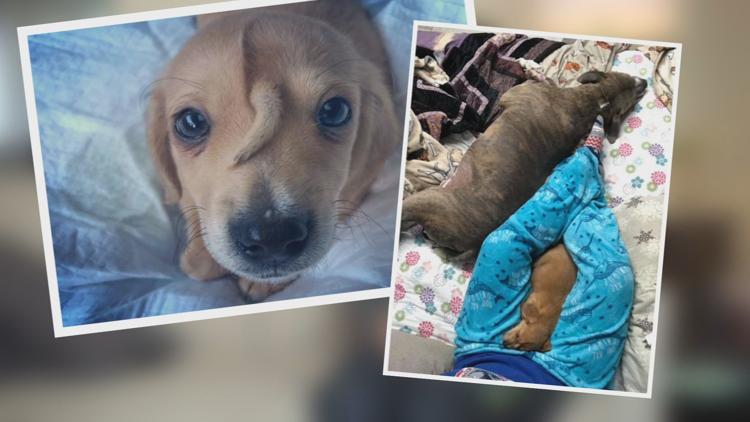 "If you think of the worst of the worst of abuse, trauma, illness, birth deformities, defects — that's what we specialize in," said Rochelle Steffen, founder of Mac's Mission.
Steffen said someone found Narwhal and an older dog on Saturday in a rural area near Kansas City. The information about the two dogs was shared on social media, and Steffen was tagged in one of the posts, because people are familiar with her rescue.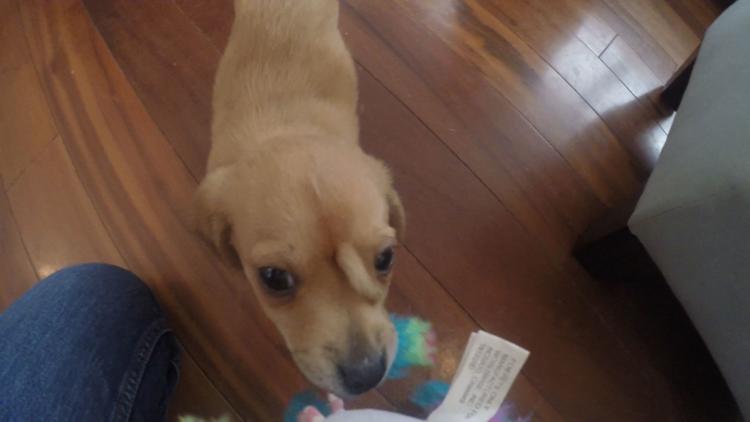 "I said, 'Absolutely, I will take both of them,' And the other dog is normal, and adorable, and great, and adoptable, and (Narwhal) is the unique case," Steffen said. "They almost act like they could be father-son, with the way they act."
Steffen said volunteers with Mac's Mission picked up the two dogs and brought them to the rescue.
"It was getting to be really cold, and there was a fear of snow, and we were all kind of afraid that (Narwhal) might have a hard time," said Steffen.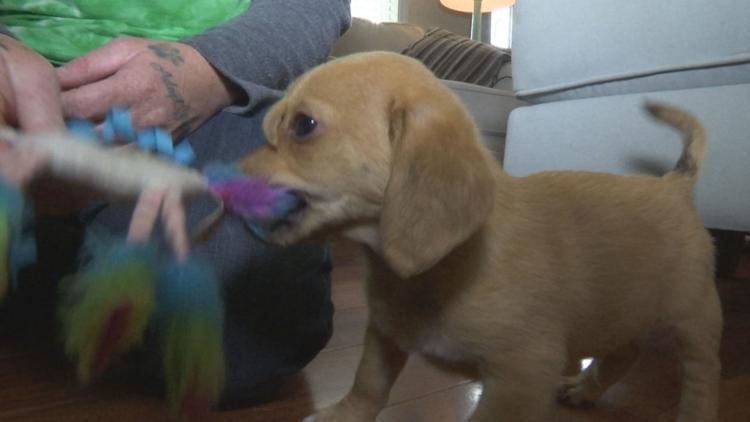 Steffen said the rescue named the other dog Papa Smurf in case he's Narwhal's dad.
"He is a wire-haired, kind of a super-sized wienie dog. And (Narwhal) has some of the characteristics of the short wienie dog legs, the wire hair on his good, long tail. And then, he almost kind of resembles a little bit of a golden retriever also," said Steffen. "So, we're not really sure what (Narwhal) is."
Narwhal is currently about four pounds.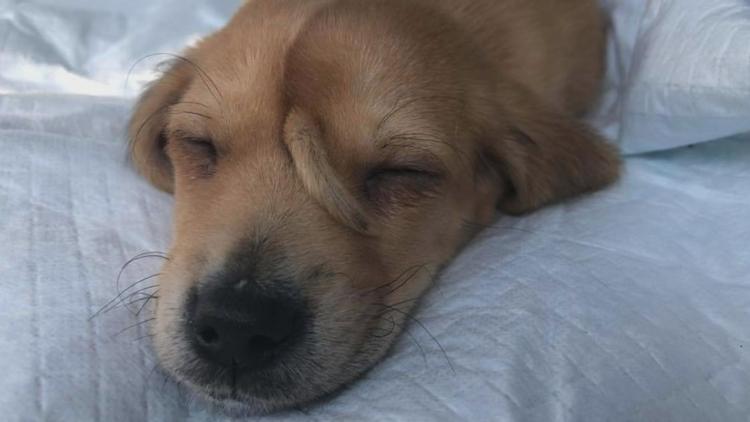 "A lot of people have said when they met him they didn't realize he was that small," Steffen said.
As for the little tail on his head — no, it doesn't wag.
"It just kind of hangs there like a lock of hair," said Steffen.
The little tail between Narwhal's eyes is composed of soft tissue, with no bones or nerves, Steffen said. The veterinarian who examined him said it does not pose a health risk at this time. Because it doesn't bother the dog, the extra tail will stay put for now, although Steffen said she will continue monitoring the tail to make sure it doesn't grow bigger and cause complications.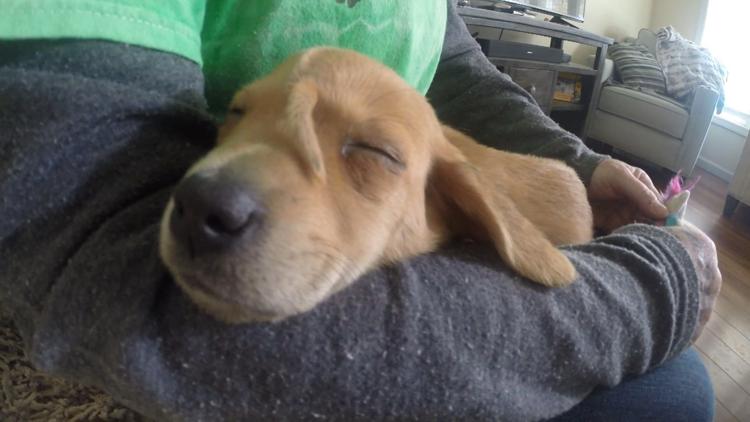 Steffen said while the rescue received 150 applications to adopt Narwhal on Wednesday alone, the pup is not available for adoption until he grows more and the rescue can be certain the tail doesn't become a problem.
"I'm very protective of him of him right now, and I literally want nothing to harm his bubble. I smile every time I see him," said Steffen.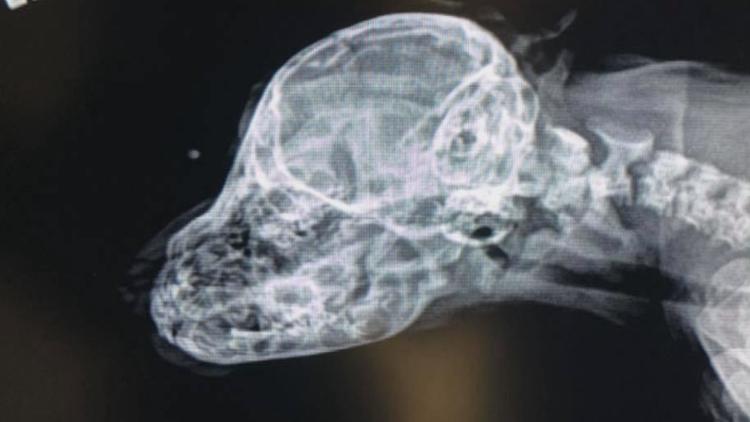 Narwhal's story has spread, with thousands of likes and shares, and his "tail" is being told in media outlets across the country, including CNN, The Washington Post, Inside Edition, TMZ, Buzzfeed and various local news stations.
Steffen said Narwhal's popularity can help not only the other dogs at Mac's mission, but dogs that still need to be rescued.
"With the shear amount of awesome that we are experiencing right now, it might be able to take us to the next level of helping twice as many," said Steffen. "We could, in essence, gain — I think we've gained 10,000 followers on Facebook, and that's our number one way we get donations. So, we might be able to save a hundred more dogs because of the attention he's getting."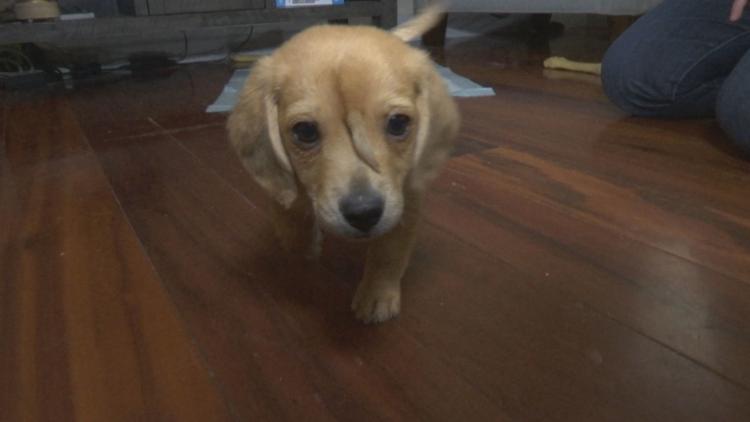 While Narwhal won't be available for adoption for a few months, other special needs dogs at Mac's Mission are. To see which ones are available, visit www.MacsMission.org.
For the latest updates on Narwhal, follow the Mac's Mission Facebook page.