We are activating a Weather Authority Alert for Thursday evening and overnight, as we track increasing potential for a line of severe storms.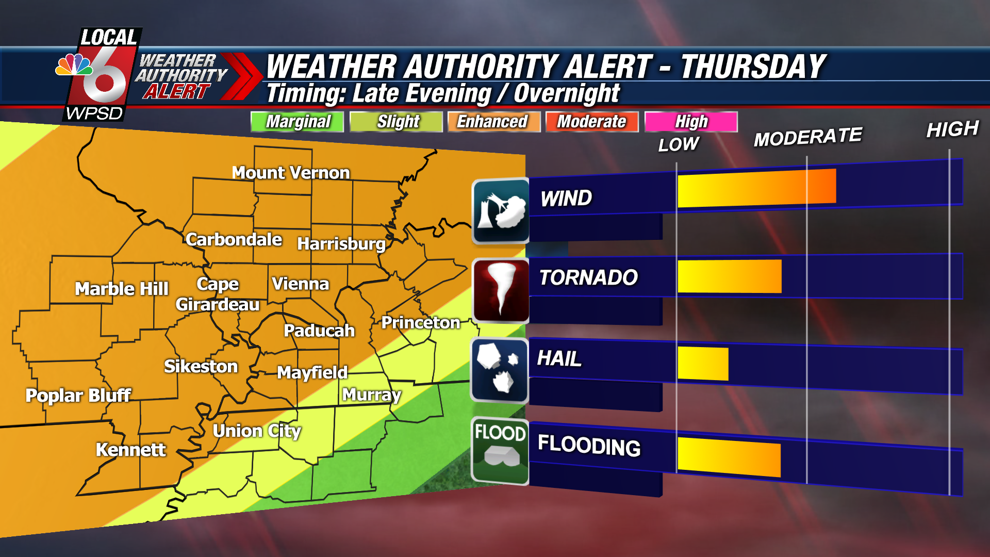 Timing:  Thu. 7PM - Fri. 3AM.  There is still a bit of wiggle room among forecast models on the exact timing...the latest models show a line of severe storms coming through between Thu. 10pm - Fri. 3am....however some earlier models brought the storms in a bit earlier, so we'll allow a larger window for now and narrow down tomorrow.
Threats: Damaging wind & tornadoes.  Right now, the main storm mode looks like a line of storms, or line segments.  This would support a straight-line wind threat, along with embedded brief tornadoes.  If we see some isolated supercells ahead of the line, those would carry a bit more of a tornado threat. 
Uncertainties:  It looks like we'll have a quick round of scattered t'storms Thursday morning, but there should be ample time for the atmosphere to recover for the evening round.  There currently looks to be enough unstable air to support a threat well into the night, but a lack of instability would be the one factor that is a bit questionable. 
Because this threat may come late at night, be sure you have multiple ways to hear audible alerts that will wake you up, like the WPSD Radar app & NOAA weather radio.