PADUCAH — It's been a week since restaurants in Kentucky closed their dining areas. Many owners are starting to get a better look at sales and where they stand financially with this new setup. Kirchoff's Bakery and Deli started curbside services and quickly found out it was losing money. 
Kirchoff's is a community staple and a hot spot for tourists in Paducah. It's a comforting constant in Paducah's history, said Kirchoff's General Manager Todd Anderson.
"Kirchoffs originally opened in 1873," Anderson said. "It's been through floods. It's been through wars. It's been through all kinds of stuff."
On a Tuesday afternoon, the bakery and deli would usually be slammed with customers. The impacts of COVID-19 have hit them significantly, with only a few dozen people streaming in. Kirchoff's made the decision to temporarily close the deli.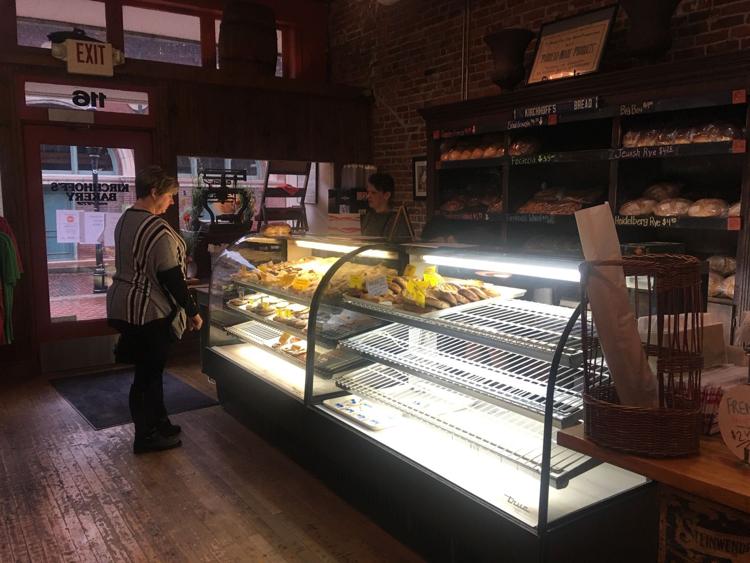 "Its tough. It's not a spur of the moment decision, but at some point we have to do it for the safety of our employees, for the safety of our customers and the longevity of Kirchoff's," Anderson said.
It costs more money to leave the lights on than to turn them off. Another business owner says that day may come for them, too.
"Our deciding factor is if we can meet our goals, and those goals help cover the cost for our workers, keeping the lights on, our rent," said Gabrielle Dodd, co-owner of Branch Out, a vegan restaurant. 
Branch Out is already down 40% in sales since closing its lobby last week. 
Dodd said they're teaming up with other businesses to stay afloat.
"We have really good conversations and relationships with the business downtown, Confleur, and we try to help each other out when we don't have something," Dodd said. "Right now, we are not selling coffee, but they're selling really delicious coffee. And we say, you know, come by here and pick up food, but go by there too and support them."
On his worst day, Anderson said they'll get though this downturn, and he encourages other business to hang in there. 
"Fight the good fight. Be smart. Ask for support," Anderson said. "You'll get it, and good luck. We'll see you on the other side."
The other side is a bit hazy for everyone. Kirchoff's bakery will continue selling its fresh bread. They say many people need it in the community with shortages in grocery stores. You can buy bread curbside from 8 a.m. to 12 p.m. Monday through Saturday. 
If you own a small business having trouble, the city of Paducah wants to hear from you. You can take the city's COVID-19 impact survey by clicking here.