LIVINGSTON COUNTY, KY -- County clerks from across Kentucky are preparing for a recanvass of the votes from the general election.
On Thursday, counties will make sure ballots were counted correctly after the governor's race ended close. Incumbent governor Matt Bevin requested a recanvass after results showed his Democratic opponent Andy Beshear appeared to beat him by a little more than 5,000 votes.
Shea McWherter says voting on election day was a simple and fast process. He says as a voter, it is good to know that all votes are handled with precision.
"I think it's important the people know that not only they're votes are counted, but that they're done so in a responsible manner," McWherter said.
Livingston County clerk Sonya Williams prepared all her printed tapes or election total records. They're taped on her wall for easy access on recanvass day. These tapes include all of the results from the e-scan machines, the absentee votes and e-slate machines. Although Williams predicts this recanvass will not have an effect on the outcome of the election, she is happy to do her job.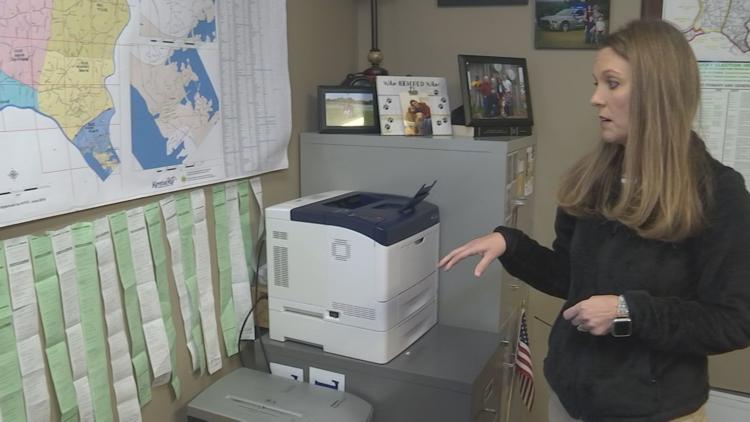 "Elections, it has to be right," Williams said. "Elections always has to be right. There are no room for error. It has to be done correctly. So it's our pleasure. It's definitely our job, but it's also our pleasure to be able to perform a recanvass."
On recanvass day, the county clerks will call out the numbers on their recorded tapes, and make sure those numbers match what's on their recapitulation sheet.
This is a group effort. Every county board of election member will look at this recapitulation sheet. The clerk will call out the numbers from the tapes. Those numbers should match. 
Williams says this process is fairly simple and believes the results for her county won't change.
The recanvass will begin statewide Thursday at 9 a.m. It should only take a few hours for results to come in. If the recanvass doesn't significantly change vote totals, Bevin has the option to concede the race or go to the state legislature to challenge the election.