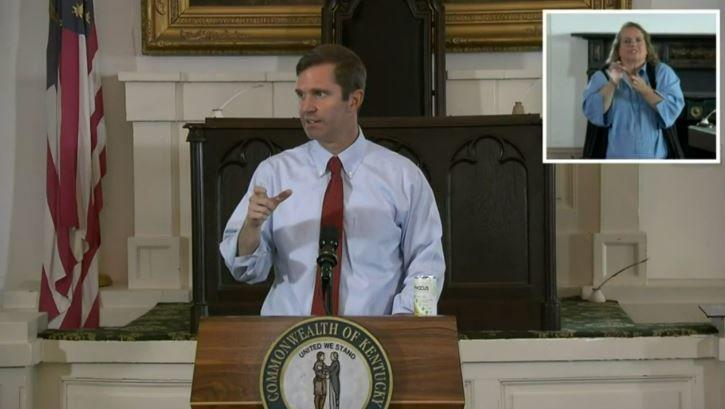 FRANKFORT, KY — Kentucky Gov. Andy Beshear says the state faces a $1.1 billion budget shortfall in the next fiscal year if the state does not receive more CARES Act funding. 
The governor made that statement during a briefing on COVID-19 Tuesday. He said the pandemic is "decimating" every state budget in the country, and that "if we do not have additional stimulus from the federal government, another CARES Act, that we would be facing devastating cuts." 
The governor said if that happens, Kentucky will face cuts of 16% to 29% across state departments. "To put that in context, I believe our single biggest annual cut that I'm aware of in our history — it's been 12%," Beshear said. 
Beshear said those deep cuts would hurt education, social services, unemployment insurance benefits and more services Kentuckians rely on. "This would be like letting Kentucky go bankrupt, which we cannot allow to happen," the governor said. 
"So let's continue to push our federal delegation — we've had good communication with them — and say that we can't let this happen in Kentucky," Beshear said. 
However, not all the economic news the governor shared Tuesday was bad. Beshear also said he and his administration ave announced 135 new projects across the state since December, which are expected to bring in 4,700 new, full-time jobs to the state and represent $1.35 billion in new investments. The governor highlighted two projects in particular. First, a $9 million hemp processing facility has announced plans to locate in Simpson County, which is in the south central portion of the state. That facility is expected to bring 60 new full-time jobs. And second, a $2 million plan by Truck Equipment and Body Company of Kentucky expected to bring 43 full-time jobs to Powell County, which is further east. That plan will create a custom dump truck body and truck equipment manufacturing operation.
Regarding the ongoing outbreak, Beshear said 282 new COVID-19 cases were reported across the state Tuesday, as well as five new deaths. 
The deaths reported Tuesday include a 70-year-old man from Campbell County, a 71-year-old man from Hardin County, and three people from Jefferson County — including two women ages 77 and 86 and a 92-year-old man.
To date, the state of Kentucky has reported at total of 15,624 novel coronavirus disease cases, including 565 deaths. So far, Beshear said at least 3,990 Kentuckians have recovered from the illness.