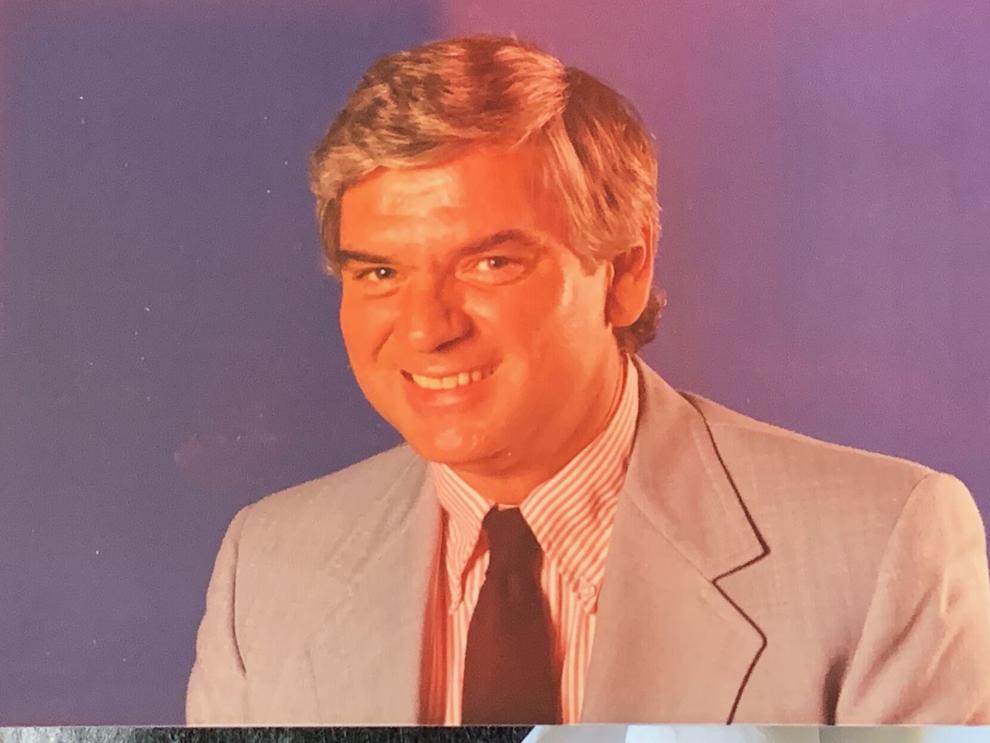 I just attended the funeral for my friend Larry McIntosh.
His old friends called him Tosh.  I called him Larro.
Larro used to own a men's clothing store called The Tosh Shop. I'm not sure if the nickname "Tosh" came before the store or because of it, but I liked calling him Larro better.
From the first time he said hello, there was no doubt he was an old radio guy. That voice!
Larro and that young guy, Paul Brown, were the sports team when I arrived at WPSD back in 1984. Somewhere along the line, someone realized that every team needed a uniform and the idea of grey jackets with a Sports Beat 6 patch on the left breast was born.  (I seem to remember a dark blue jacket too).
Back then, Local 6 was NewsBeat6.
I still laugh when we pull up to a parking lot and — even 3 decades later, someone yells "it's NewsBeat 6!"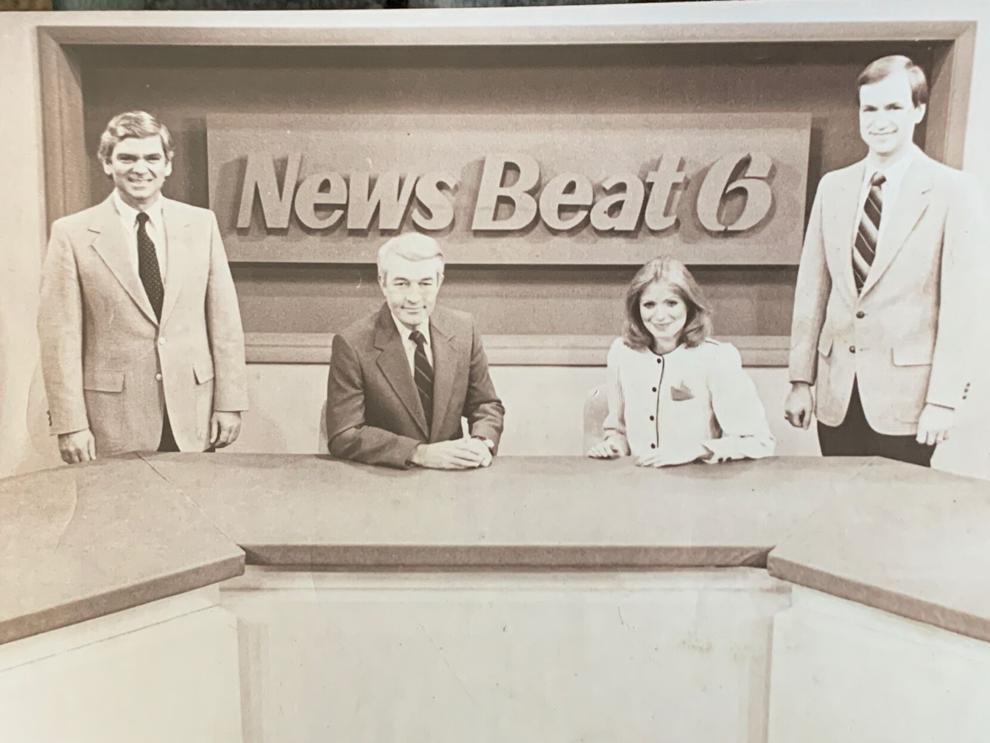 It was the Sport Beat – Larry McIntosh era, when covering local high school football became the norm.  Not just a few games but a lot of games. From highlights to pre-season previews.  From Mt Vernon, Illinois, to Martin, Tennessee, and from Ft. Campbell, Kentucky, to Dexter, Missouri: we covered a lot of ground.
And it is funny looking back on that now.  It was a lot of driving and a lot of hard work but it was fun.
Larro made it fun.
With all that driving, sometimes two and three hours, you get to know a person. Larro was a funny man. He had funny stories. He told them in a funny way. He had lots of stories.
And to this day I still think MOST of them were true.
We talked about family.
He loved talking about his family.
He talked about his radio days.
He talked about his clothing store days.
And when he talked about his friends, he talked about them proudly. He may have had a funny story about them, but he was never mean about it.
In the late 80's I became a dad and almost like clockwork , Larry would ask "how's lil Hannah" or "How's Hannah-Banana?"
Through Larry, I got to meet some great men that were great coaches, Alan Cox, Jack Haskins, Jack Morris, Rodney Bushong, Howard Beth and so many others.
I knew when we went to talk to those coaches, it was usually two or three questions in an Interview, then the camera was set down and the BS started. The laughing and the needling were things of beauty.
Fun times.
Ninety nine percent of the time, Larry was always "on." During that 1%, he was thinking about what to do and how to make that 99% better.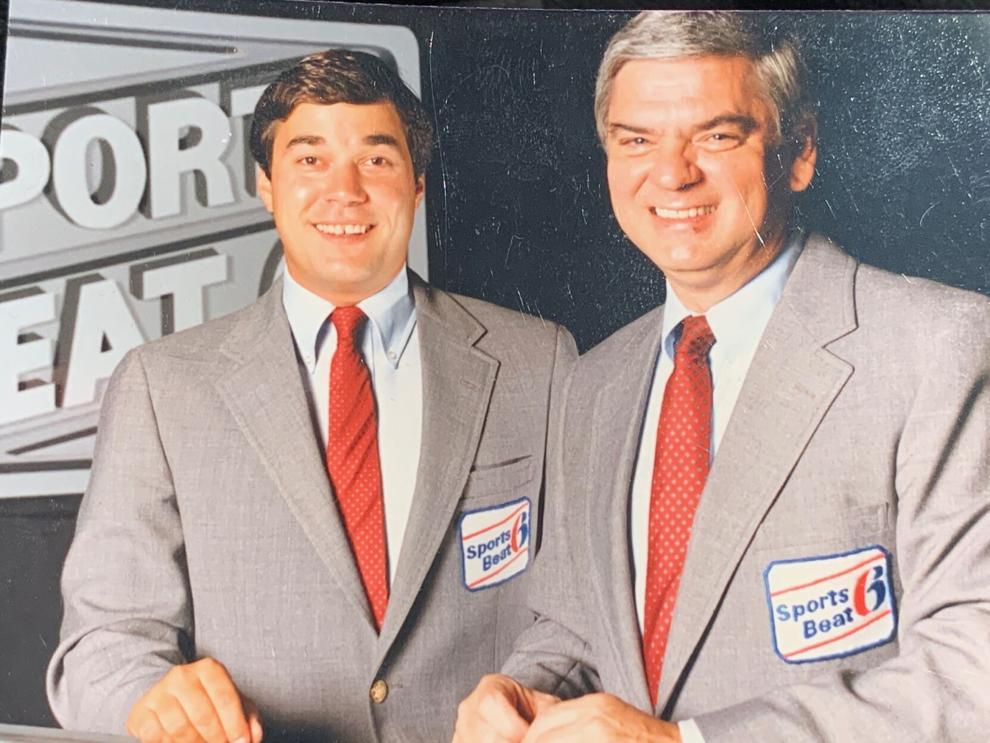 In the Newsroom in the 80s, it was a large room with lots of desks. To the left was where Larry and Paul resided.
They had two or three TVs, a small editing set up, and two large L-shaped desks, Larry on one side and Paul on the other.
To say it was a gathering place may be an understatement and may be the reason why management decided to put walls around everyone's desks.
Most of the reporters and anchors desks had 4 foot high dividers.
Not the sports department!
Their walls were 6 foot tall.
The reason was to keep the sound in, but Larro found another advantage.
This was around the time that no smoking in a building became the norm..... for most people. Inside the 6 foot walls of "Fort McIntosh", Larro would lean over the trashcan, light up a cigarette and take two or three puffs. So many times I would turn the corner and see him stooped over the trashcan waving at the smoke trying to disperse the smoke and the smell.
I don't know what was more amusing, Larro thinking he was pulling one over on management, or the fact that everybody outside Fort Macintosh knew he was smoking and didn't say anything.  As I'd come around the corner and he was in his waving mode, he look at me and put his finger up over his lips, "sshhhhhh" then with a big grin, chuckle all the way to his shoulders.
When we were going to hit two or three towns for a high school preview, we would start early in the morning. Usually it was, "Spissy, come by and pick me up at the house. I'll be ready."
From my grade school, High school, college and work, most everyone has called me Spiss. So when someone calls me Spissy, it usually means it's a Macintosh family member.
There were a few times when Larry would meet me at the door and wave me in for a glass of orange juice and whatever Mary Ann would make.
Larry was generous like that.
After driving off from a hot football preview, Larro would say, "Spissy, pull over at this gas station.  I'll get you a pop."
After the next football preview, wherever it was, we'd find a local restaurant and he always paid for lunch...always.
Two of the coldest days I can ever remember had something to do with Larry Macintosh.
One year Crittenden County was one game away from playoffs. Larry pushed for a live shot from Marion, Kentucky. Tommy Williams, another photographer, and I tried um-teen different ways to go live and finally found that we could do a "hop."
A hop is where we send a live signal to a receiver somewhere else and then that receiver sends it to a transmitter where we then send it to the station.
Tommy and I worked most of the day to fine-tune this hop. It was the only way to get the final play and the final score in house before the 10 o'clock news started.
It's the only time I can remember shooting a football game and having sleet caked on everything; me and more importantly the plastic over my camera. I can't tell you a play that happened, but I can remember wanting assurance that Larry appreciated me standing outside the press box literally freezing to death.
I don't know why, but I also remember that on this Friday night, Miami Vice premiered and I was missing it. Tommy gave me updates on Crockett and Tubbs by radio (no cell phones back then).
The other cold night — when Mayfield played Fort Campbell at Fort Campbell.
Larry was giving me the rundown on what was coming that Friday night. Back then we had a small plane — a "Moonie" — piloted by our own Bill Watson.
Larry's plan was for us to take the plane and land at an airport near Fort Campbell to bring back first half highlights. He said he was going and so was Allan Cox, the coach of Paducah Tilghman football.
It dawned on me that's a lot of people in a small plane with camera equipment as well. That's when Larry smiled at me and said something to the effect of, "Spissy, you'll be driving. I'll grab your first half highlights from you and will fly back.  You'll stay and shoot second half and then drive home."
It didn't snow that night, but it wouldn't surprise me if the temperature was around zero.
Somewhere around the second quarter, Alan Cox shows up with a large hot chocolate for me and said something like "here you go bud. I thought you needed this."  He then added,"Larry's staying warm in the press box."
I thought it was nice of Alan and uncharacteristic of Larry.
After halftime, Larry showed up and grabbed my two or three tapes. I said sarcastically, "Hey Larry, thanks for the hot chocolate," and he just winked at me.
I found out later that Larry bought the hot chocolate and was heading my way but Allan told Larry he would take it to me so Larry could watch his Mayfield Cardinals play.
Of course the latter was Larry's version, so I'm not sure really what to believe. But I'm leaning on Larry's story.
That and the fact that Coach Cox was trying to take credit for it at Larry's expense was a perfect set up for Coach Cox to needle Larry.
I hope Larry knows how much I appreciated him and building my confidence in my early years as a photographer.
Before coach Aaron Beth was Girls basketball coach at Marshall County, he was a basketball and soccer phenomenon. CNN wanted as much video they could of him. They were doing some type of sport special on top high school talent.
Larry worked it out with management and had me shoot a lot of Aaron playing soccer at practice, interviews, and some games. CNN even threw some cash my way. (That was supposed to be a secret, so ssshhh).
I won't say Larry had a great singing voice, but he didn't mind singing.
During many of our tapings of Christmas greetings — a WPSD tradition, he would laugh and cut up, and would usually sing something like, "Merry Christmas to you on the Christmas trail."
It wasn't till after his death I talked to Mary Ann about another song he used to sing.
It had something to do with the woman I love, she'll be big and strong, the woman I love.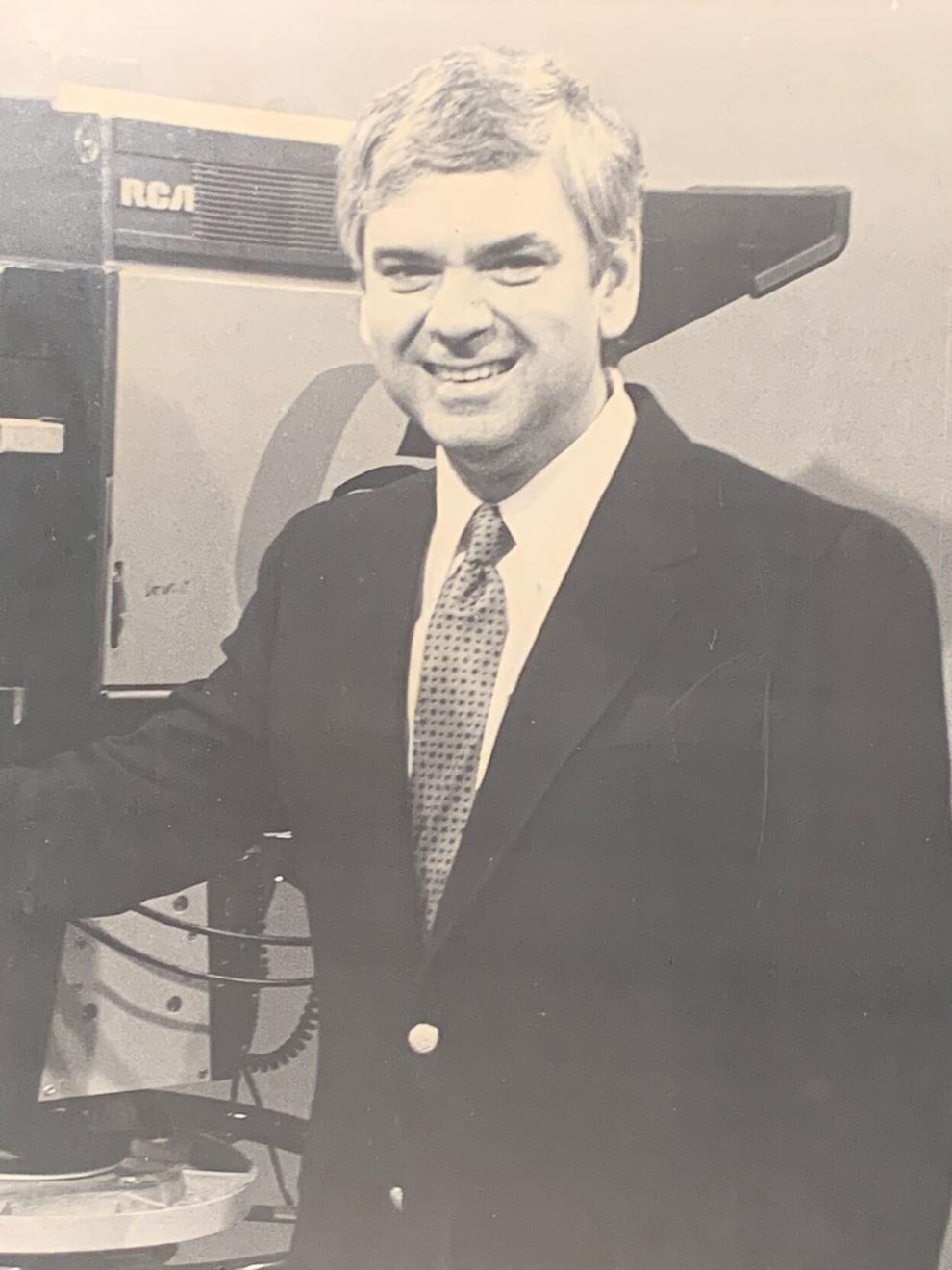 When I sang those few lines to Mary Ann she laughed and said " no Spissy, that's an old song about the man I love. He just used to change the words to woman instead of man."
One of Larro's mysteries finally solved for me
I'll miss old Larro.
I'll miss his antics.
I'll miss his stories.
I'll miss the mischievous giggle he had.
I can't imagine the hours Mary Ann and his daughters, Leigh and Anne must have spent laughing over the years....I hope they hold on to every second of those.
I can't sum it up any better than the preacher at Larro's funeral.
He said he imagines that God must have had a really big game in heaven and he needed one of the best to call the play by play.
I just hope Larry remembers the hot chocolate at half time.