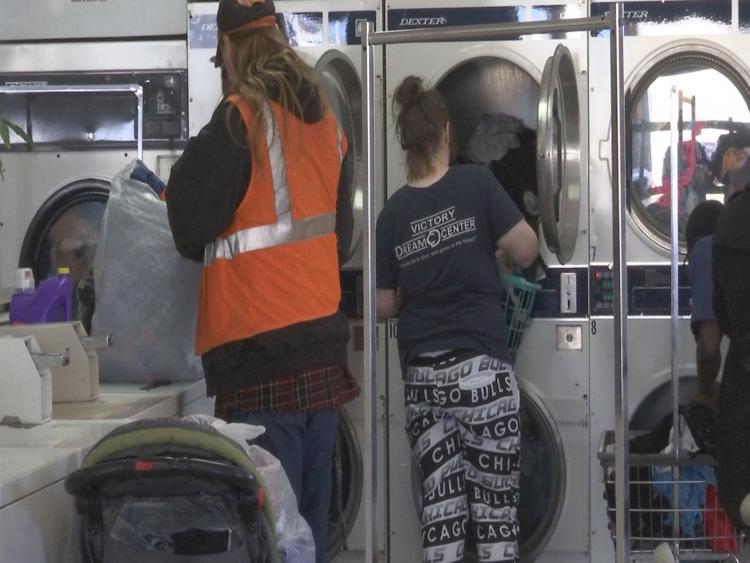 CARBONDALE, IL — Clean clothes are something many of us may take for granted. In southern Illinois, 282 people are homeless on any given night. Those in need were able to do their laundry for free in Carbondale thanks to the Laundry Project.   
Washing loads of clothes might seem like a chore to some, but for people at Laundry World in Carbondale on Tuesday, it was a blessing — because it was free.
On the second Tuesday of every month, the First Presbyterian Church of Carbondale is changing lives one rinse cycle at a time through its Laundry Project. 
"Laundry can be expensive, and also, for folks that are homeless, it's difficult to find time and money to cover laundry," said Coordinator Jane Swanson. 
Volunteers provide the quarters and detergent, and people just need to bring their clothes. 
Veteran Aaron Miller washed his clothes and volunteered with the project on Tuesday.
He said normally he spends at least $20 a month doing his laundry, and that adds up. 
"Getting detergents at the stores is expensive. Then you have to buy the sheets. This really helps a lot for people, and the type of things they can't do," said Miller. 
For some people who might be living on little to no income, doing laundry is a luxury that they can't afford.
"For those of us who have washers and dryers at home, we take for granted that washing your clothes is a fairly easy thing to do. But it's really a part of human dignity to have clean clothes," Swanson said.
One man there, Will, said he hopes wearing his clean clothes will help him make a good impression at job interviews and give him a fresher outlook on life. 
"It's nice to have fresh clothes — just wake up in the morning and take a shower. You don't have to worry about waiting three or four days for a pair of pants," said Will.
The church will host the Laundry Project every second Tuesday at Laundry World in Carbondale. Donations are welcome, and can be dropped off at First Presbyterian Church, which is at 310 S. University Ave.