PADUCAH -- Small businesses in west Kentucky impacted by COVID-19 can begin applying for loans through the Purchase Area Development District.
PADD launched the COVID-19 Business Relief Working Capital Loan Program Wednesday as a way to help small businesses that have not received assistance through the Small Business Administration. Small businesses in Ballard, Calloway, Carlisle, Fulton, Graves, Hickman, Marshall, and McCracken counties can apply for the program.
"There's a lot of fear in the small businesses. Certain sectors - you know, restaurants, day cares especially - are probably the most that we hear out of," said Mike Maxwell, business lending specialist at PADD.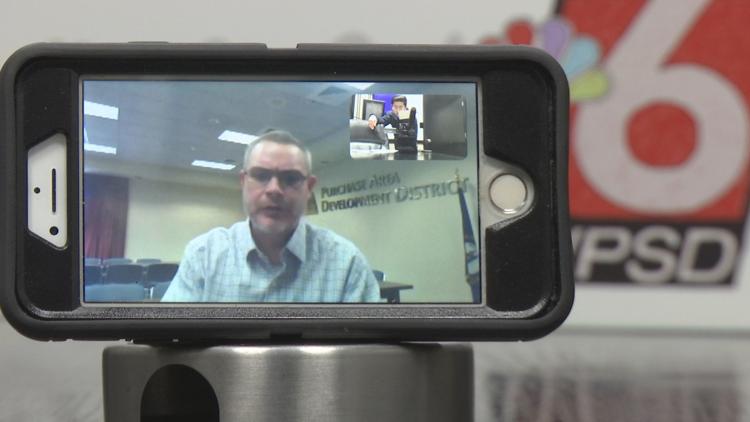 Maxwell said any for-profit small business can apply for a loan, which range between $5,000 to $25,000 depending on the business' three-month operating expenses. The loans can be used to cover payroll, rent, utilities, interest payments, supplies, inventory management and/or payments to suppliers.
"The service sectors that we're looking at especially are industrial, manufacturing, service-based. So dog/pet-grooming stores," said Maxwell. "We got a lot of interest from salon owners that are coming through, absolutely restaurants, really any business out there that wasn't able to obtain any kind of help through any of the SBA programs."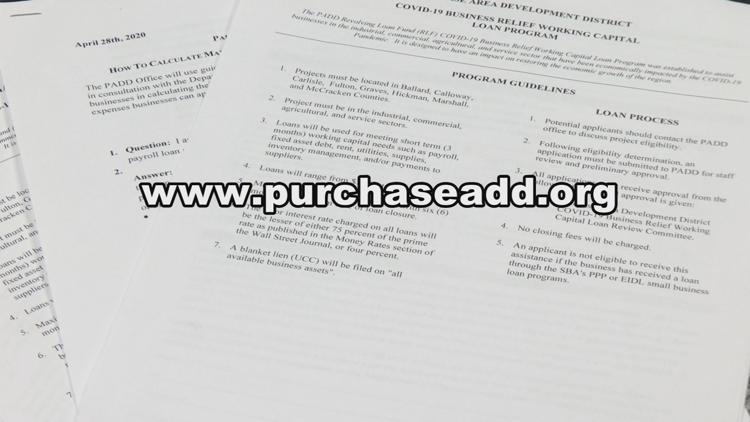 PADD says in a news release that businesses that have received a loan through SBA's Paycheck Protection Program (PPP) or Economic Injury Disaster Loan (EIDL) are not eligible to apply.
"We do encourage anybody that has a question about eligibility to reach out to us directly," said Maxwell. "If they did receive a PPP, we'll have a conversation with them and we'll talk through it. But this is really intended for the business owners who weren't able to get into that program on a timely basis."
To begin the application process, visit www.purchaseadd.org/businesses/covid-19-business-relief-working-capital-loan-program to obtain the application packet and step-by-step guidelines. You will need to return the application along with your business' last tax return or interim financial statement and a list of operating expenses.
Email the completed application to Maxwell at mike.maxwell@purchaseadd.org. Maxwell said they will then process the application before submitting it to the loan review committee for final approval. The turnaround time for a borrower to receive the loan is about 10 to 14 days, Maxwell said.
"We try to put and make it as easy as possible of a process, so that we can get them turned around as quickly as we can," Maxwell said.
PADD will accept applications through June 30.
The maximum loan term is 36 months, with an optional six-month deferral from the date of loan closure. This means that business owners who receive a loan do not have to make payments for the first six months.
"Especially now in this time period, that they're able to focus on keeping their business open and running, versus having to worry about making the loan payments right now," said Maxwell.
After the optional six-month payment deferral period, the borrower will pay back the loan over the course of the term, along with a 2.44% interest rate.
"This is not a grant application. So this is not like the PPP. It is not forgivable. It is a loan," Maxwell said. "But we are providing payment relief for the first six months of deferred payments. And then, there is more flexibility with expenses. So not everything has to be used on payroll."
When considering which businesses will receive the loans, PADD says priority will be given to those have have the most impact on employment.
"We have the resources to do something, and we wanted to help the community any way that we could," said Maxwell.
The program uses funds from PADD's Economic Development Administration Revolving Loan Fund.