MARTIN, TN — String lights at a local coffee shop are stirring up heated discussion.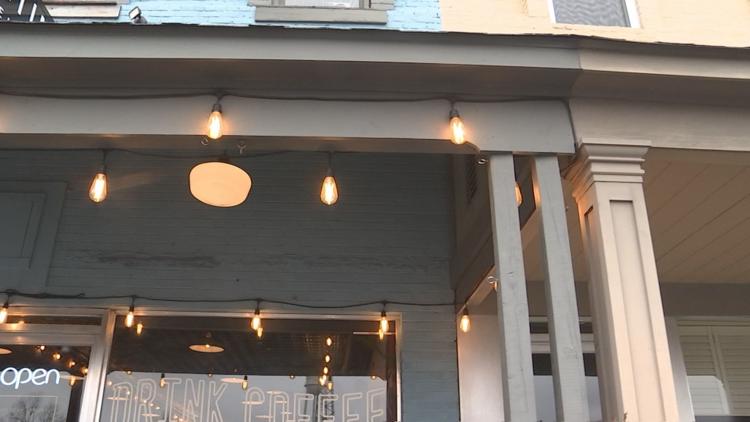 The Historic Zoning Commission in Martin, Tennessee, says they've got to go.
John Sellers opened up Martin's Coffee and Bakery in 2017. The business turns its string lights on at night, to brighten up the shop.
"We're just proud of what these lights have allowed us to be," Sellers said. "It's a safety concern. A lot our our customers have expressed that when the lights are off, they don't feel safe going outside. Also it brings business to our downtown."
It's in a Historic Zoning District. These areas preserve the historical value of buildings.
The lights had to be turned off, because the Historic Zoning Committee says they don't meet these guidelines as to what a historic district should look like.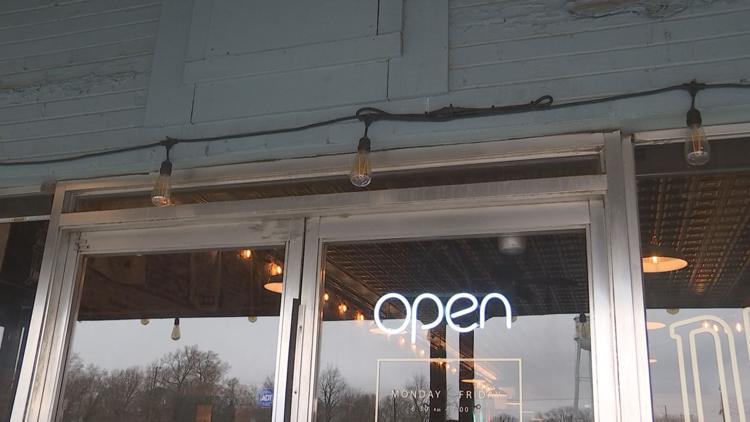 The guidelines say you must submit a certificate of appropriateness before changes are made to buildings in these districts. Lynette Wagster is the chairman of the Historic Zoning Committee. She said Sellers submitted the application after he had already put the lights up.
And after that, the committee added new guidelines saying string lighting is not permitted, excluding special events and holidays.
"He was made aware of the violations," Wagster said. "He was provided options, and he hasn't followed those yet."
She said it's about making sure all the buildings fit together.
"If everybody starts putting up string lights, if everybody wants a variance to meet their specific need, there's no cohesiveness," Wagster said.
More than 2,800 people have signed a petition in support of the lights. Sellers claims he's seen a 30% drop in customers since the lights have been off.
"If I do keep them off, my business is not going to thrive," Sellers said. "But if I turn them on, then I'm fined $100 a day."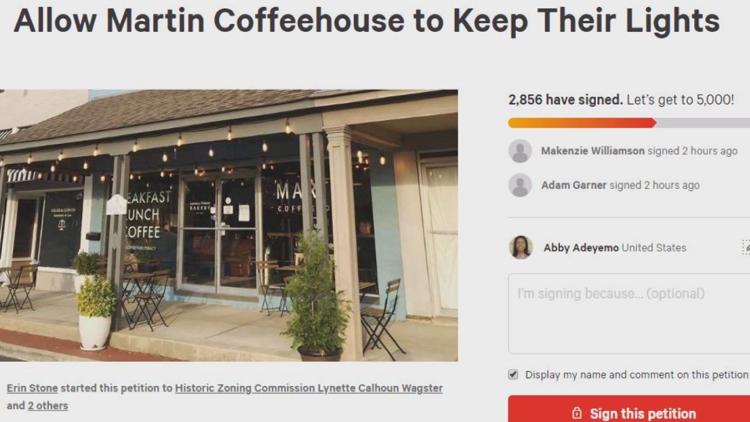 So for now, Sellers said he'll keep the lights off.
Since Seller's application was denied, he will be able to appeal the decision in court. If the ruling is in his favor, only then could he keep the lights up all year.
Here are the acceptable 2020 dates for outdoor string lights around awning or overhead features that do not require a certificate of appropriateness or further permission:
— June 1-30 for the Music in the Park Concert Series.
— August 24-31 in preparation for the Tennessee Soybean Festival.
— September 1-14 Tennessee Soybean Festival.
— November 1-30 in preparation for the Christmas season.