The time has come to discuss the next storm system to potentially impact the Local 6 area. I am sure you have heard or seen rumors of this online or in person recently. Allow me to clear the air - at this point it is way too early in the game to get too exited over the forecast. But you need to be following the forecast closely for next Sunday into Monday.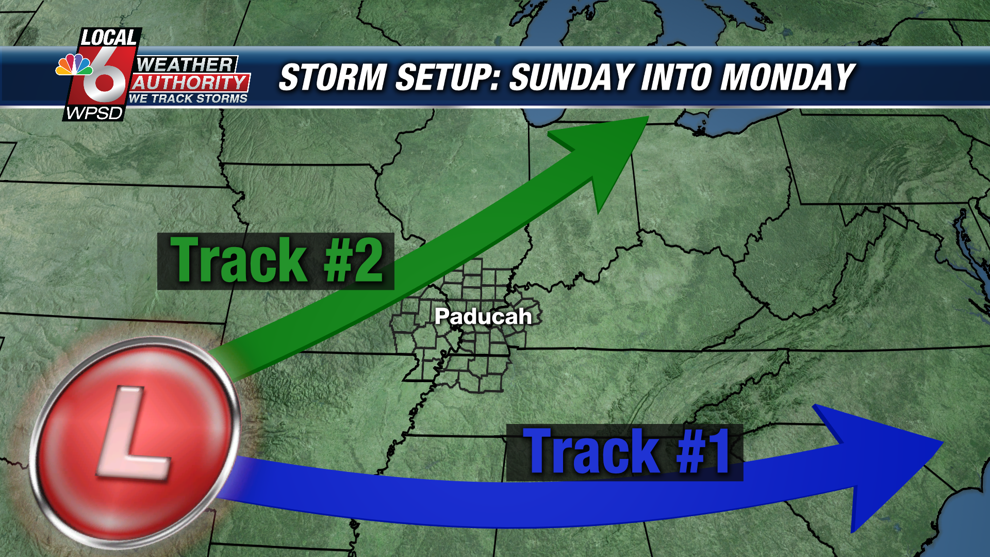 The setup is such - a low pressure area will develop over Oklahoma Sunday evening into Monday morning. That part we are 100% certain of. Beyond that is where forecast confidence decreases tremendously. It appears that we have two distinct track scenarios for this storm, and both have very different impacts on our area. As meteorologists, we use things you may know about or have heard of called "computer models" to help us forecast the weather. The models are very fast computers that get fed a plethora of current weather information, and use that to forecast the future state of the atmosphere further out in time. Our two main "models" are currently split on where the storm goes. 
Storm track #1 would bring the low south of us, in middle Tennessee... meaning a more pronounced influence from a cold high pressure area to the north. This would yield a few inches of accumulating snow, a period of sleet, and some rain across the area.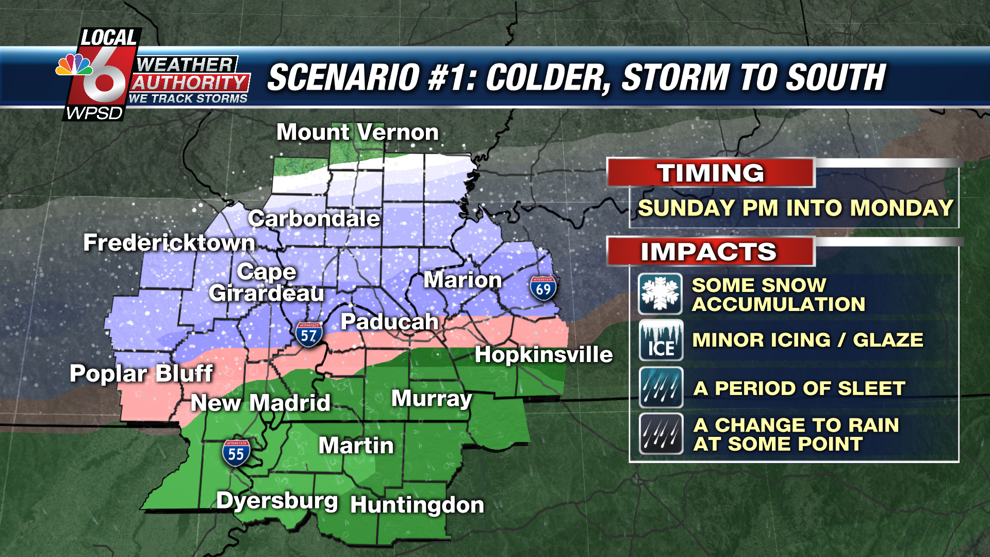 Storm track #2 would bring the low north of us, over St. Louis... this would bring a strong southerly breeze, warm temperatures well into the 50s, and maybe even a few thunderstorms. But the key to this is all rain, and barely any snow.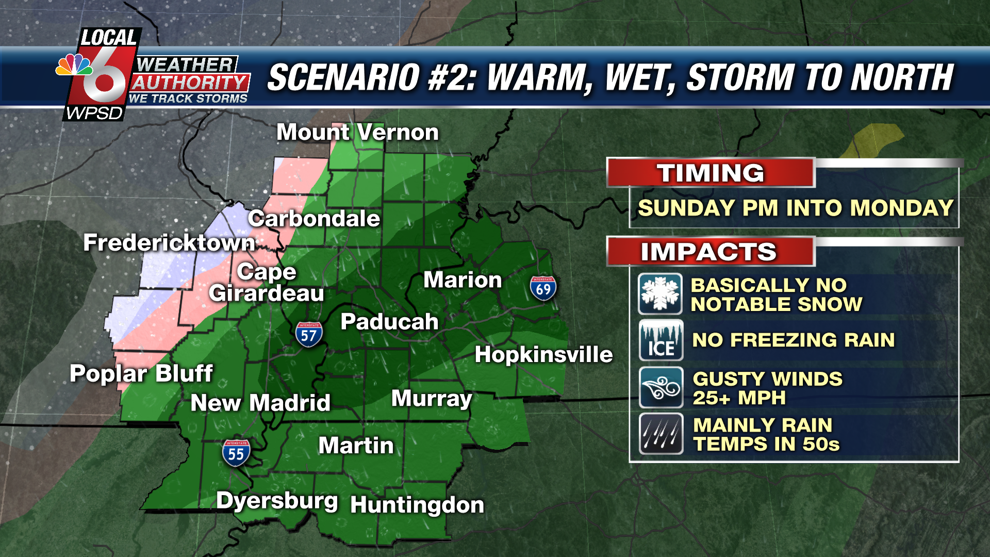 Typically in meteorology you want to forecast the low pressure with the high pressure. What I mean by that is in the case of a winter storm, the low pressure supplies the moisture and precipitation, and the high pressure supplies the cold air needed for wintry weather. You need both in conjunction with one another to get any impactful winter weather. Below is further evidence of how that difference in storm track impacts our weather.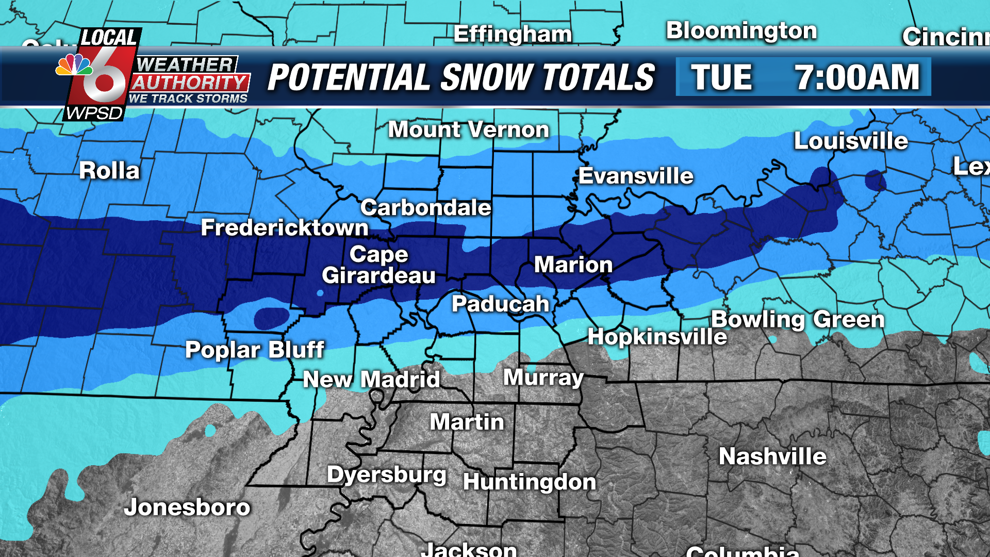 The above image is our "European" forecast model, which drops up to a few inches of snow across parts of the area, given a southern storm track.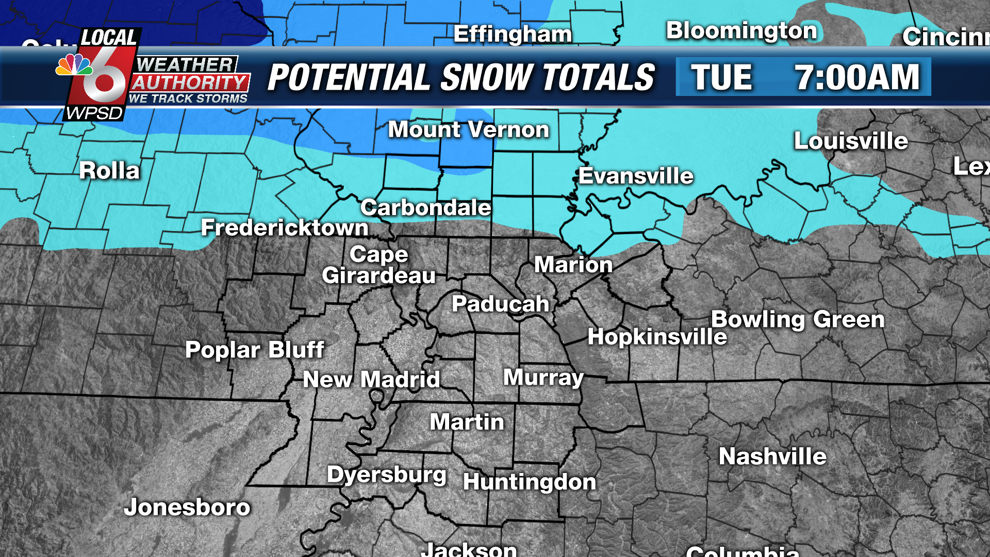 The above image is our "GFS" forecast model, which drops basically 0" of snow in most places, and has a mainly rain event.
So the take home message is that a winter storm is certainly possible early next week. At this time we have too much uncertainty in the data to side with one scenario over the other. But we can say with confidence there is a threat for all types of precipitation, including snow, ice, and rain area-wide. Best thing to do is stay up to date with us and monitor the forecast as we get closer. By Friday evening we should have a much better handle on things, one way or the other!